This post comes from Nikki, Jennie's older, wiser, and less likely to follow a recipe-r, sister. She peppers the blog off and on, but she's been off having the cutest baby of all time. Now that he's nearly one, she'll be around her monthly to give us a more seasonally appropriate recipe from Chicago, and always, always a laugh.
*****
Listen, chickens. I'm coming at you from the not-so-hot-and-sunny Chicago, where unlike our sweaty, tanned LA counterparts, we're forced to be bundled up and hunkered down. This means that it's the season of sautéed greens, warm polenta, and meaty comfort food. Enter the Fork, Knife, Swoon's Spanish meatballs.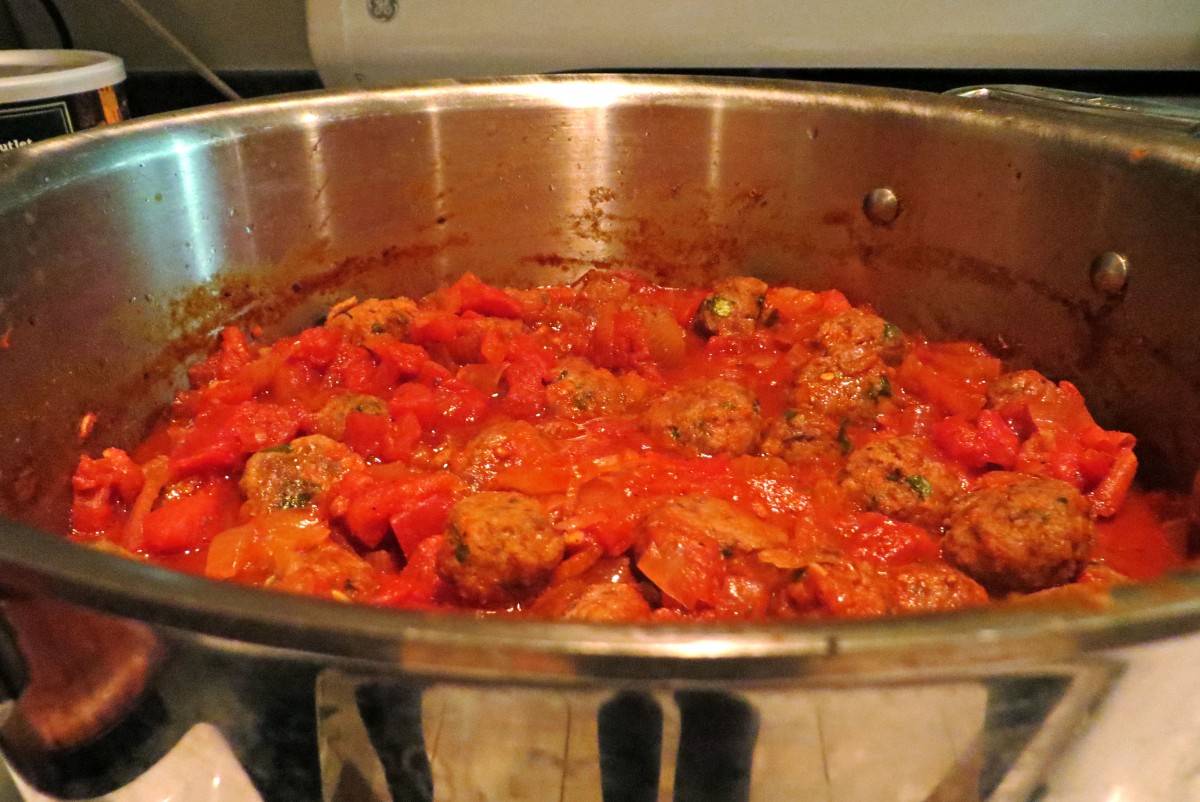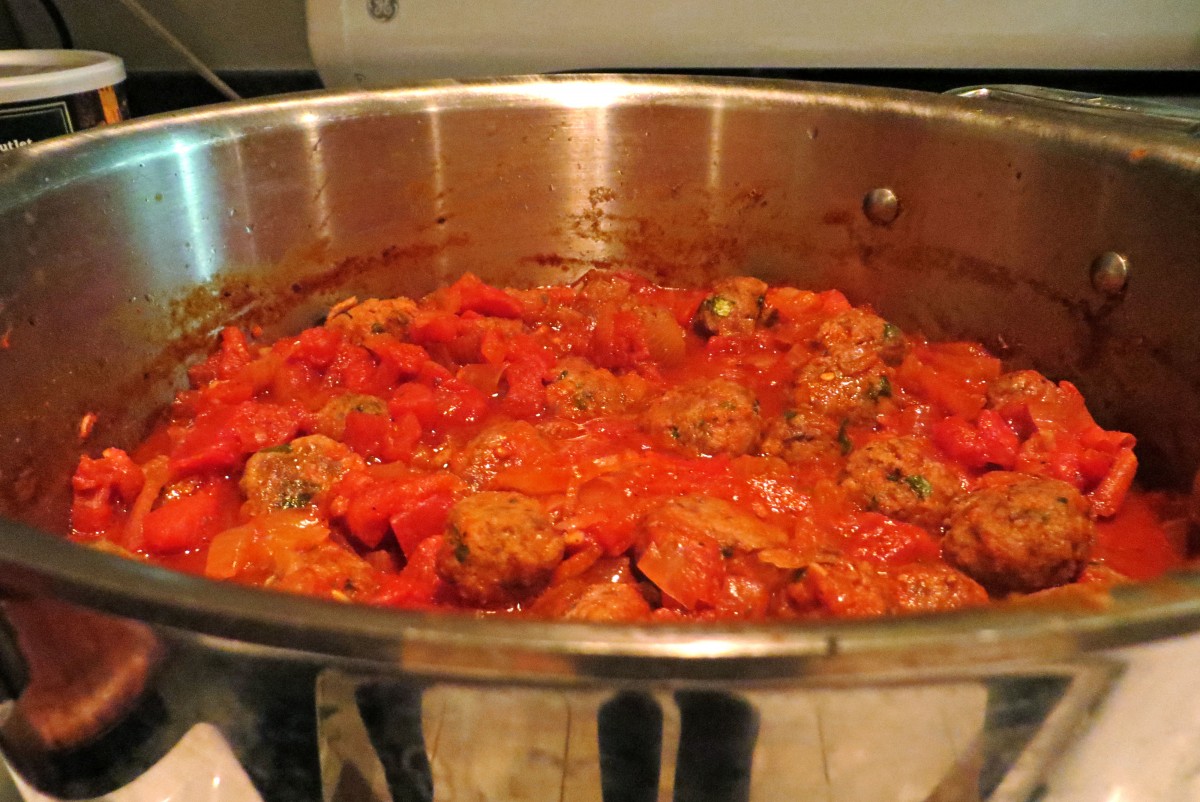 My two best friends and constant kitchen and life companions joined me over large glasses of red wine (a Chicago kitchen must) and we got down to it. This recipe, slightly adapted and then added to, was exactly the kind of bright, friendly dish you need to forget all about the fact that we've got at least two more months of cabin fever ahead of us.
We added sautéed greens and polenta to the recipe, which I've outlined below, but to be honest, the more wine we drink, the more everything becomes about the most important cooking basic: do what feels right.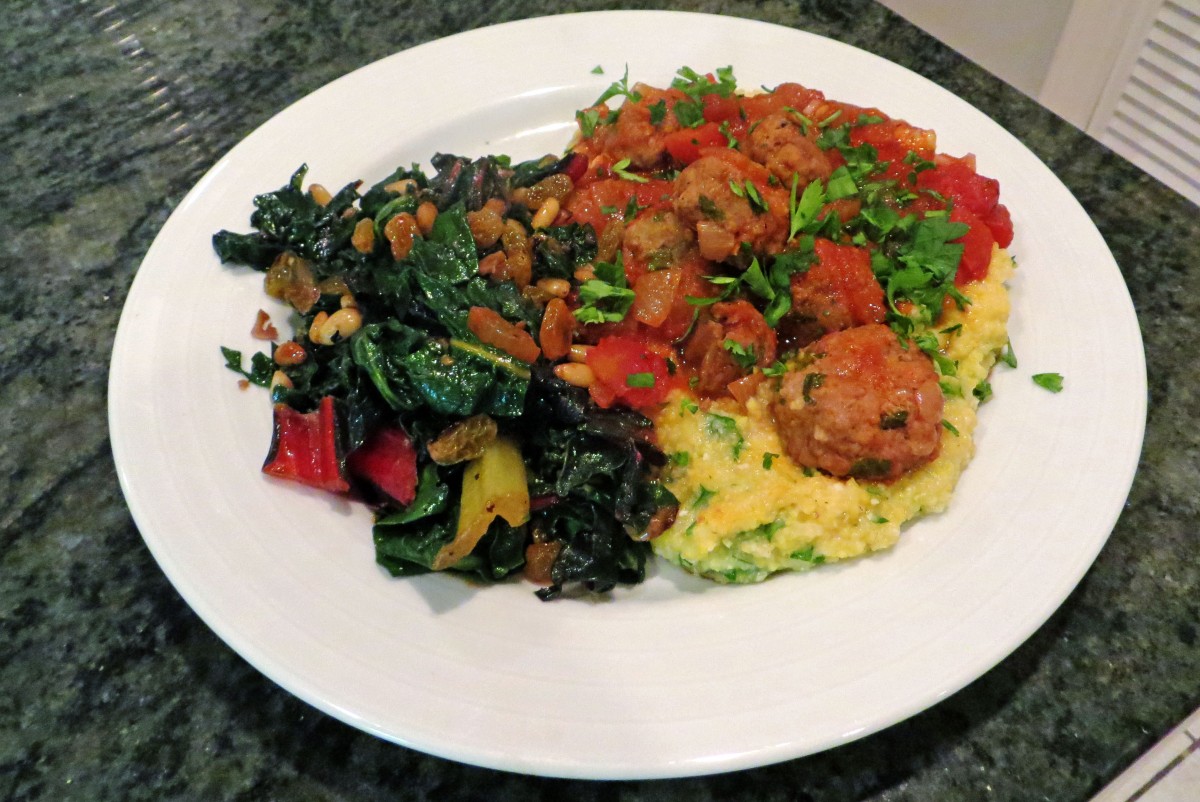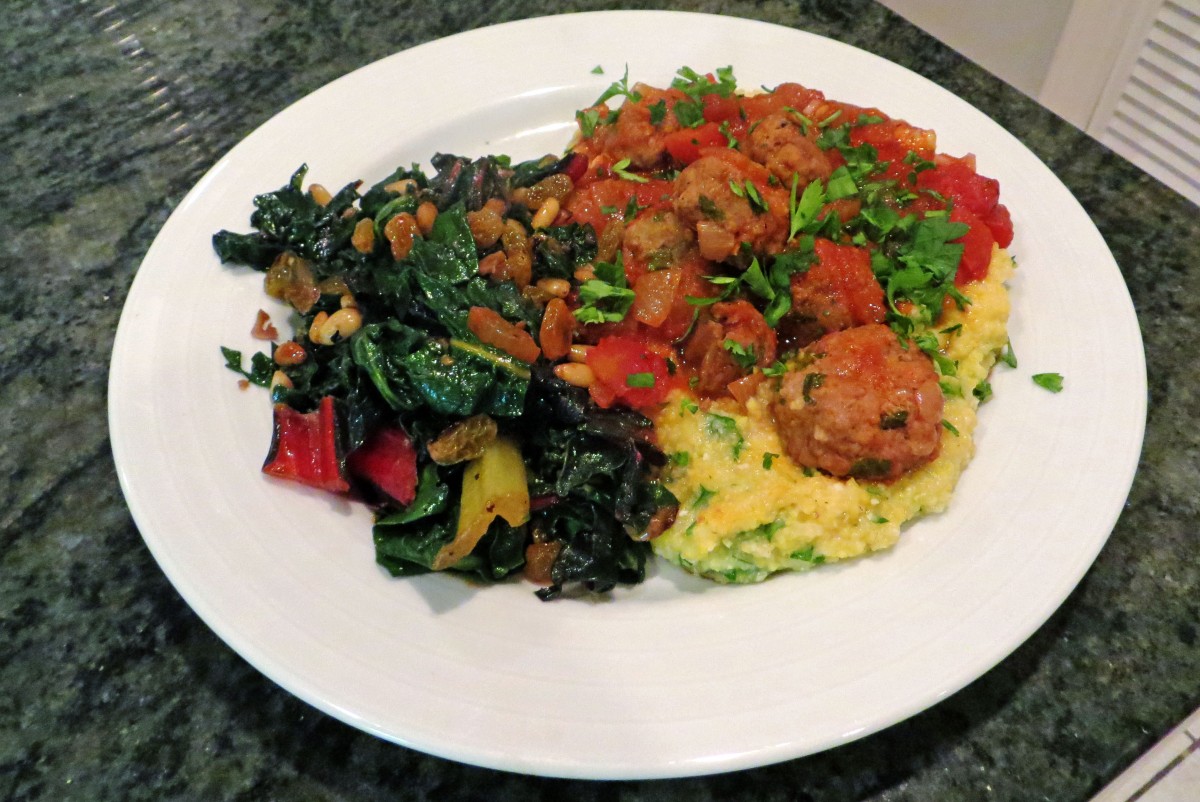 It's usually delicious. For the entire Spanish-Style Meatball recipe complete with spicy sauce, check out the recipe here. (Editor's Note: We highly recommend you check this out, if only because it includes getting to designate someone as "Meat Paws.")
For the polenta and sautéed greens, which pretty much should be a side to all meals, let me give you the quick and dirty. We sliced garlic and toasted pine nuts (a couple of cloves of the first, a few handfuls of the second) in olive oil, and then threw in a bag of Trader Joe's rainbow chard, but you could use spinach or arugula. We just happened to have it on hand. After sautéing it for about five minutes or so, we threw in some golden raisins, because we felt like offsetting the nuttiness of garlic and pine nuts with something sweet. My only note: go easy on the raisins, it's easy to overdo it.
As for the polenta, we used four cups water to one cup polenta. Boil the water, throw in the polenta, and whisk as if your life depends on it for five minutes or so. Cover it and leave it alone for about ten minutes, or until it solidifies.
After that, we threw in leftover cheese from the meatballs (if you don't have any, use parmesan- a little goes a long way) and also, leftover parsley. Parsley in polenta is life changing. Once it was done, we layered our bowls polenta, greens, meatballs, grabbed another glass of wine, and settled in for another long winter's night.
Enjoy, chickadees!
[addtoany]
Yum