Please welcome to the blog Mike Palluzzi, also know as Jennie's Dad. He and Jennie's mom helped spark the desire to cook in her, and for that she's thankful. He brings us the delicious Pizza Gain recipe that everyone should try sooner than later. Kylah and Terri Palluzzi (Jennie's mom!) helped make this, too!
March not only brings you March Madness, but also the favored dish of Easter that will make you drool like Pavlov's dog. It ends the fasting of lent with joy and celebration of Easter! It's called Easter Pie, Ham Pie or what it is referred to in my family, manna from heaven. Also know as Pizza Gain, in the Italian American heritage, which I grew up in (just outside of New Haven, CT.) For sake of argument to make Nikki happy I have researched this so that she believes the pronunciation (this has caused arguments around bastardized terms she thinks her mother has made that she learned as a child from her the Italian side of her family.)
In my research the dish  goes by many similar names such as pizza rustica or pizza chiena. Chiena means "filled" in dialect. Basically, it's stuffed pizza (but different than calzone.) Italian Americans changed the word from chiena to gain.
Whatever the name, I think this is more or less the same as your Easter Pie – an incredibly decadent dish filled with cheeses and meat and eggs. I know when Jesus rose from the tomb if he had eaten a piece of this he would have immediately fell back into the tomb with a heart attack! Seriously there is enough meat in the dish to land a complete basketball team in the cardiac ward – that's why we love it.
So here we go:
First, travel to the finest Italian cheese house and deli that you can find. Fortunately here on the western side of Chicago we have one of the best Italian stores I have ever been to just five minutes away – Caputo's Cheese Market. A oasis of fine Italian delicacies and more cheese than you can ever imagine.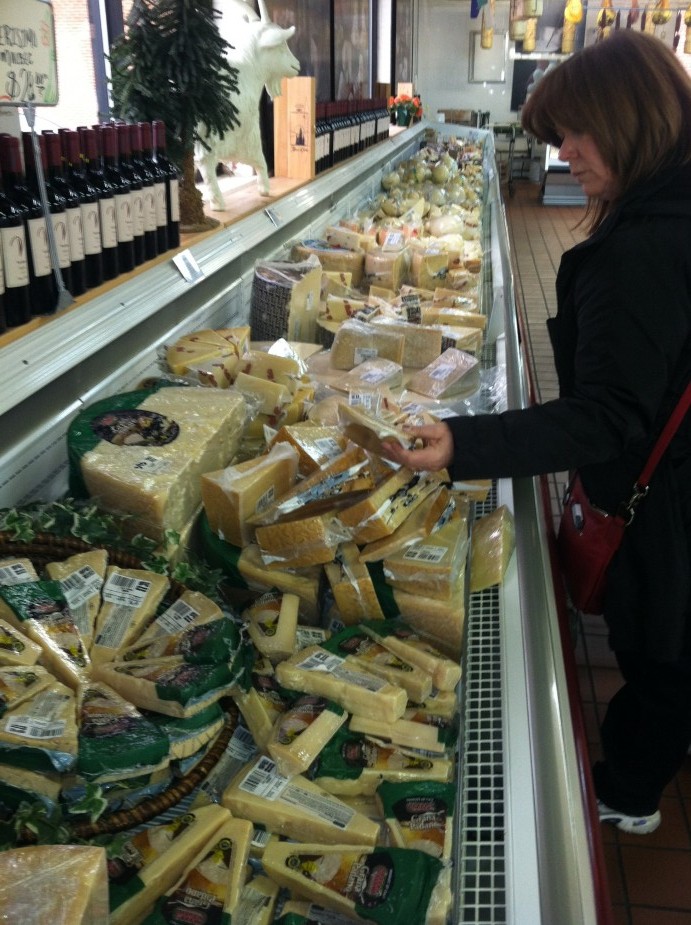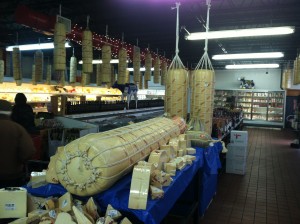 Second put on some funky music a little blend of rock and roll and blues 107. 1 FM out of Ann Arbor fit the mood. Pour a drink of choice for the chefs and start the madness.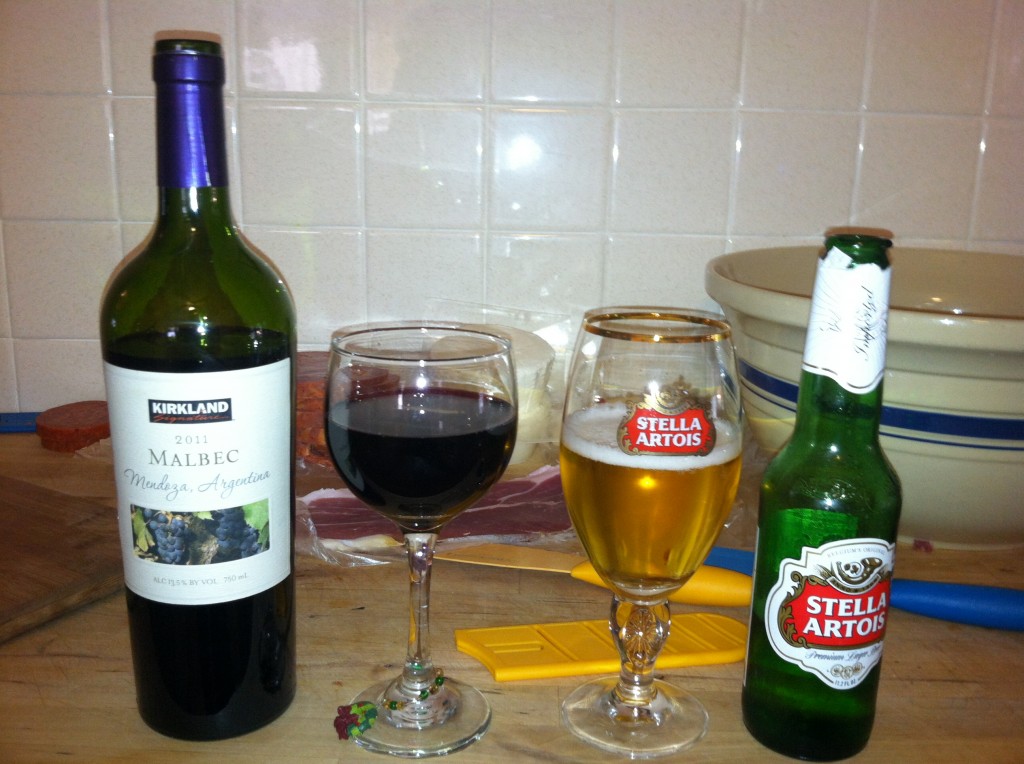 Find the Terri Palluzzi book of Secret delights, it really doesn't has a title other than white binder with recipes. One lucky daughter will receive this part of the inheritance – we may need to make two copies soon so there is not fighting. As you can see it is definitely a work of literary art.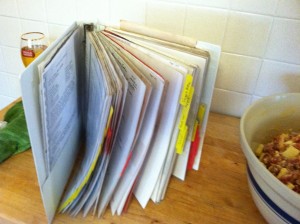 Turn to the yellow tab marked Easter and look for the unmarked recipe that has four Italian meats, eggs and cheese in it and you have found it – included is a crust recipe that's very simple,too!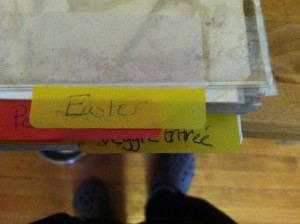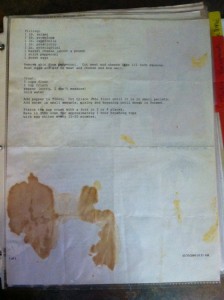 We really don't know what the brown stain is but we think its coffee…
Now you have to decide who is going to cut up the meat and who will start the dough. Terri chose the dough, I chose the meat. Terri is actually much better at dough preparation. So the dough is as follows.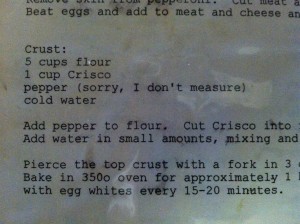 As you can see the cookbook follows Terri's mantra: if you have to measure everything there can be no surprises…thus the " I don't measure after the pepper," as Terri lets go two sneezes from the pepper, which if you haven't been around her could definitely pierce your ear drums. Combine all ingredients, mix in a large bowl until mixed well, and place in the refrigerator to rest. Give it at least 20 minutes in the fridge before attempting to place in pans that you will bake the pie in.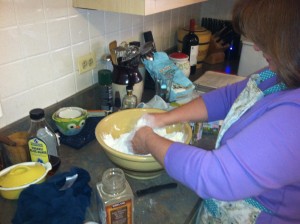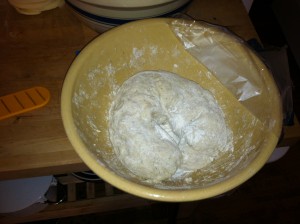 In the meantime I am busily cutting the nine pounds of meat and cheese into 1/2 inch cubes that will form the basis of the filling.  The recipe calls for salami, pepperoni, capicolla, prociutto, prosciuttini (which is prociutto on the bone, also researched) and two cheeses (provolone and basket cheese?) Have the deli cut your meat and cheese into 1/2 inch chuncks it makes it easier to cut into the cubes.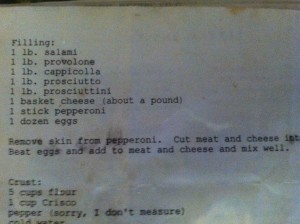 So given that this is a Palluzzi project involving Terri, we improvised on the meats and this is what we chose, Volpi Genoa Salami, Fiorucci Hot Capicolla, Boars Head Pepperoni and Caputo Prociutto Di Parma, Caputo Provolone and Caputo Salted Tuma (Basket Cheese). The biggest pile of deliciousness that you can ever imagine.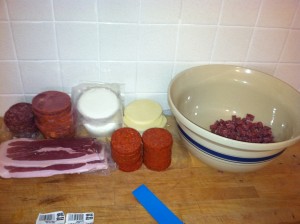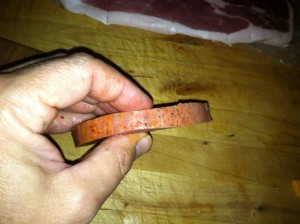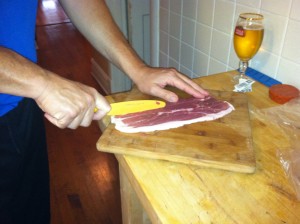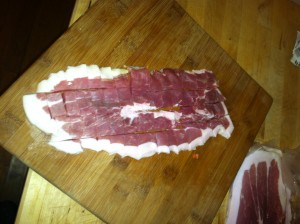 What just exactly is basket cheese? I am glad you asked, basket cheese info here, but it's basically a mild cheese – think ricotta or fresh mozzarella.
Once the meat is sliced and chopped mix it in a big bowl and then add the eggs – 18 of them as we took liberty with the recipe. It is easier to mix it with your hands folding the meat and cheese into the eggs.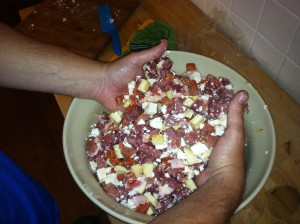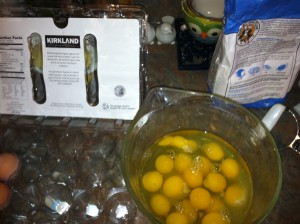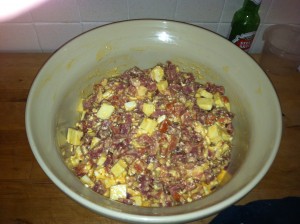 Roll dough and make the bottom and top to the pies and place in any type of baking or pie pan you have in your kitchen. We choose a square and some round cake tins, it seemed to fit the bill.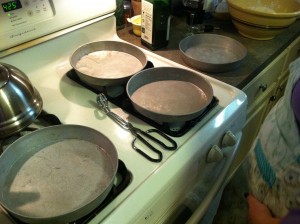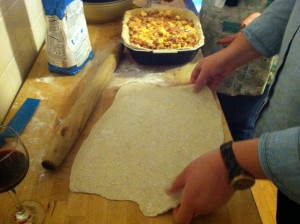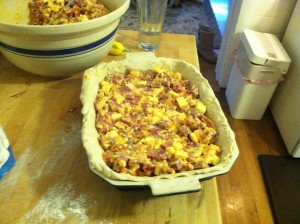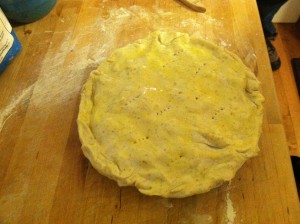 Place in oven for 1  hour brushing the crust with egg white every 15 min.  Then eat at-will. We usually eat this for Easter breakfast, lunch, dinner and dessert or until there is nothing left but a few pepper crumbs left. Who really needs to eat candy at Easter anymore!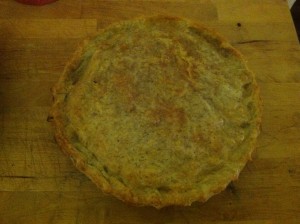 Hope this will make your Easter a better one after all those Lenten promises of cutting things out. This year I gave up giving up things and it was much easier to keep my Lenten promises. Might not want to stand near me in case lightening strikes…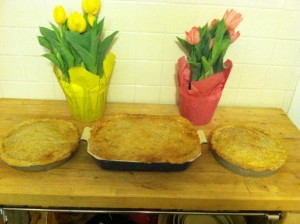 Godere!
[addtoany]
Yum