I very much enjoy the process of cooking, the ingredients, the demand on your imagination, and of course the result. Many find the process of cooking rather dull or uninspired, but I find it truly relaxing and invigorating. That being said, sometimes you are just too tired to cook. So today I want to do something a little bit different. Rather than show the newest recipe I have attempted or let you in on the secrets of a tried and true oldie, I'm going to switch gears and relate to those amongst us who are terrified by cooking (or maybe just don't have time!) Now just because cooking may not be your thing, that doesn't mean that you still can't have a deliciously simple meal that you can share with somebody special.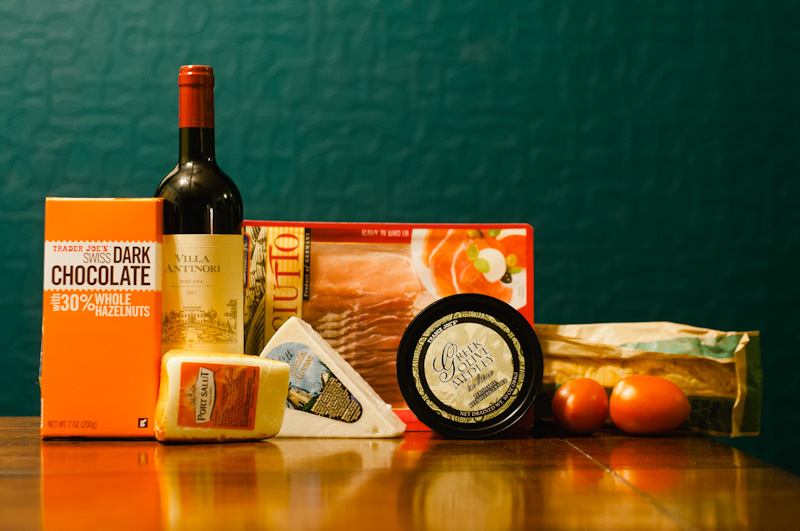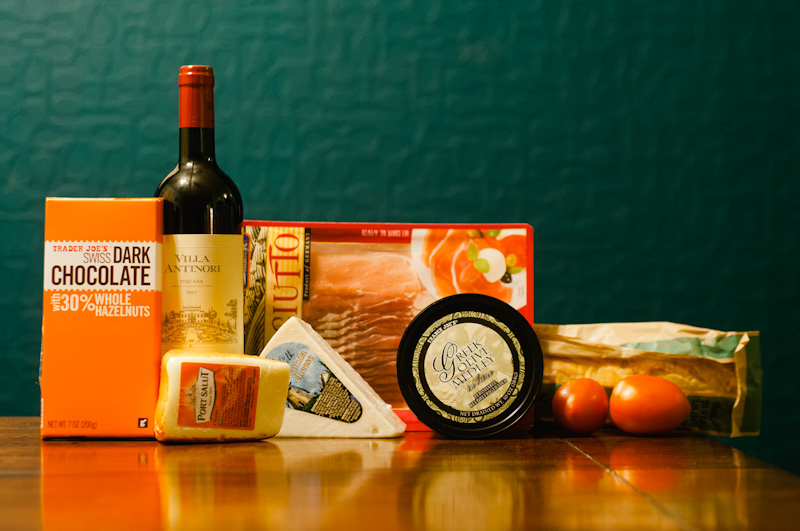 The idea for this article came to me a few nights ago. Mary and I had the fortunate opportunity to dog sit for my boss's dog, Taco. (I know, don't you love it!). By the time we returned home, however, I had realized that I wasn't in much of mood to start a meal, and I don't really like to phone in the stuff I put in my stomach.
So Mary and I did what we often do in this scenario, we went down to our local Trader Joes and picked up an assortment of our favorite cheeses, bread, meat, vegetables, chocolate, and of course some wine! We always have such a wonderful time uncorking some wine and simply snacking on little treats rather than having an elaborate meal. On this particular day we chose to go with a European theme, so we tried to find Product of "Country in Europe" on all the products we bought. Now, obviously this is not possible for certain things, but we stayed pretty true.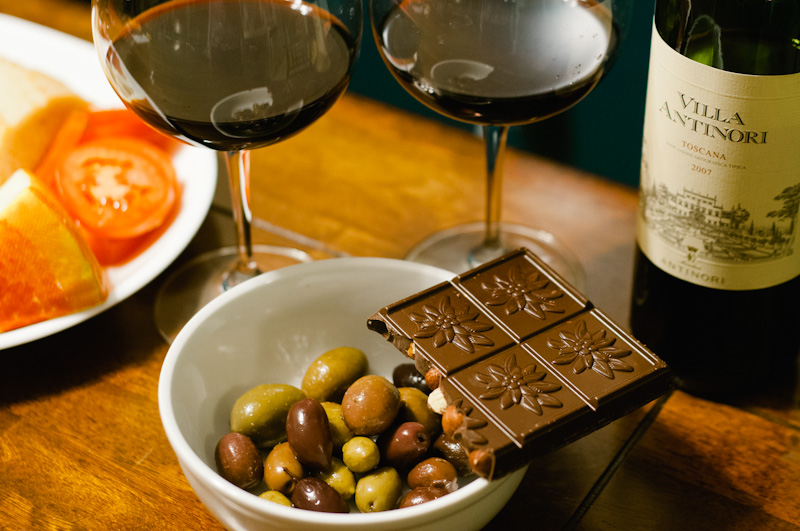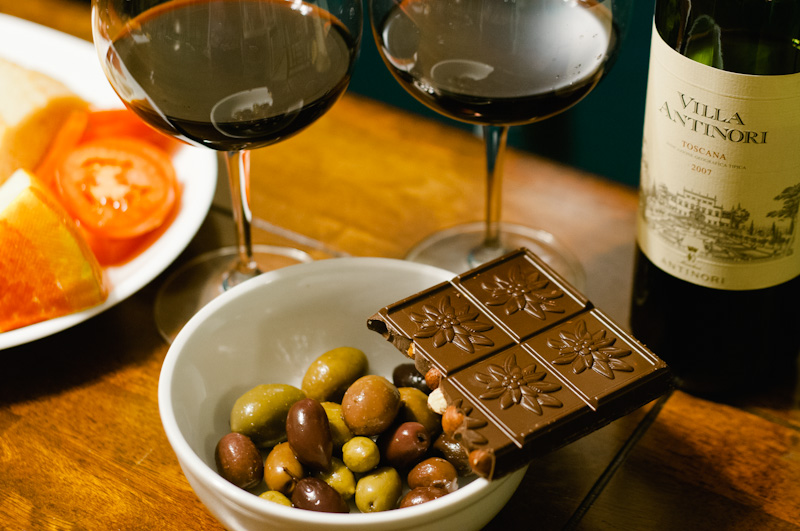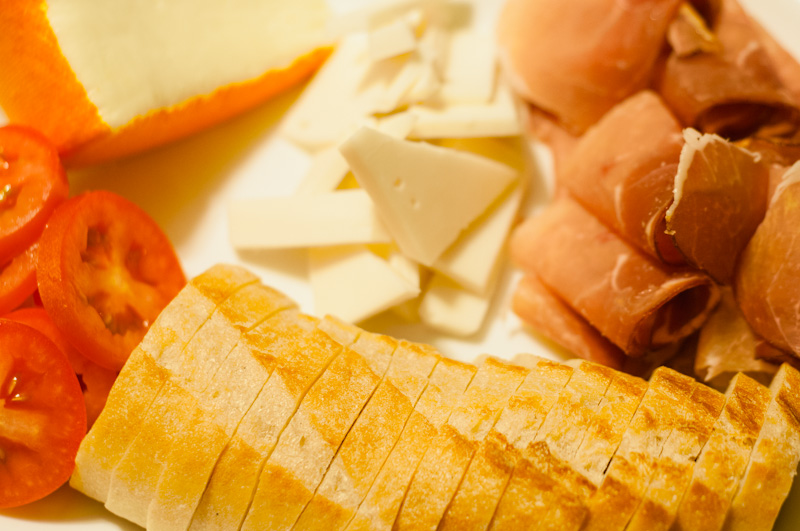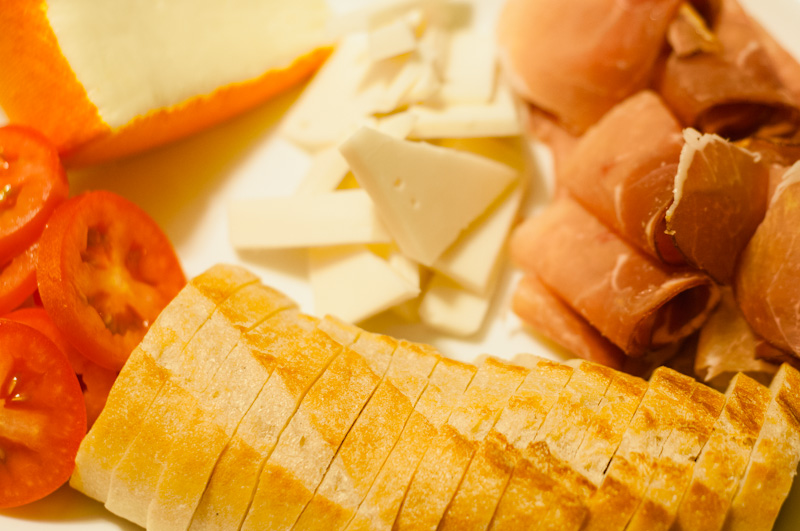 So let's break down what we purchased at our friendly neighborhood Trader Joes.
Villa Antinori – 2007 – Toscana Wine – Product of Italy – $17.99
White Goat Cheese Gouda – Product of Holland – $4.00
Port Salut Cheese – Product of France – $5.00
Marinated Olives – Product of Greece – $3.99
Prosciutto – Product of Germany – $3.99
Dark Chocolate with Hazlenuts – Product of Switzerland – $2.99
French Baguette – Product of US (French Style, unfortunately teleportation hasn't been invented just yet)
Don't be afraid to try your own combinations!
Villa Antinori Toscana
We chose this wine because while it costs a little more, it is one of our favorite wines. We discovered it a few years ago in a small liquor store in Boston. The wine is a blend of Cabernet Sauvignon, Merlot, and Syrah. This offers a wonderful flavorful yet drier wine. And its alcohol content is around 11%, allowing the tastes of other items to really pop!
White Goat Gouda Cheese 
We adore this Gouda! It offers a creamy texture, but maintains that smokiness you expect from a great gouda. Combined with some other ingredients it feels like it almost melts in your mouth.
Port Salut Cheese
This soft cheese is what I like to refer to as a more sophisticated brie. It is a great cheese for spreading on your bread of choice and it offers a lovely tangy note.
Marinated Olives
I love olives! Mary hates olives! So I did most of the eating of these. There isn't much to say here accept the sour and earthy tastes of the olives brings down your dish to a more human level, having been elevated so greatly by the wine and cheese.
Prosciutto
You have to have meat and what better than some lovely salted pork from Germany? This gives your creations a little extra oomph. I love the texture – so different from anything else on the plate.
French Style Baguette
We love our baguettes.The crisp of the bread is art on its own, but combined with the other ingredients and you get a masterpiece of flavors!
Dark Chocolate with Hazelnuts
To close off the meal, this Swiss made chocolate really balances nicely with the wine and tastes absolutely delicious! A perfect end to a simple yet delicious meal.
Give it a try!
Good Spirits Folks!
Yum