We love gifting things for people's kitchens, because we spend a LOT of time in ours, and we know the things we keep coming back to again (and again, and again.) So we've put together a list of ten things we use over and over that are classic gifts anyone who loves cooking or baking will use! We hope this helps you out if you're still looking for that perfect gift for your loved ones!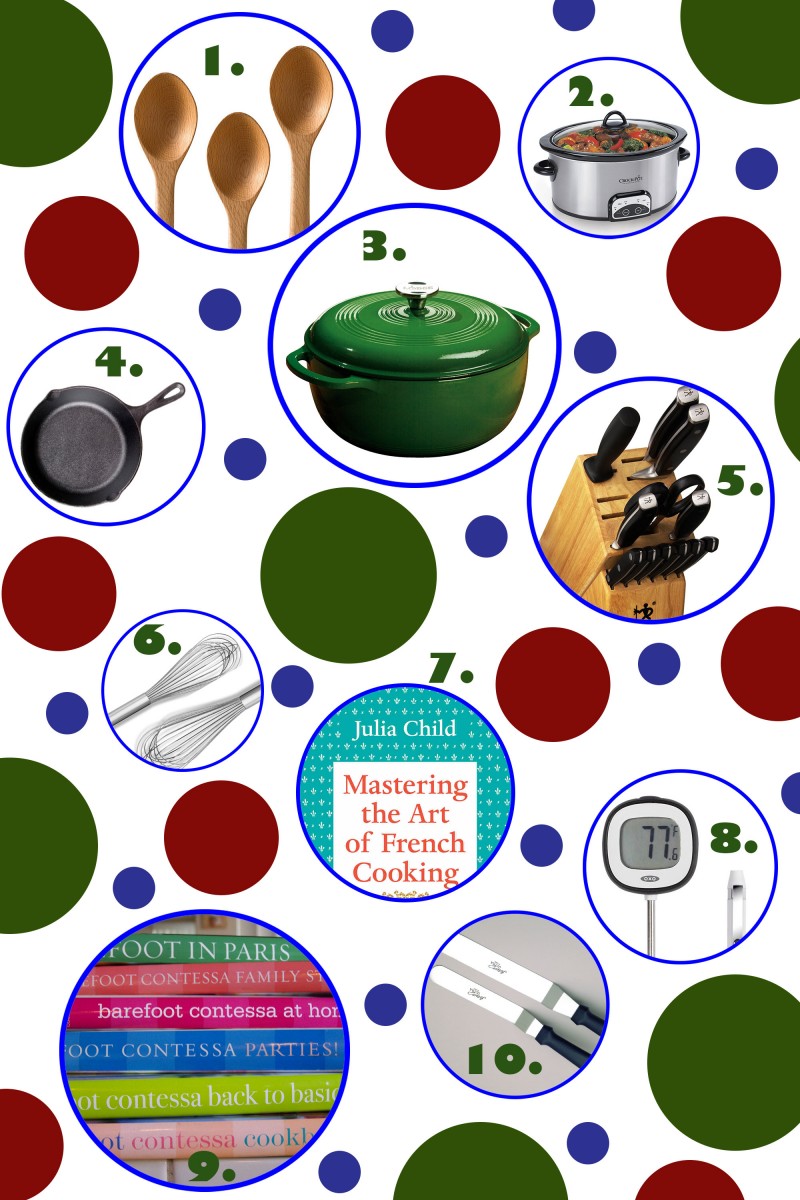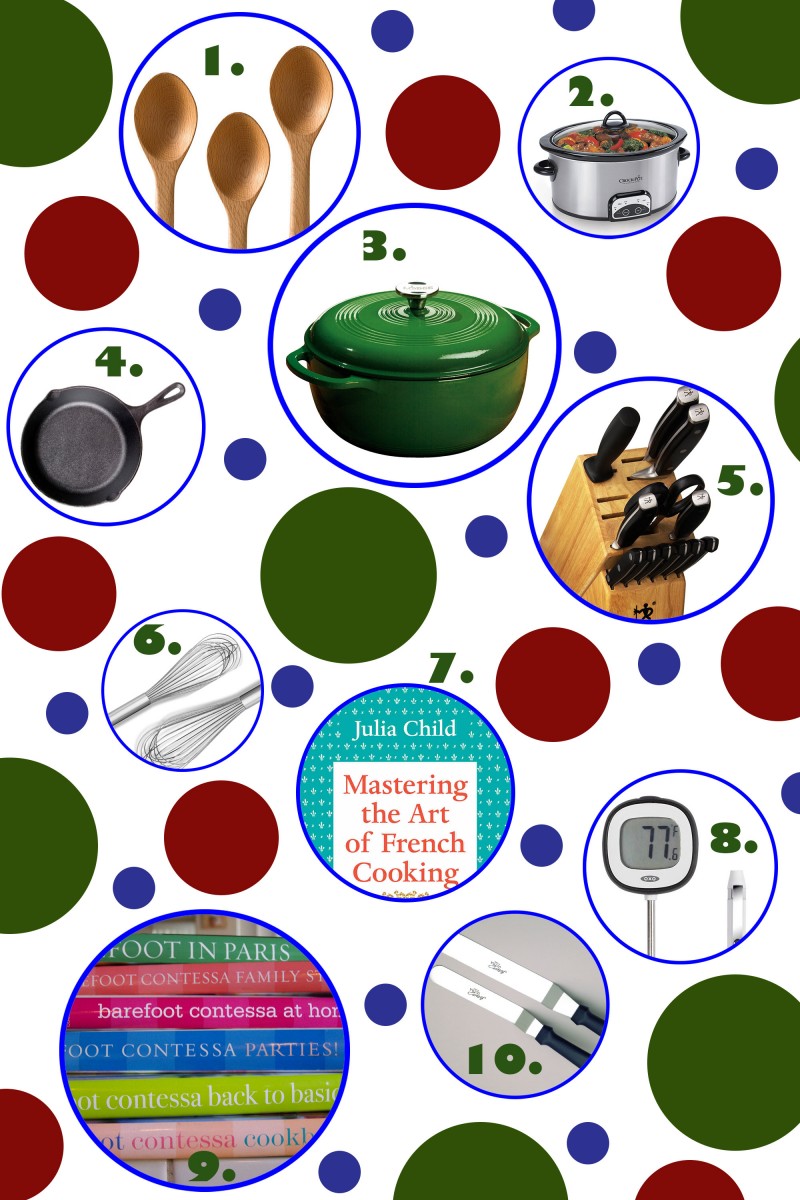 1. Wooden Spoons – We each have at least five of these, and they're great for everything under the sun – stirring cookie dough, soup, sausage, etc. They're versatile, they're pretty, and they're easy to clean.
2. Crock Pot – We love a slow cooker. It is so easy to stick a bunch of ingredients into a Crock Pot and hit "start" and then you're on your way to a delicious dish with minimal prep. These are great for a busy family that still wants to cook during the week.
3. Dutch Oven – We use our Dutch oven for almost everything – think of it as a manual slow cooker. It's great for soups, stews, deep frying, roasting, pretty much any cooking you could need to do – and it's stove top and oven safe, making it great for dishes that start with a sear and end in the oven. Plus, the ones we are recommended are cast iron coated with enamel – making them heavy but nearly indestructible.
4. Cast Iron Skillet – Again, a cast iron skillet is perfect for just about everything. We use ours on weekends to make eggs, we use them to make cornbread (again, they're stove top and oven safe), to make omelets, to sauté a million onions for caramelizing, the list goes on. A well seasoned cast iron is virtually non stick and will last you years and years, standing up to all kinds of seemingly-impossible burns, sticks, and stuck cakes. Every chef should have one!
5. Good Knives – Again, knives are a cook's main tool. Sharp, good knives. We have a middle of the road set, and Jeff is in charge of sharpening them every month or so with a Japanese stone (which I also recommend you get.) The sharper the knife, the less likely you are to cut yourself. Do yourself a favor and upgrade someone's kitchen with this invaluable gift and rest assured they won't be slicing their finger any time soon!
6. Whisk – This one is for all those cooks who think a fork does the job. And, it can, but a good whisk is just so worth it! You can make whipped cream in a jiffy, you can really get your eggs scrambled, you can incorporate things so well with a whisk. This is must-have that you won't know how you lived without.
7. Julia Child's Cookbook – Julia had many books, but this one was her first. It's for the committed home cook, but it is filled with hilarious notations and fool proof recipes guaranteed to come out amazingly. We will never stop laughing over this direction from the mayonnaise recipe, "And the crisis is over. The beating arm may rest a moment."
8. Digital Thermometer – We love thermometers in the kitchen – one for the oven to tell us the true temperature (you can never trust those pesky apartment ovens!), one digital for the grill, one for candy-making, the list goes on. When in doubt, though, a digital thermometer will do the trick for those times you really do need to know the temperature, like when you're deep frying the perfect doughnuts or when you want to make sure your turkey/chicken/roasted bird is really done. We have this one and we're pretty satisfied with it!
9. Barefoot Contessa Cookbook – We love the Barefoot Contessa because Ina is one part practical and simple to two parts "Hamptons" which is just where we like to get our recipes from. Her recipes are good enough to please a crowd, but just aspirational enough to know that she really knows what she's doing. We have several of her books, and you can't go wrong with any of them!
10. Offset Spatula – If you know a baker, then you have to get them an offset spatula or two. Perfect for getting baked goods out of pans, for smoothing frosting on a cake or cupcake, and for serving said baked goods up. It's a mighty tool that comes in a skinny package, and will help with cake-movings that before seemed daunting.
[addtoany]
Yum