Well folks, reporting from the road on day 1. Our first day went pretty swimmingly. We got up and out on time, snapped a few shots with our friends, hugged everyone goodbye, and hopped in the car. Coffee cups full, bladders (mostly) empty, we made it from LA to Barstow to the Arizona border without a problem. We stopped a few times to use the restroom (obviously) but we were relatively quick.We gabbed and gabbed and chattered away. We listened to mixes from MMC, and Megan, and Barbra, and Traci. We have so many more mixes to go. We listened to Corelyn's "Califonia" mix and "Arizona mix."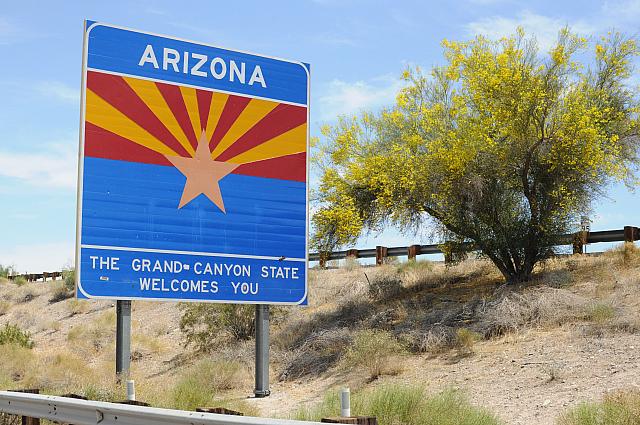 We slowed down on the empty highway to take a photograph of the Arizona border. After the border we stopped for gas (nearly running out, but it's fine, we didn't) and some lunch. In rogue fashion, I got a BLT, and Corelyn got breakfast. At 2:30 pm. Then we climbed back into the car, switching drivers, and followed a small road up to the Grand Canyon.
Corelyn couldn't stop saying, "It's so pretty! Look at the sky, it's so pretty!" on the way to the Grand Canyon, and I couldn't stop saying, "Look at the animals. So help me God if there's an elk." There were "Elk Crossing" signs all the way to the Grand Canyon. Which we made it to around 6:15 pm, in time to see the sunset. As we drove around looking for a suitable place to stop, use the restroom, I commented, "These people are indicating to me that it's colder out than what I am dressed for." I was in a t-shirt and capris.
I was right. We opened the doors and it was windy, and cold. So we changed into warmer clothes, grabbed the camera bag and headed to the Canyon, hiking a trail through the woods. Which, by the way, I was not expecting there to be so many woods in Arizona.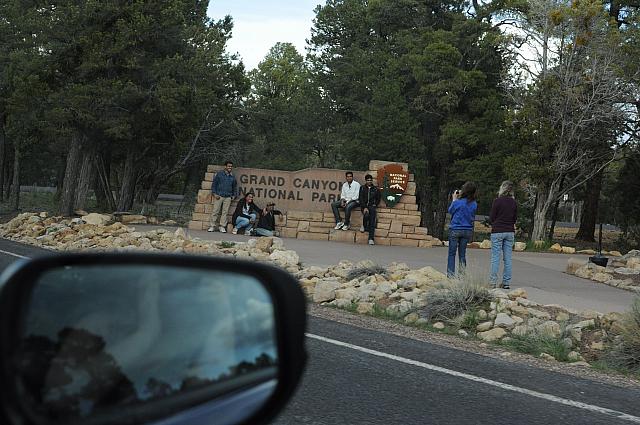 Arriving at the Canyon and the "Trail of Time" we were awed, and couldn't stop "ahhing" and smiling. We took hundreds of photographs, and then hiked along the rim until we found a suitable place to sit down, pull out the blanket we brought, and watch the sunset over the Canyon.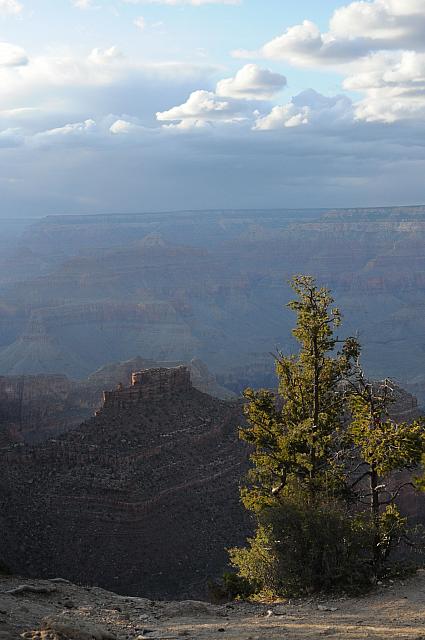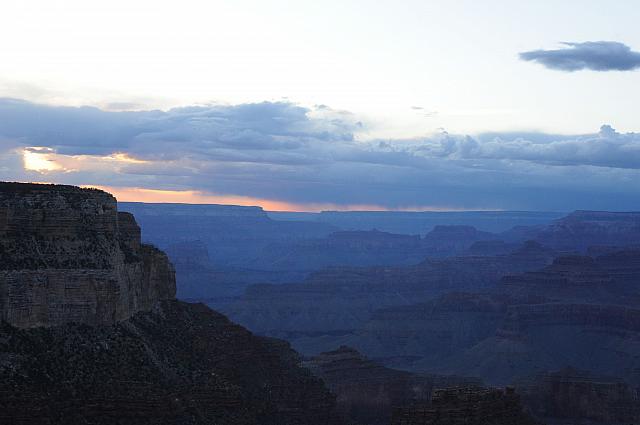 After the sunset, we headed back to the car, chilled to the bone, and found some bathrooms. Then we were back on the road. And this is where, my friends, the fun started.
First of all I drove like a grandmother the entire way back, 60 miles in a 65 because I've hit enough deer to know it's no fun at all. We passed some creature that looked like a GIANT raccoon, but was too big to be so, but I was beeping my horn so it ran away before we could figure out what it was. Not a coyote, not a hare. Hmm…then at some point Corelyn said, "Deer. We just passed a deer." This obviously caused me to slow down even more.
Then we rolled into Flagstaff around 9:30, not impressed but the seemingly non-city city. We were a half-mile from the hotel when I saw a yellow light. "I'm going" I said to Corelyn. "If I get pulled over, I'll pay the ticket."
Seconds later, blue and red were flashing behind me. Incredible. The officer was very nice to me, let me get my wallet and license out of the bag in the back, and realized I was from out of town. But, I'm from LA! Land of yellow lights! Land of running them! My citation? Failure to stop at a red light. Crazy! Insane! Unbelievable! It was yellow!
Needless to say, we took it in stride, headed to the hotel, and dropped our stuff. We then tried to get dinner at a place recommended to us by the woman at the front desk, but the place's kitchen was closed. "The bars open, though," the nice man said. Oh, no. We headed to "Downtown" where everything looked closed, one-way streets were rampant, and every counting down "don't cross" hand made me unnecessarily brake for fear of running another yellow. No food. 10:30.
Corelyn did some iPhone research and found us a grocery store. Closed at 10. Another? Midnight! But it's the night before Easter…was it open? We raced over there (to a place much closer to our hotel than the downtown) and found it! Open! We meandered around for a while, figuring out what to eat. By the time we got back to the hotel it was 11:00. We made hummus, green pepper, turkey sandwiches on pita. And passed out. First day? Crazy already.
Yum