So last night was the second night of the three-day cake that is for Ms. Ellen's birthday. And no, she's not a demanding friend. I just was like, "Hey can I make this vertical layer cake with roses for your birthday?" and she said yes. Thank goodness.
So tonight I invited Rebecca over to help me with the cake cutting. Really, I just needed someone else to cut circles in cardboard so I could make the rings for my cake's vertical layers.
I told her that I needed someone to photograph. And an extra set of hands. I was lying. What I needed was someone to draw circles on a piece of cardboard. As she realized when I attempted and failed horribly.
"Do you want me to…let me do it," she said. Success.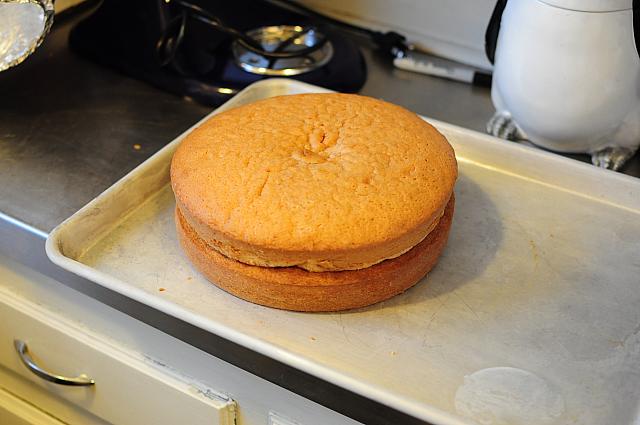 These cakes were frozen over night wrapped in plastic wrap and tin foil (because Wednesday night had to be the night we ran out of plastic wrap!)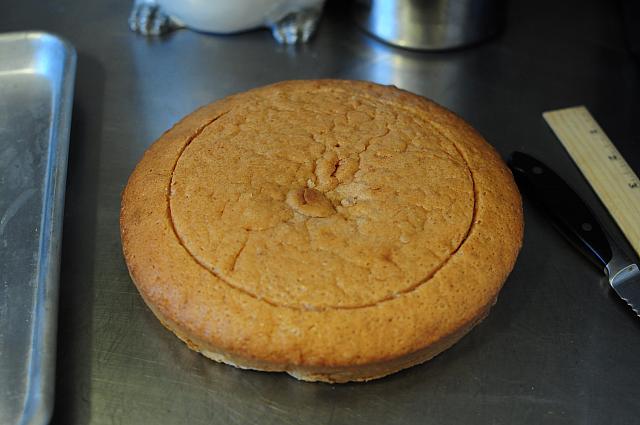 So you take your cardboard piece, and you cut around to get your first layer.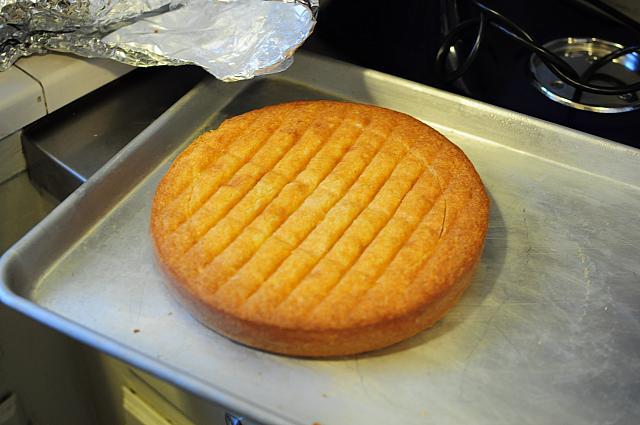 Please ignore the cooling rack lines. Do the same thing on your other cake.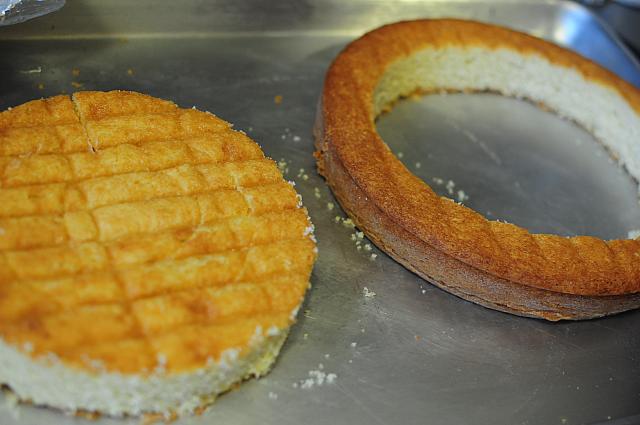 Repeat until you have all the layers cut. You get the idea.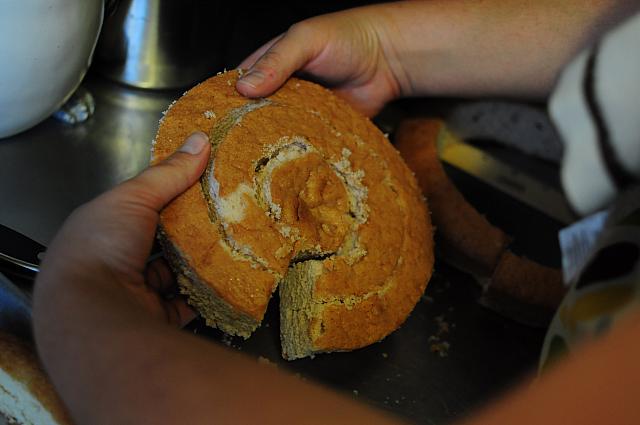 The strawberry cake was made with cake flour instead of regular flour, and was sticker and harder to manage than the other cake, so here I am gently pulling the layers apart.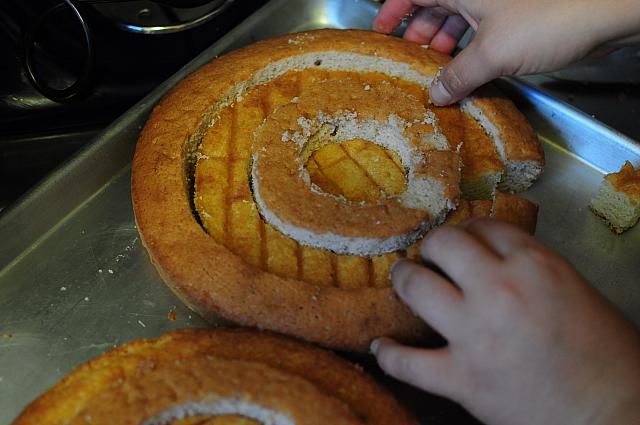 As you can see here, the cakes were also uneven. No matter. You can fix that with a knife.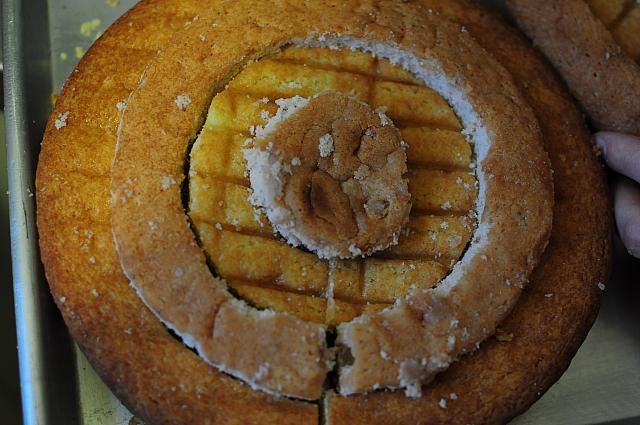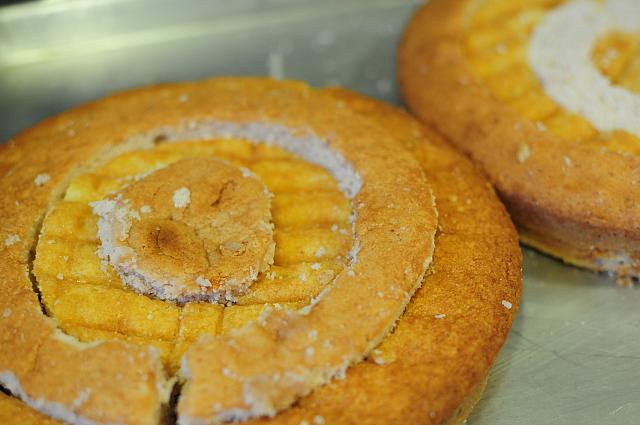 Now, because of the fact that I didn't double layer the cakes (due to the lack of enough strawberry cake) this cake will actually end up kind of checkerboard. You'll see.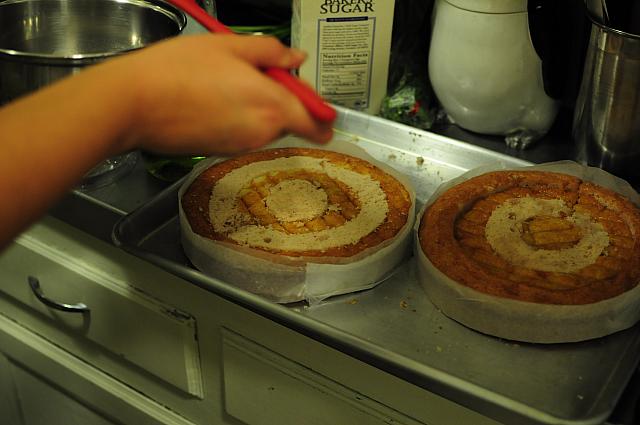 We taped wax paper tightly around the edges and then coated the cakes in some simple syrup.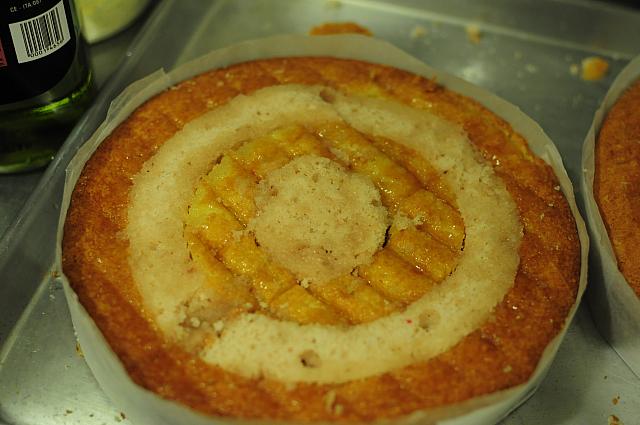 So now it was time to make the practice cake with the smidge baby strawberry cake and the other layer of the yellow cake. I first cut the yellow cake into two layers, so I'd have a three layer cake.
We made frosting with Trader Joe's frosting mix, but it doesn't make that much frosting and it is also oily, so not ideal for decorating. I had to thicken it with more powdered sugar. So noted, and when I make Ellen's final cake it will be with homemade buttercream frosting.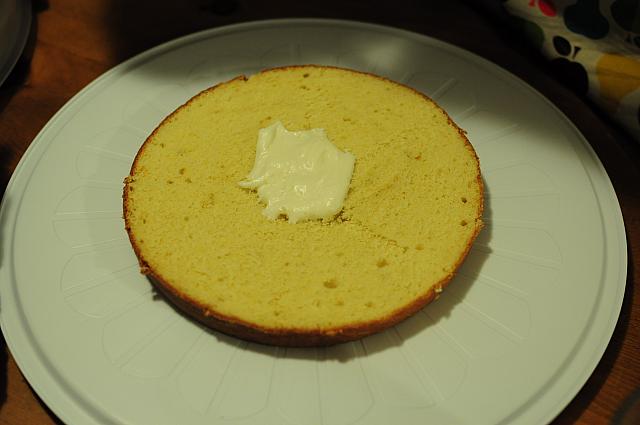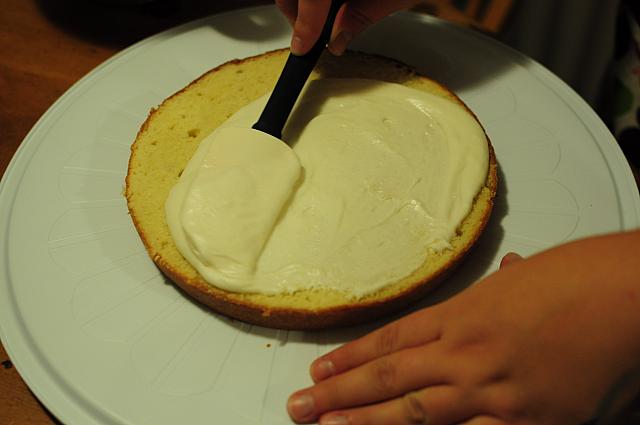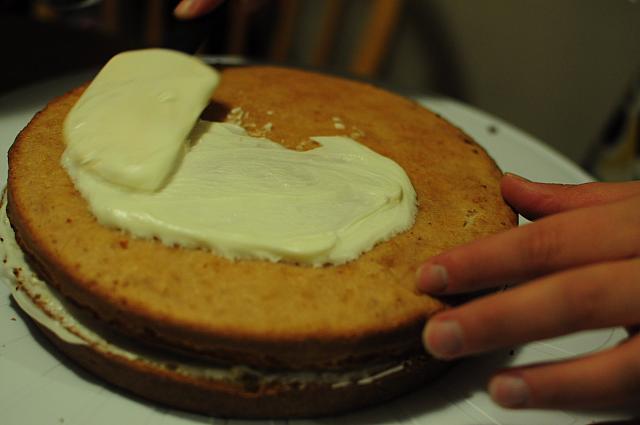 I stuck the strawberry layer between the two yellow cake layers. Yum.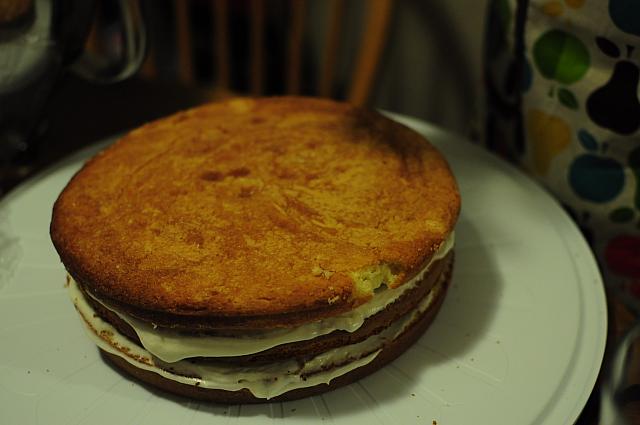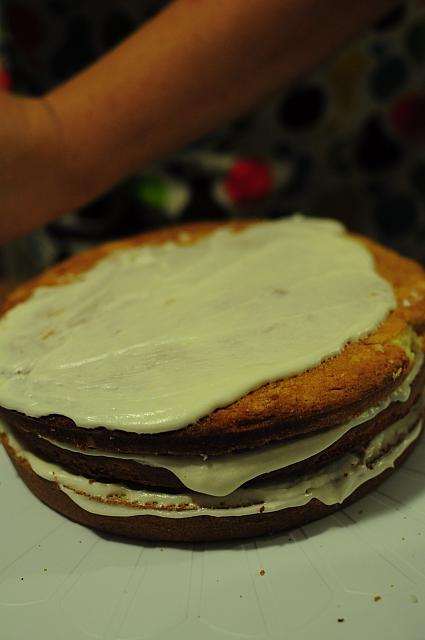 Do you see the drippy frosting? It was too drippy for a good rose. But you'll see.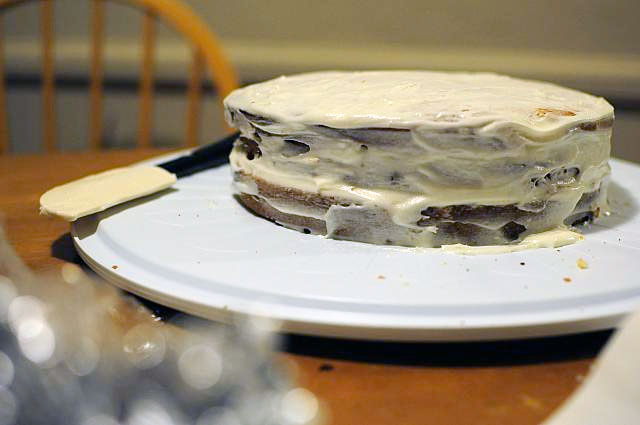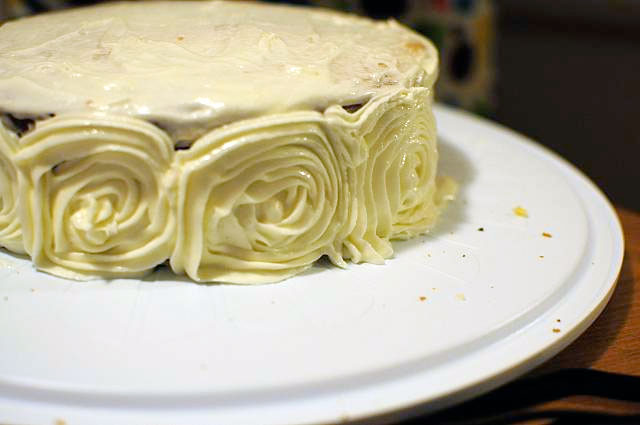 Look at those drippy roses! The horror! They're melting! They're melting!!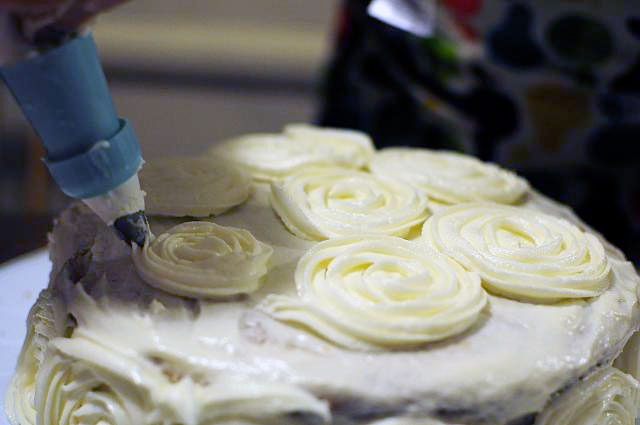 Ahh, much better. It's amazing what a little sugar will do!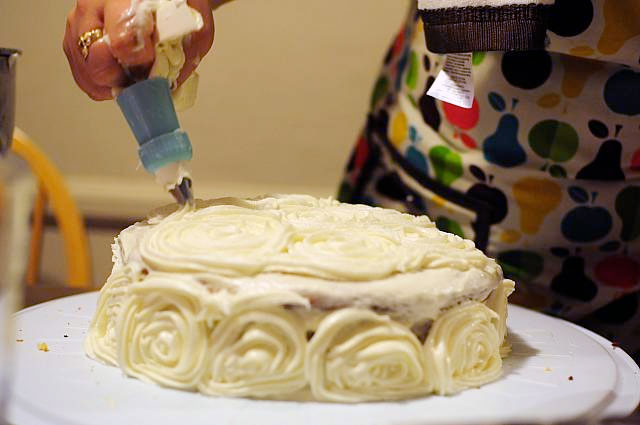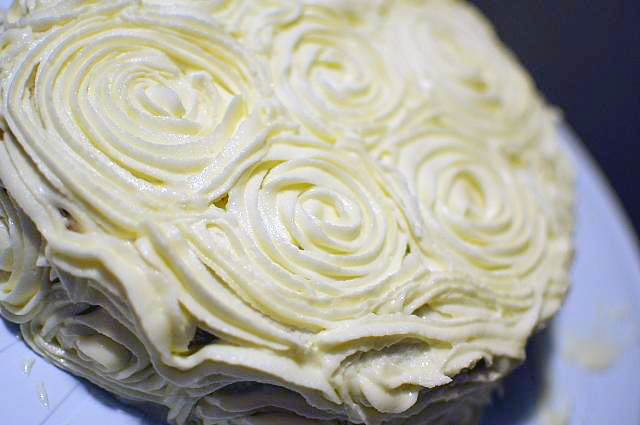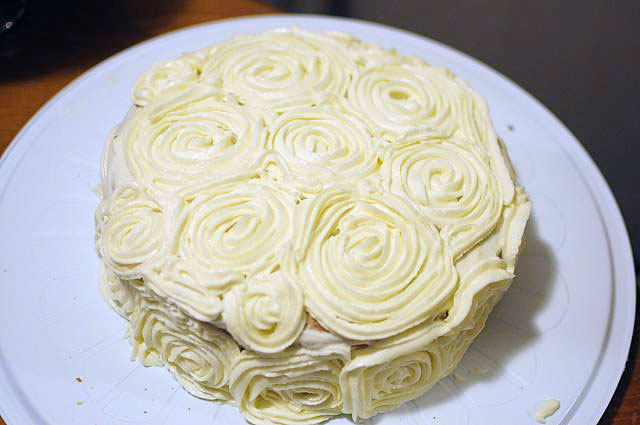 I think we're ready for Ellen's cake. What do you think? Any advice?
Yum