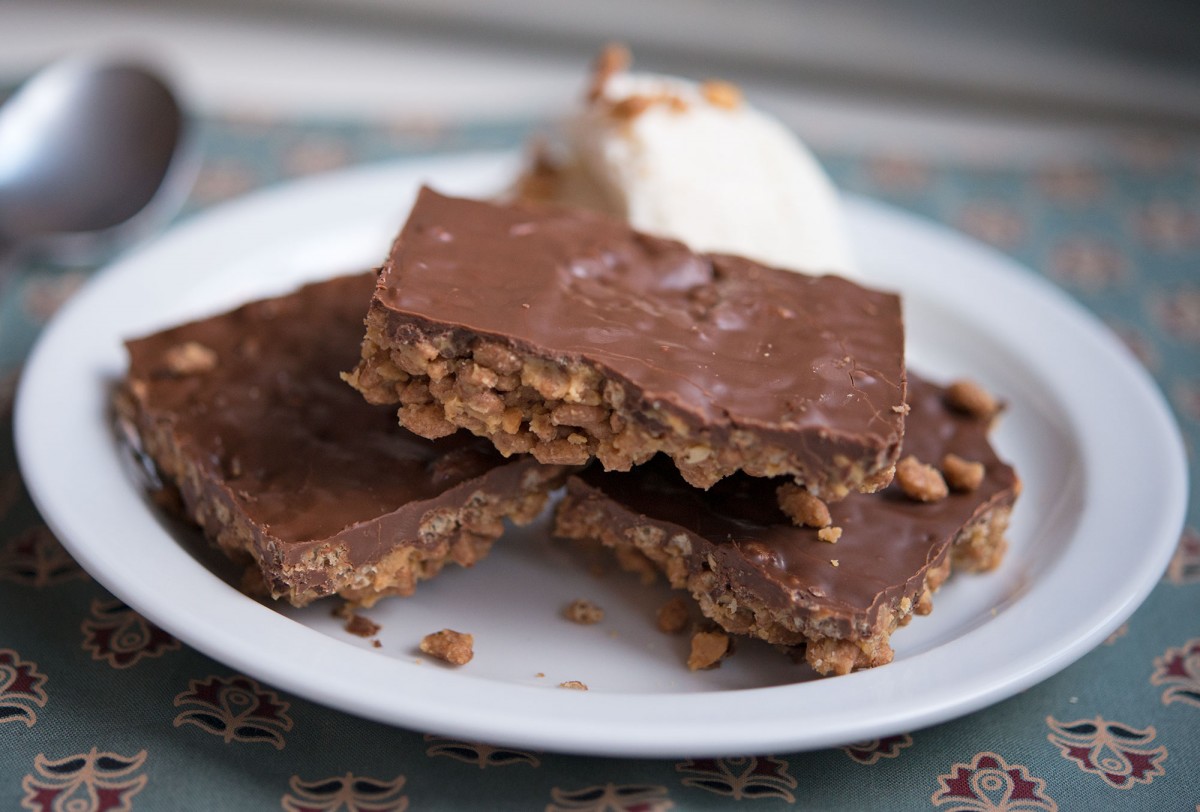 Scotcheroos are a long time obsession of mine. They're everything you didn't know you wished a traditional Rice Krispies treat could be. I've made them for friends, I've made them for hundreds of people in my industrial bakery days, but I've never tried to make them healthy.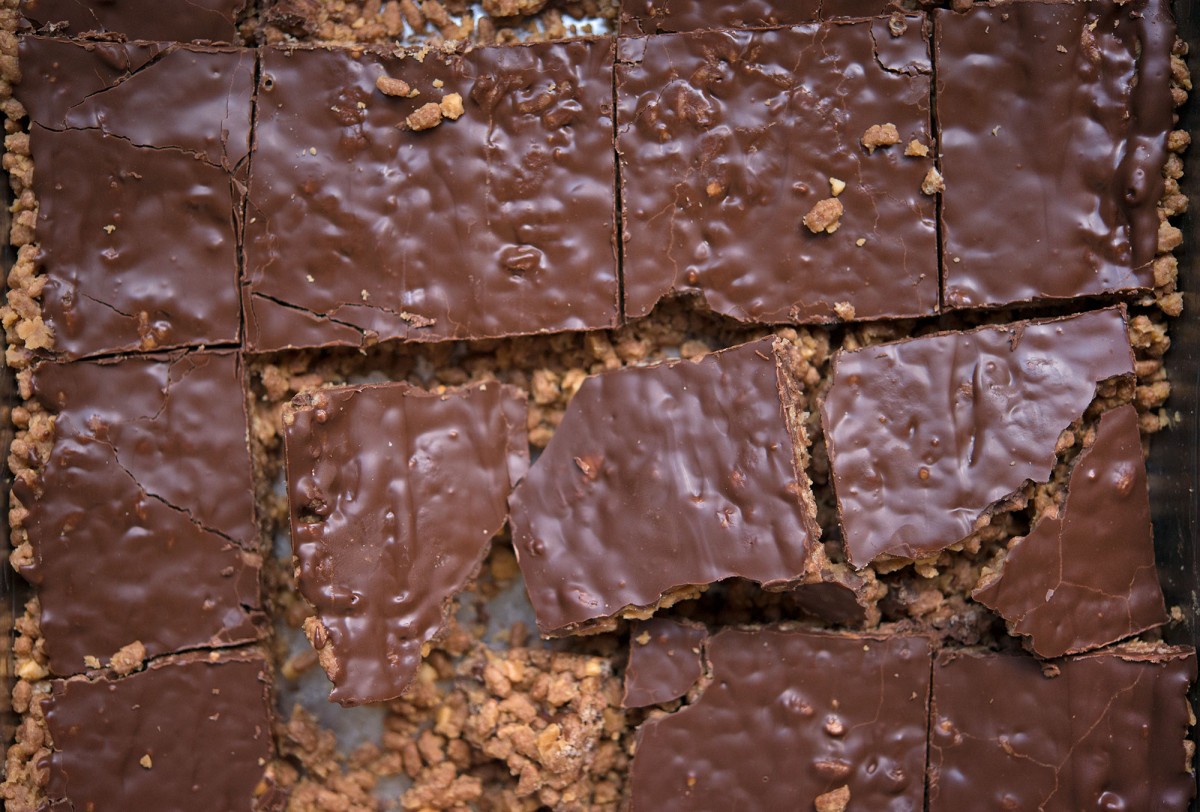 Don't worry, I haven't done that this time either, but I did attempt to make them lighter on the corn syrup and just a little simpler and, lets face it, gluten-free-friendlier. Rice Krispies are one of the plethora places gluten is surreptitiously hidden – this time as barley malt – just to keep us gluten-freers on our toes.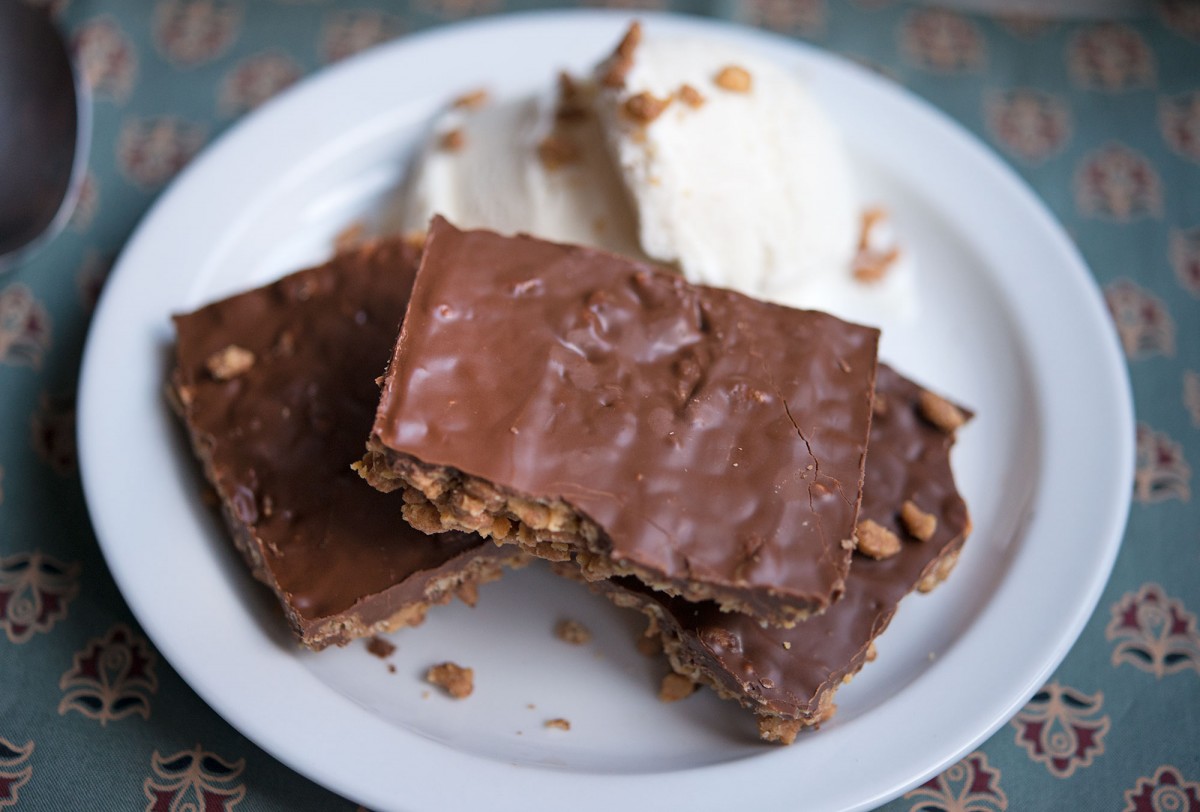 Instead, I used EnviroKidz Chocolate Koala Crisp Cereal. The result: delicious. And the exact taste I know and love in just a bit crumblier a form – almost like bark or puppy chow.
Ingredients
1 cup peanut butter (I love organic and chunky)
½ cup agave
6 cups of Chocolate Koala Crisp Cereal
1 cup chocolate chips (I use high quality chocolate just for kicks)
1 cup butterscotch chips
Directions
1. Have a sheet pan greased and standing by.
2. In a large pot, melt the peanut butter and agave over low heat.
3. When combined and warm, turn off heat and fold in the cereal.
4. When well coated, turn mixture out onto sheet pan.
5. Spread evenly across the pan and press firmly until nicely packed. I like to use my hands and a spatula but a fork dipped in cold water works nicely as well.
6. Place in refrigerator.
7. Now to make the topping – using a double boiling method (simply a pot of boiling water with your bowl of chocolate on top), melt down the chocolate and butterscotch chips together. I let it sit until I can see it melting and then start stirring. I also always forget, but am telling you now to remember to put the butterscotch on the bottom – it melts much slower than the chocolate.
8. When nice and smooth, pour and spread over your chilled peanut butter and cereal mixture.
9. Let set. I put back in the fridge for 10-20 minutes.
10. Eat! Preferably with friends and until you get sick (which is basically what we did).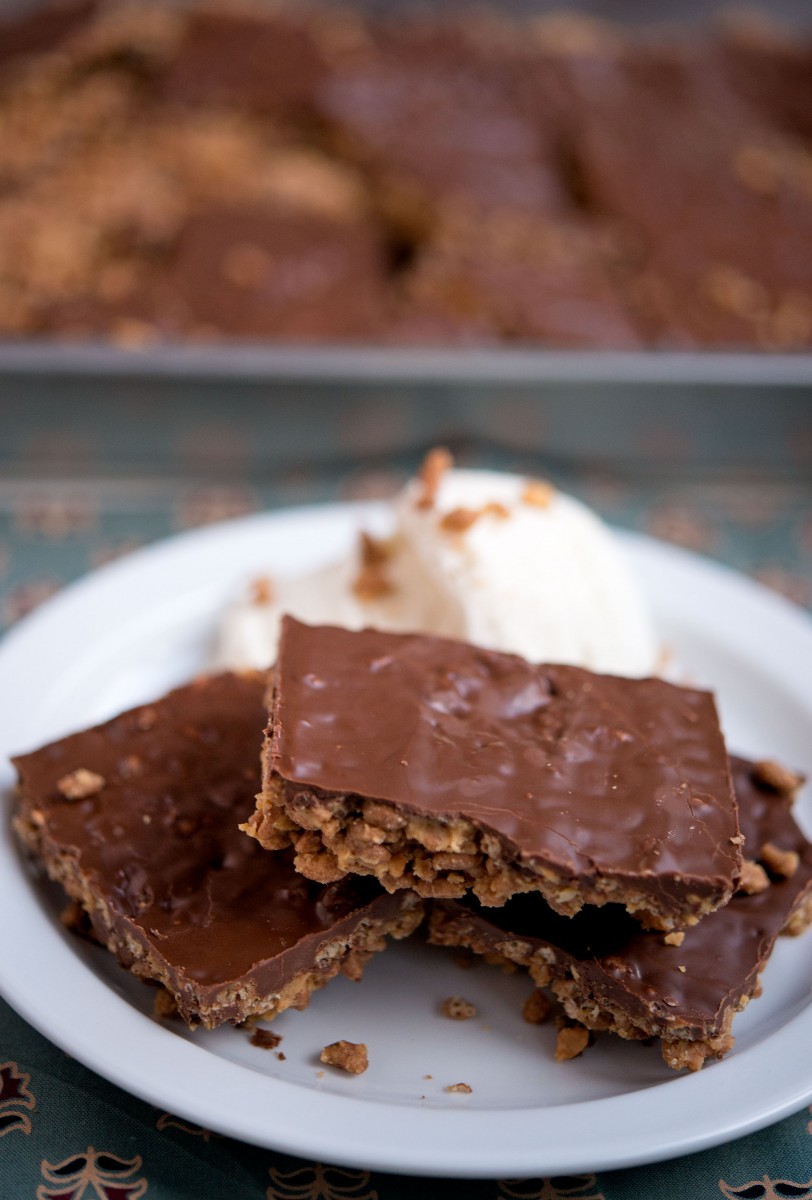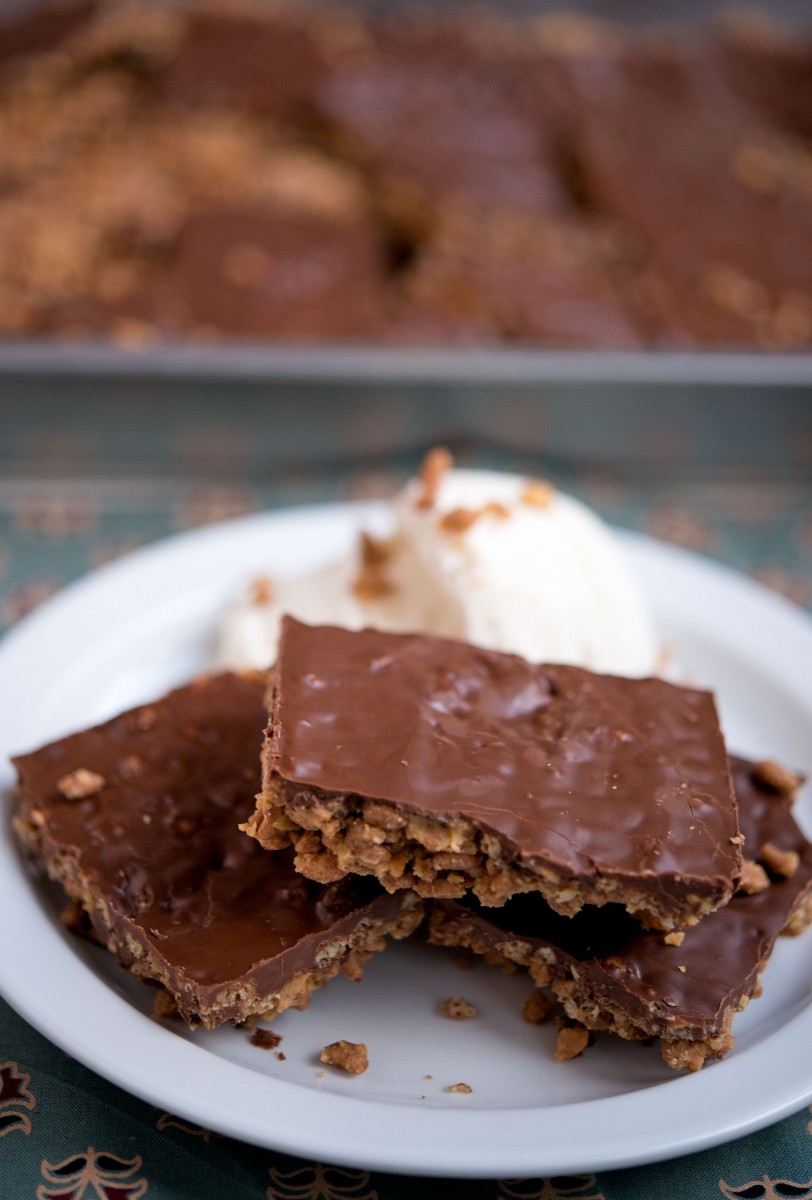 Make sure if these are for a party to put them to the side and not cut into them, because if you do, then you might end up eating the entire pan and have none for the party…which will make you happy…but not your guests.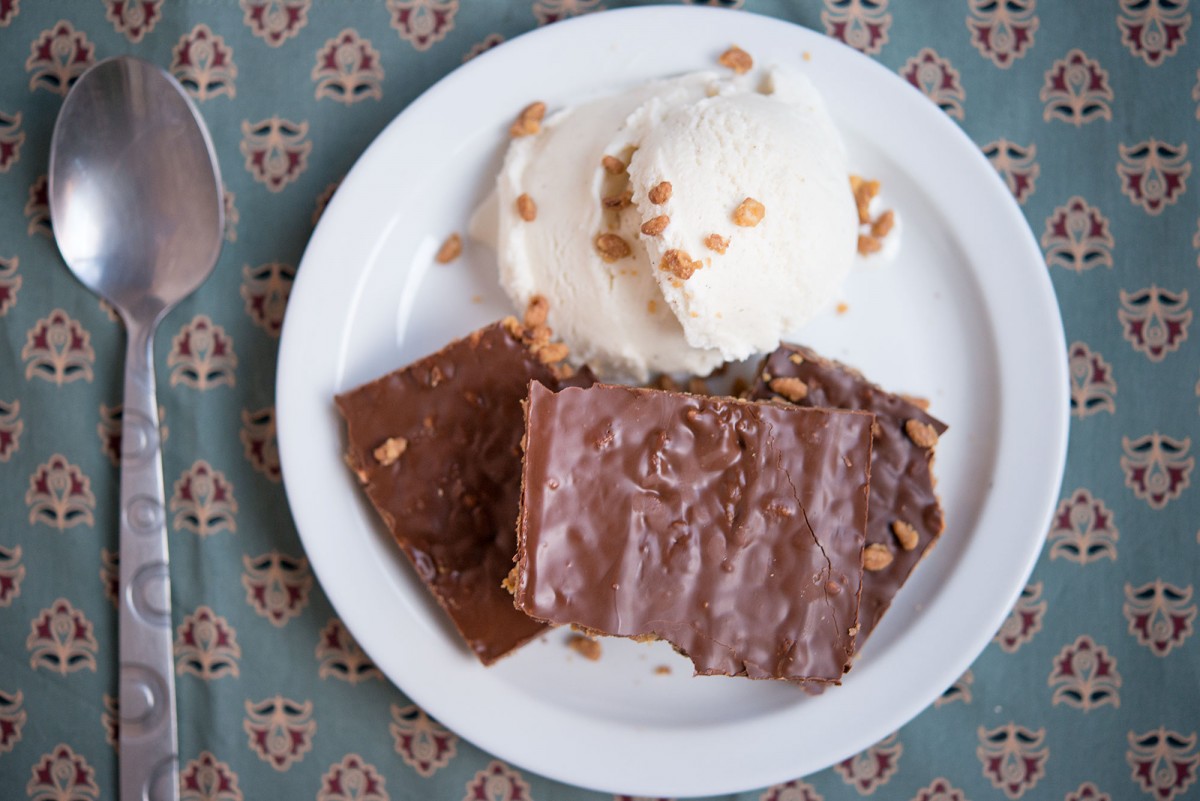 Either way, it'll probably make everyone happy if you serve them with ice cream.
Yum