It's no secret that I'm a huge Harry Potter fan, so I leapt at the chance to spend a weekend with friends in Orlando and visit the Harry Potter theme park at Universal Studios. Naturally, Harry Potter themed treats were a necessity. So, I made my own version of cauldron cakes!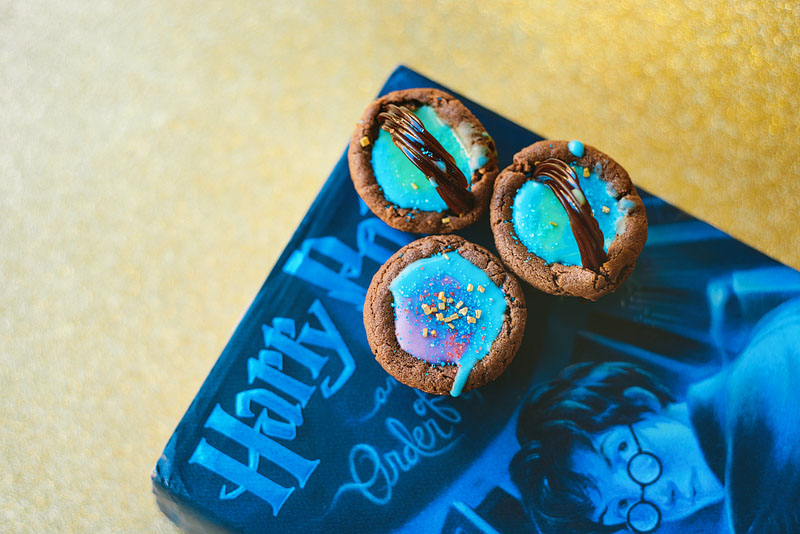 Since these treats needed to survive a plane ride, we had to get a little creative. I've seen a version of cauldron cakes that involves making a chocolate cupcake and scooping out the center to fill it with pudding or whipped cream. Those look and sound delicious, but not very travel-ready. So we made ours more like a cookie.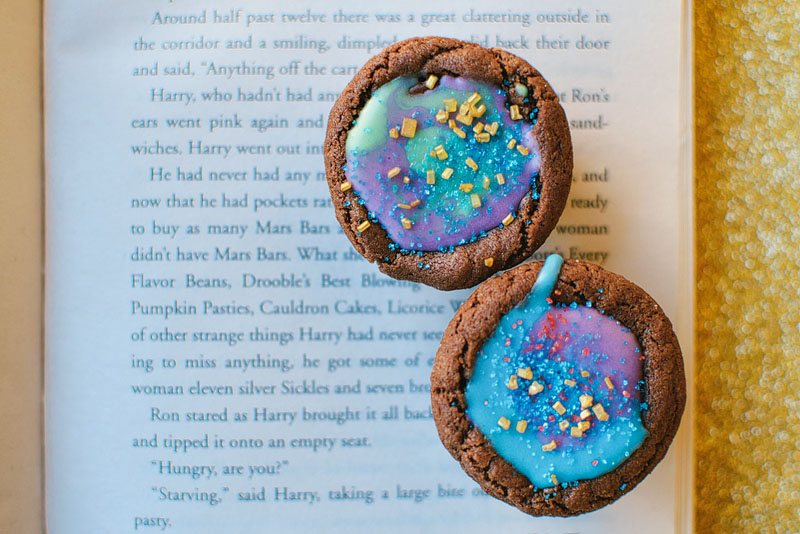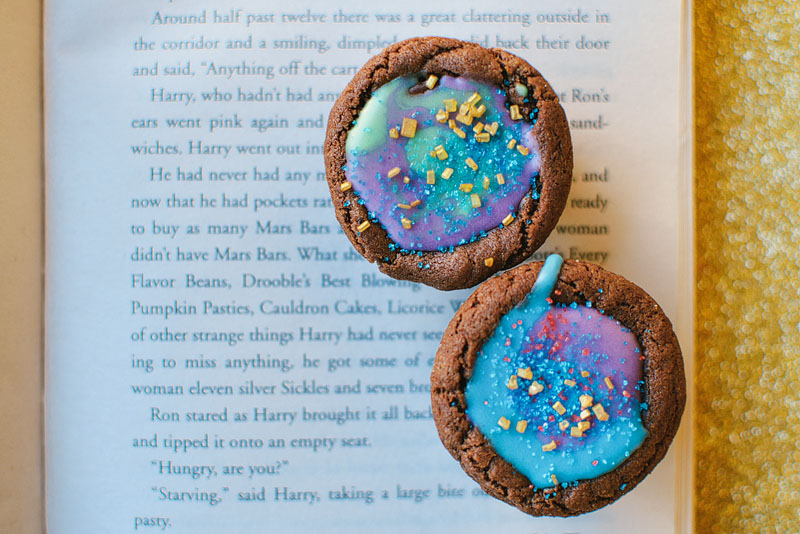 Start with a peanut butter cup cookie recipe like this one. Essentially you make a cookie in a mini-muffin tin and pop a peanut butter cup in right as you pull them out of the oven, so it creates a slightly sunken cauldron-like shape.  Let them cool before the next step and consider freezing them for a few minutes to avoid crumbly cookie pieces. Also, if you're feeling really ambitious, you can use a piece of licorice (we went for chocolate flavored licorice) to form a cauldron handle, but only about half of our handles stayed in once the cookies cooled.
To make little cauldron "feet" we dipped the bottom of these cookies in melted chocolate and set them on chocolate covered pomegranate seeds. Why chocolate covered pomegranate seeds? We were out of chocolate chips. If you plan to make these, definitely use the chocolate chips. They're much more reliable and uniformly sized. Afterward we let them freeze overnight to set the chocolate.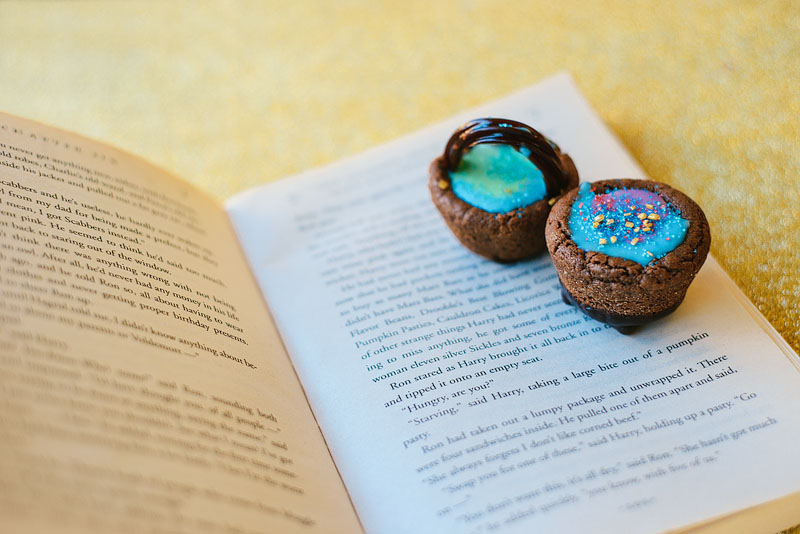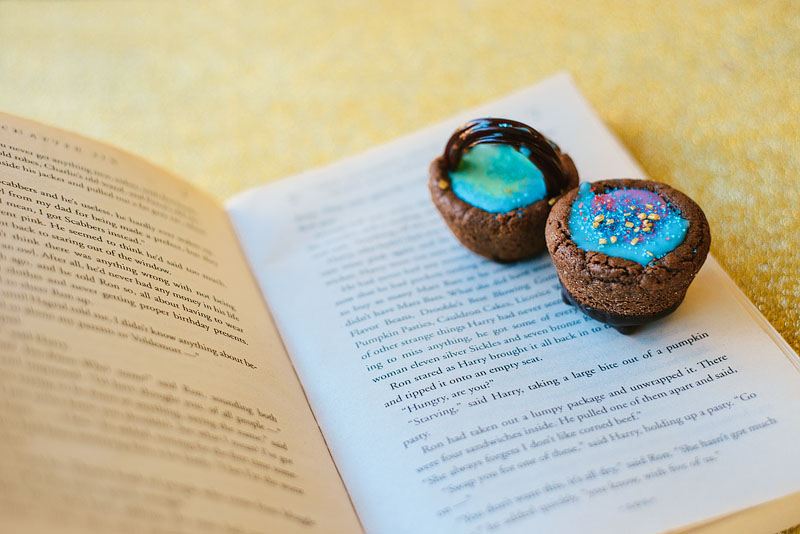 Then came the final flourish — filling the cauldron cakes with "magic potion." I made three colors of icing glaze and filed in the indentations of each cookie to cover up the peanut butter cup. To make it a little more fun, I mixed my icing together with a toothpick to give it a marbled effect, then topped with a few sprinkles!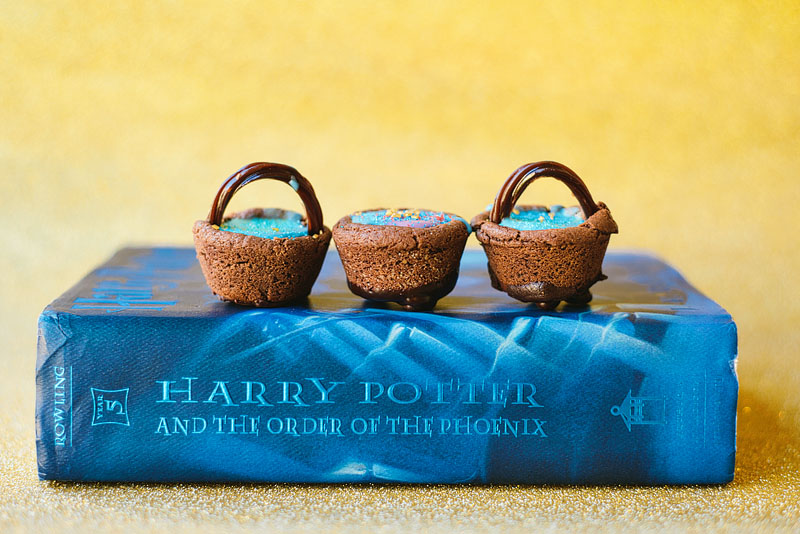 They were a little worse for wear after 8 hours of air travel, but these little guys were a hit with my fellow HP fans! My friends and I shared and compared our various craft projects which included these cakes, ginger snaps (aka "Weasley snaps"), homemade Hogwarts house scarves and robes, and homemade wands! Someone remarked that it felt like we were preparing for a small child's birthday party, not a girls' weekend, but it just goes to show that you're never too old to have fun and appreciate a little magic!
Read this post and other nerd-tastic delights at Fanboy Comics!
[addtoany]
Yum