Hey y'all! Jennie and Corelyn are taking some time off surrounding Jennie's wedding. While they're gone, please enjoy some guest posts from our favorite bloggers.
This post is from our good pal Kate, who was sweet enough to let us borrow two of her delicious recipes from Farmhouse38. We hope you enjoyed last week's Caramel Bourbon Cake, and we know you'll enjoy this Apple Pie Crème Brûlée.
****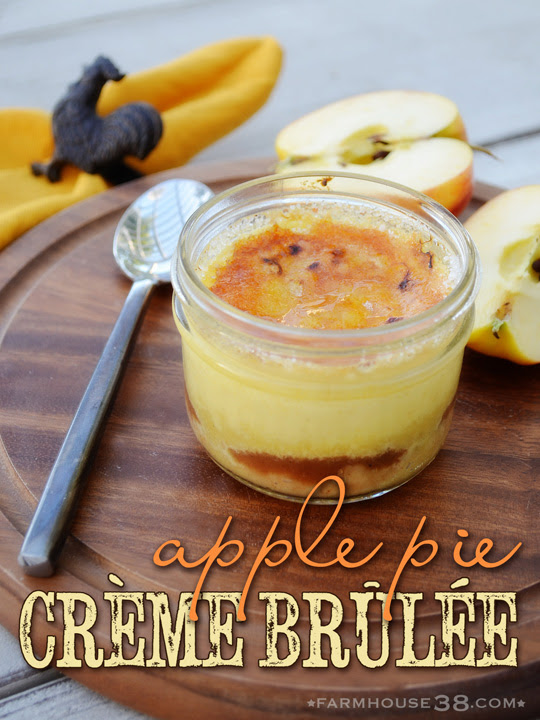 Is it obvious that I have a thing for crème brûlée? (Please refer to this and this for clarification.) I just can't quit it. The chickens are enablers; their diligent egg-laying forces my hand.
This recipe is a yummy seasonal departure with its shortbread crust and layer of apple butter added to a classic vanilla bean custard.
You will need:
-2-1/2 cups heavy cream
– 1 whole vanilla bean
-7 large egg yolks
-1/2 cup granulated sugar
-6 to 12 shortbread cookies, depending on how big they are and how much cookie crust you want
-6 to 12 tablespoons of your favorite apple butter
-approx. 6 extra tablespoons of sugar to brûlée the tops
Preheat your oven to 325 degrees. Line a baking dish with a dish towel (this keeps the ramekins from sliding around once you fill the baking dish with water). Set this aside.
Split the vanilla bean and place it in a medium saucepan, along with the cream, and put this on your stovetop over medium heat. Warm the cream mixture slowly, until bubbles form around the edge of the pot. Remove it from the heat, and let it sit while you go about your other business.
In a ziplock baggy, crush your shortbread cookies, and then line the bottoms of each ramekin with just enough crumbs to be a solid layer. Next, spoon about a tablespoon or so of apple butter over the top of the crumbs–again, just enough to make a solid layer. Place your ramekins in your prepared baking dish so that their sides don't touch each other. Personal space; it's important.
In a stand mixer, whisk together the sugar and egg yolks until the mixture begins to thicken and turn slightly lighter in color.
Strain the cream mixture and then very, very, very slowly, add it in tiny bits to the sugar/egg mixture. If you do this too fast, your eggs will scramble. Scrambled eggs bad. This process usually takes me a few minutes. When everything is blended, divide the mixture evenly amongst your six prepared ramekins. Carefully fill the baking dish with scalding hot water (either from the tap or from an already-boiled pot of water) so that the water line comes about halfway up the sides of the ramekins.
Put your baking dish on the middle rack of your oven and bake for 35-50 minutes or until the custard is set around the edges and wiggles only a tad in the very center. Remove your baking dish from the oven, remove the ramekins from the the water bath, and let them cool a bit on the counter. Refrigerate them for a few hours or up to three days.
When you are ready to serve, sprinkle about a tablespoon of sugar across the top of the custard so that there is a decent layer across the whole thing. Fire up your brûlée torch, and holding your ramekin at a 45 degree angle, ease the flame across the sugar. Once it starts to melt, start rotating your custard a bit so that the melted sugar rolls around and spreads nicely across the top. Try not to catch anything other than the sugar on fire. Especially your kitchen. Don't do that.
Let the sugar cool and serve immediately!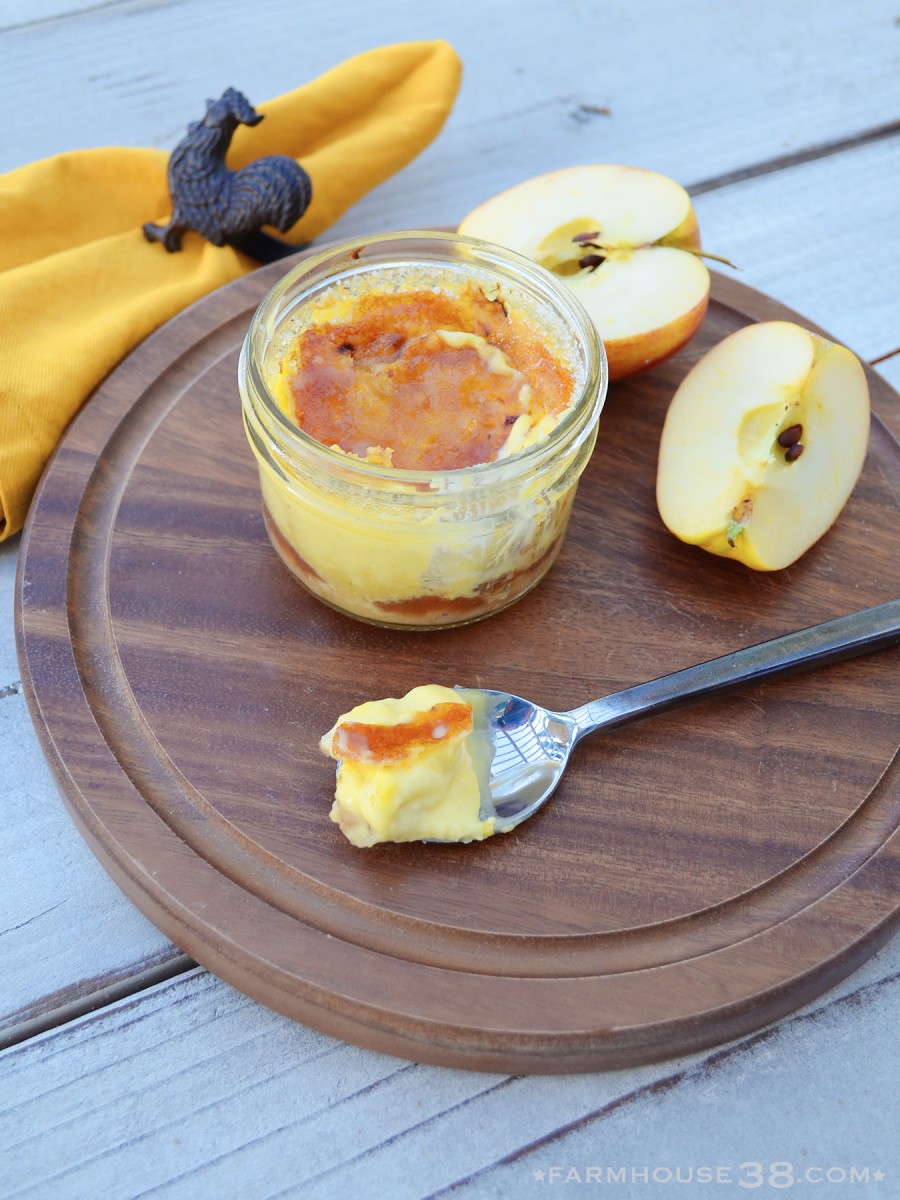 Yum