So I procured a giant bag of farro from Costco a couple of months ago, and Ky (my trusty cooking partner) and I have been trying to use it up during our cook-something-good-for-you-and-also-do-yoga nights.
We're consistently more successful in the kitchen than we are on our yoga mats.
Farro is a grain, but if you google it, you'll get a lot of different theories about what it actually is. Some people say it comes from wheat, some people say it's the same as barley, and some people say it's spelt.
I say it's delicious.
Basically, I would tell you that it tastes like a cross between barley and rice, and it has a little bit of bite to it. Heidi from 101 Cookbooks calls it "toothsome" and I agree with her.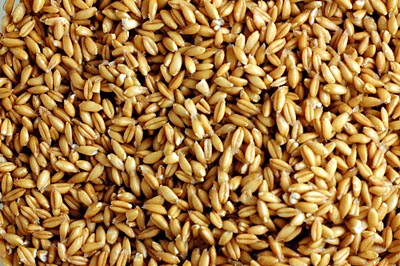 In terms of method, you cook it 1 part farro to 2-2.5 parts water for about 15 minutes at a low boil. It's easy, relatively fast, and not rice, so I like it.
As a Nikki-could-be-crazy aside, cooking rice is my absolute culinary nemesis. It never comes out the way I want it to, so I basically spend my life looking for alternate grains to use in its crunchy, undercooked place.
Back to the cooking.
Because it's winter, and in the Windy City that means eating mostly potatoes and frozen vegetables, we opted for sweet potatoes, kale, and onions.
Then we just sort of improvised (as is my favorite style of cooking), roasting, sautéing, and adding splashes of balsamic vinegar and healthy shakes of hot pepper flakes as we went.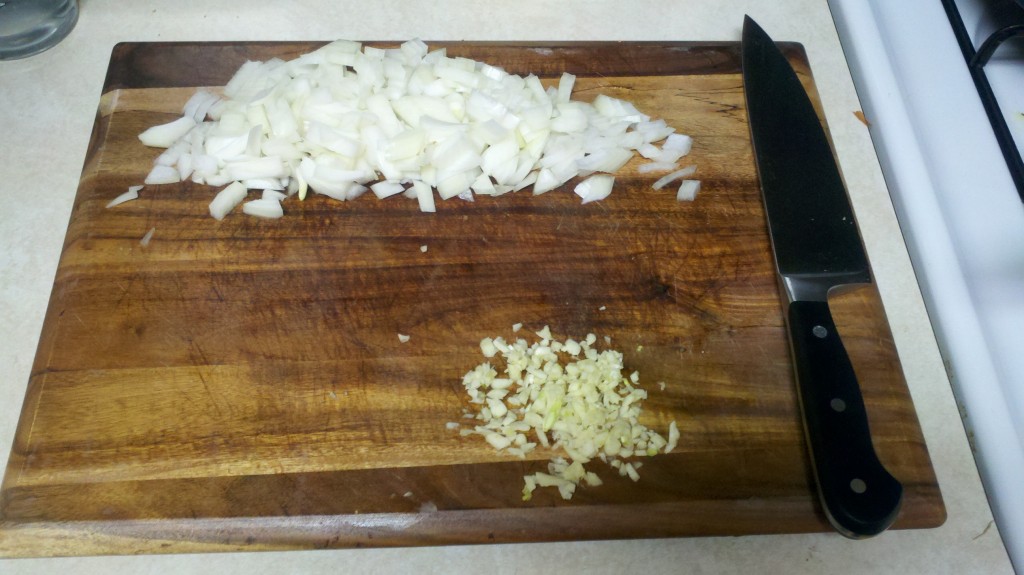 We start everything with garlic and onion. And olive oil. These are the keys to a successful dinner, in my book.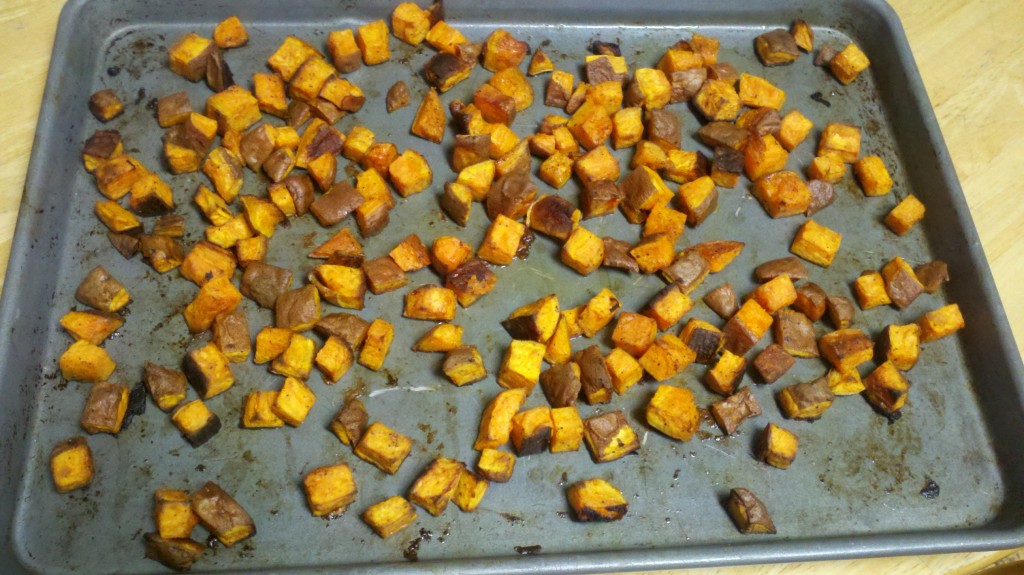 We also roasted sweet potatoes. Sweet potatoes are a delight and full of pretty much everything that's good for you.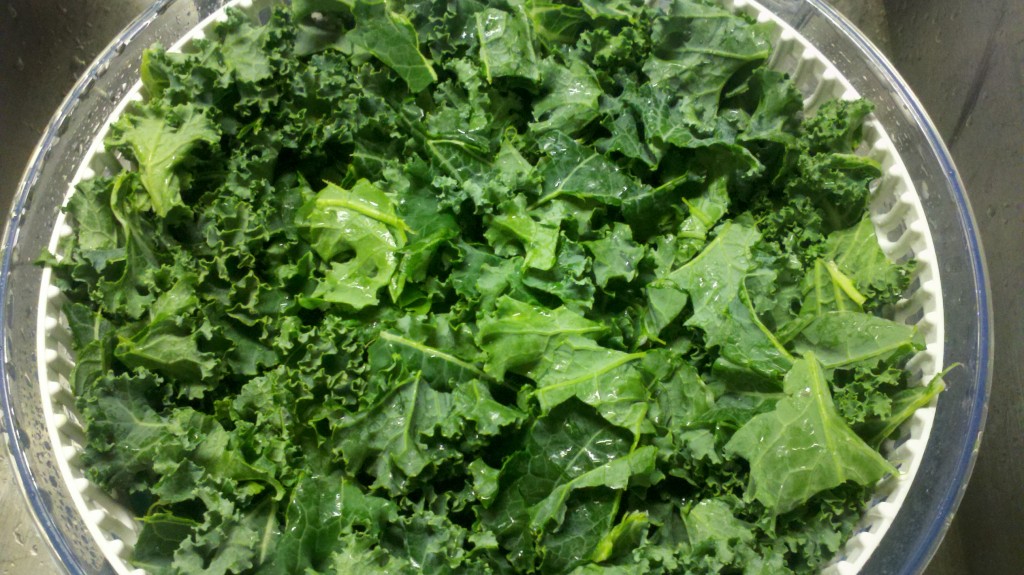 Then we sautéed our kale with the previously mentioned garlic and onion. Kale is beautiful and nutritious, and it's even more beautiful once it has hit the heat for a few minutes.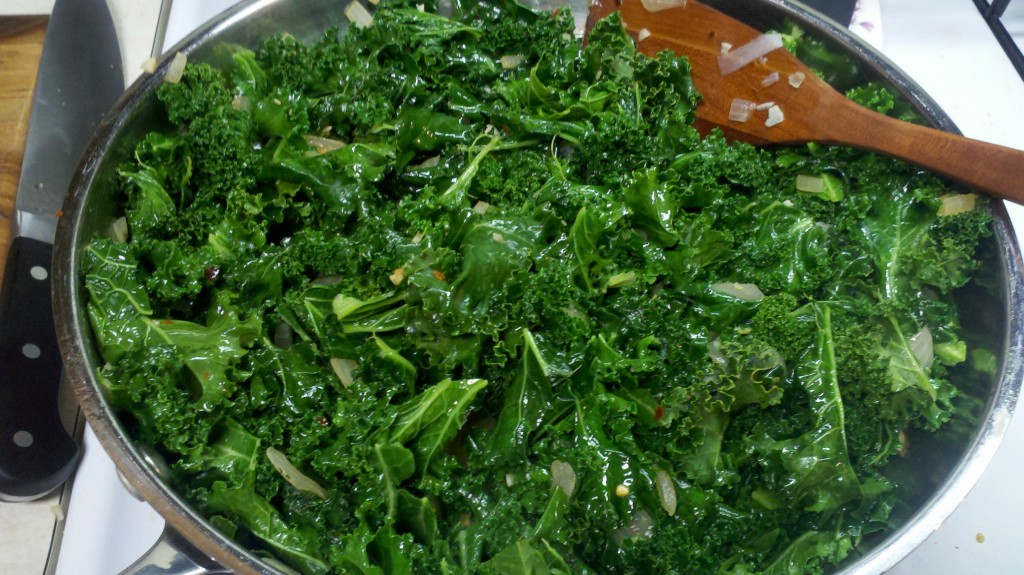 See what I mean?
Next we added chickpeas, which turned out blurry in photo-form (but perfectly edible in real time), and then we mixed the whole mess together with some feta crumbles, balsamic vinegar, and s & p.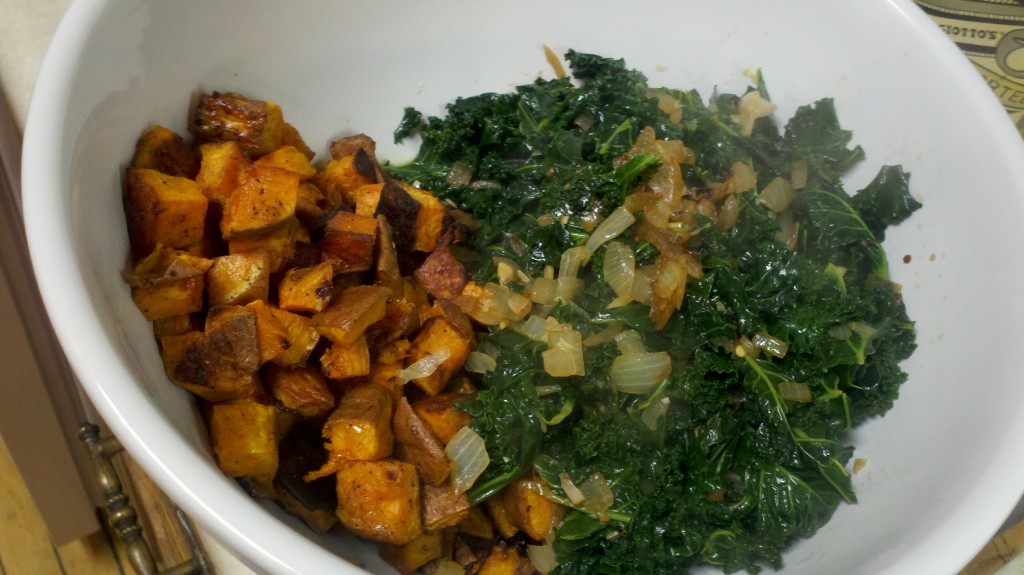 Into a bowl it went, and voila, farro salad.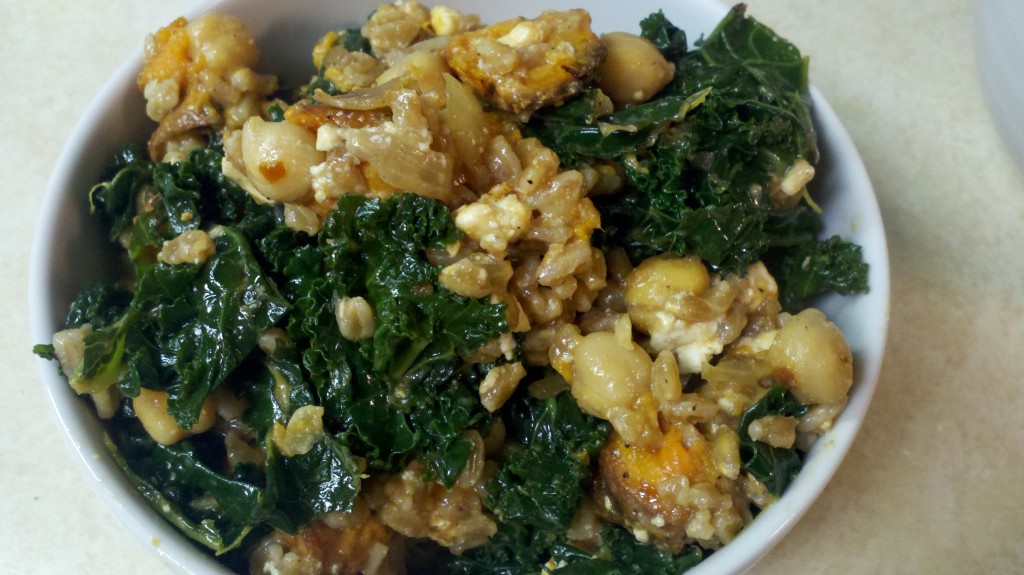 If you're into quinoa, couscous, barley, or the dreaded rice even, you'll like farro. It's high in protein, a whole grain, good tasting, and quick to throw together.
What more could you ask for?
Besides for winter to end and the farmers' market to start, that is.
Enjoy, chickadees, and let me know how you're using farro in your nests!
Yum