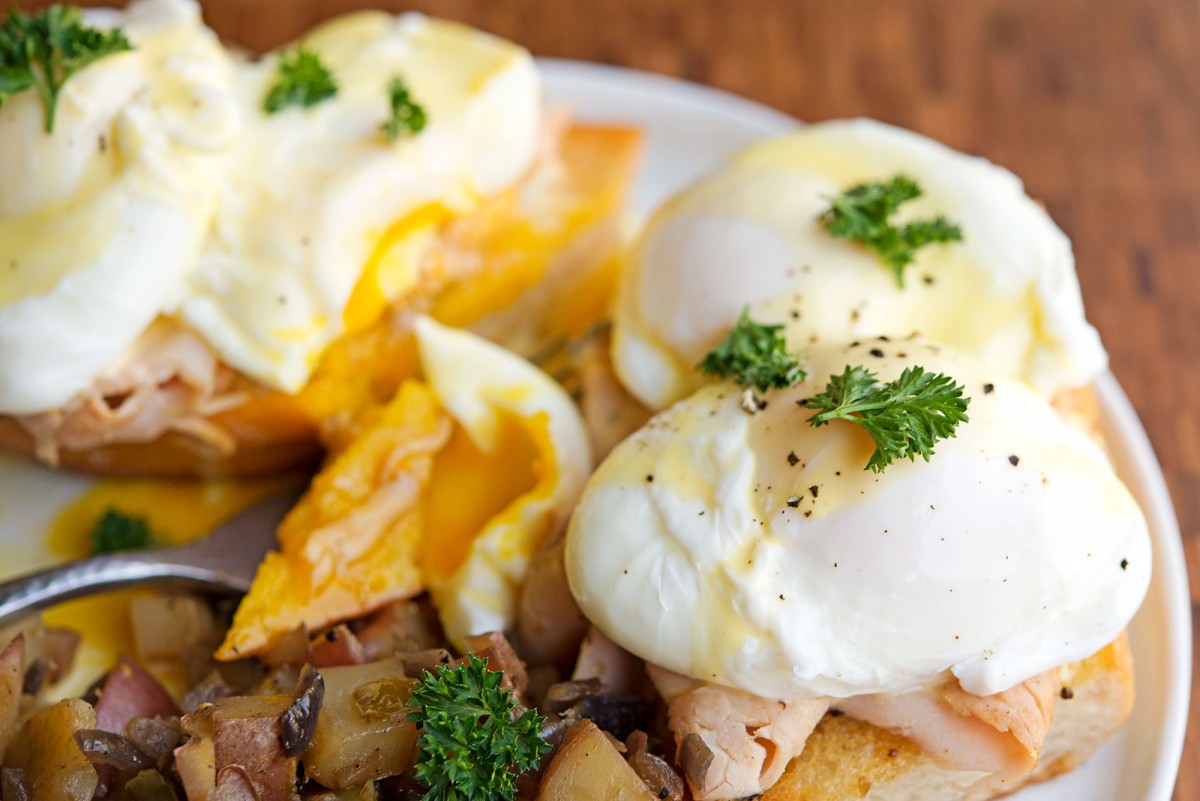 I love breakfast, and I love eggs. I yearn for big weekend breakfasts full of omelettes and waffles and pancakes, fresh fruit and endless cups of coffee.
I love cooking on the weekend when the days of endless possibilities are stretched in front of you and the morning light is hitting my stove just so, and so a couple weekends ago I decided to whip up eggs with home fries. It was Corelyn's idea to make the poached eggs into Eggs Benedict, and it was the right choice.
I had never made poached eggs before, but you guys I'm here to tell you that once again Julia Child certainly had it right. Her advice for poaching eggs is this: poke a pin-sized hole in the large end of your egg(s), then boil in water for 10 seconds. Remove from boiling water, then let cool until you can handle.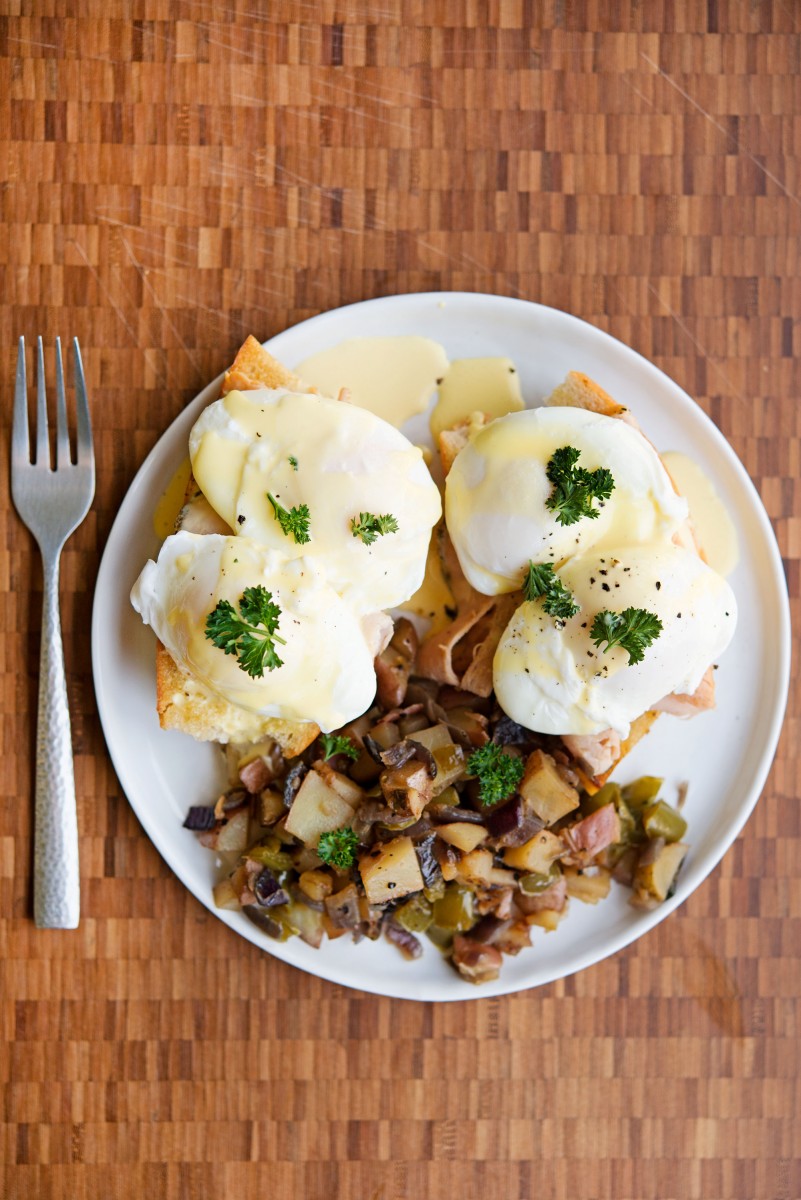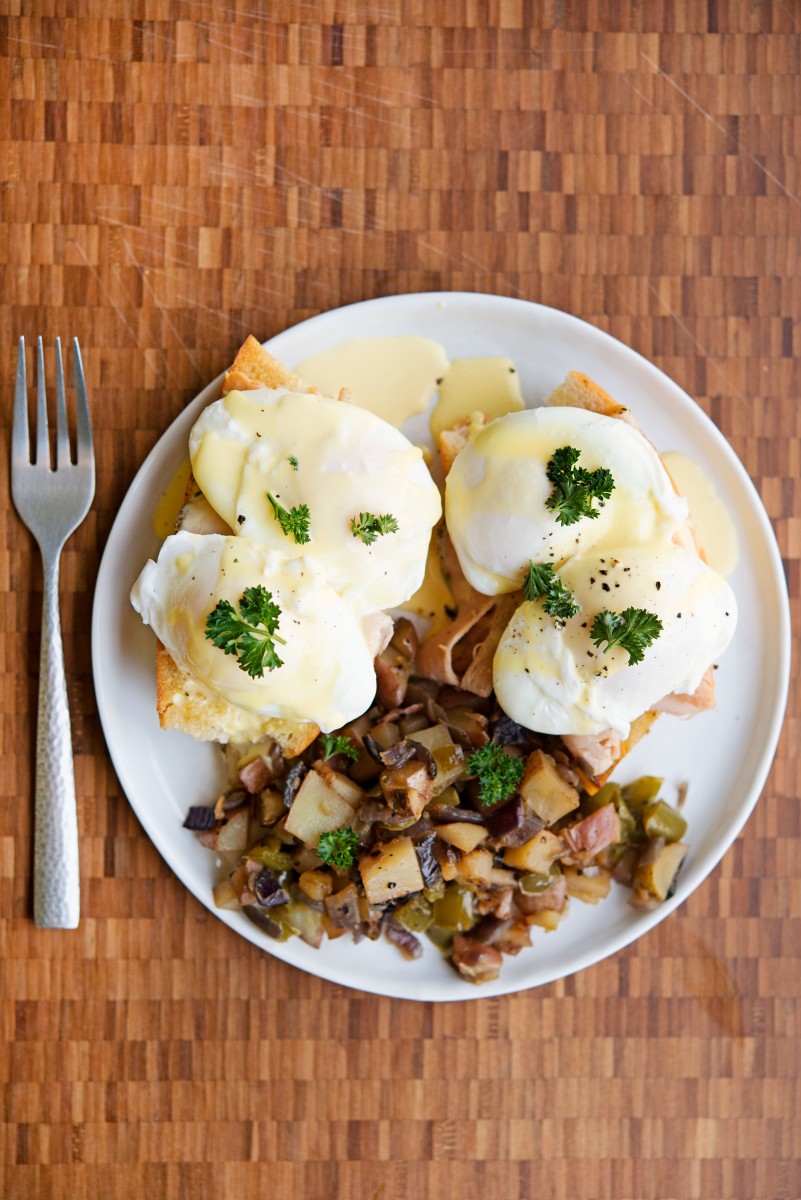 When you can handle, poach your egg: allow the water to return to boiling, stir the water twice slowly to create a current, then crack your egg into the middle of that funnel toward the surface of the water. Cook about three to four minutes, or until the white is completely set. Make sure to watch your eggs, or they'll get too rubbery – you want them to be loose, and you want the yolks to be runny!
Now, for the rest of the recipe. For the poached eggs, I recommend two per person.
Eggs Benedict
Serves: 2
Ingredients:
4 eggs
2 pieces baguette
oil or butter for toasting your baguette
2 oz turkey or ham
Corelyn's Hollandaise Sauce (recipe below)
parsley (optional, but recommended!)
Directions:
1. Make Corelyn's Hollandaise sauce (see below)
2. Poach your eggs (directions above)
3. Slightly toast your baguettes in oil or butter in a cast iron (or use your toaster)
4. Place your turkey on your baguette, topped with poached eggs, and Hollandaise sauce. If desired, also top with parsley. Serve with home fries!
Corelyn's Hollandaise Sauce
Serves: 4, keep excess in fridge
Ingredients:
3 egg yolks
1 lemon, juiced
dash of cayenne
1/4 tsp dry mustard
1/2 cup butter, melted
salt
Directions: 
1. Combine egg yolks, seasonings, and lemon juice in a blender, blending for about five seconds to combine.
2. Pour in butter slowly, blending for about a total of one minute.
Now, to go with this Eggs Benedict you need some home fries, and luckily they are very easy to make. So easy it's almost silly to give you a recipe, but I'll give it to you anyways so you can recreate these – but remember you can have them however you want!
Home Fries
Serves: 3-4
Ingredients:
2 lb red potatoes, diced
1 bell pepper, diced
1 medium red onion, diced
olive oil
s/p
Directions:
1. Dice all your veggies.
2. Sauté onions about five minutes, until soft, in olive oil.
3. Add your bell pepper and potatoes, and cover. Allow to cook until potatoes are tender, about 15 minutes. Remove cover and allow potatoes to crisp, about 5 minutes.
See? So easy.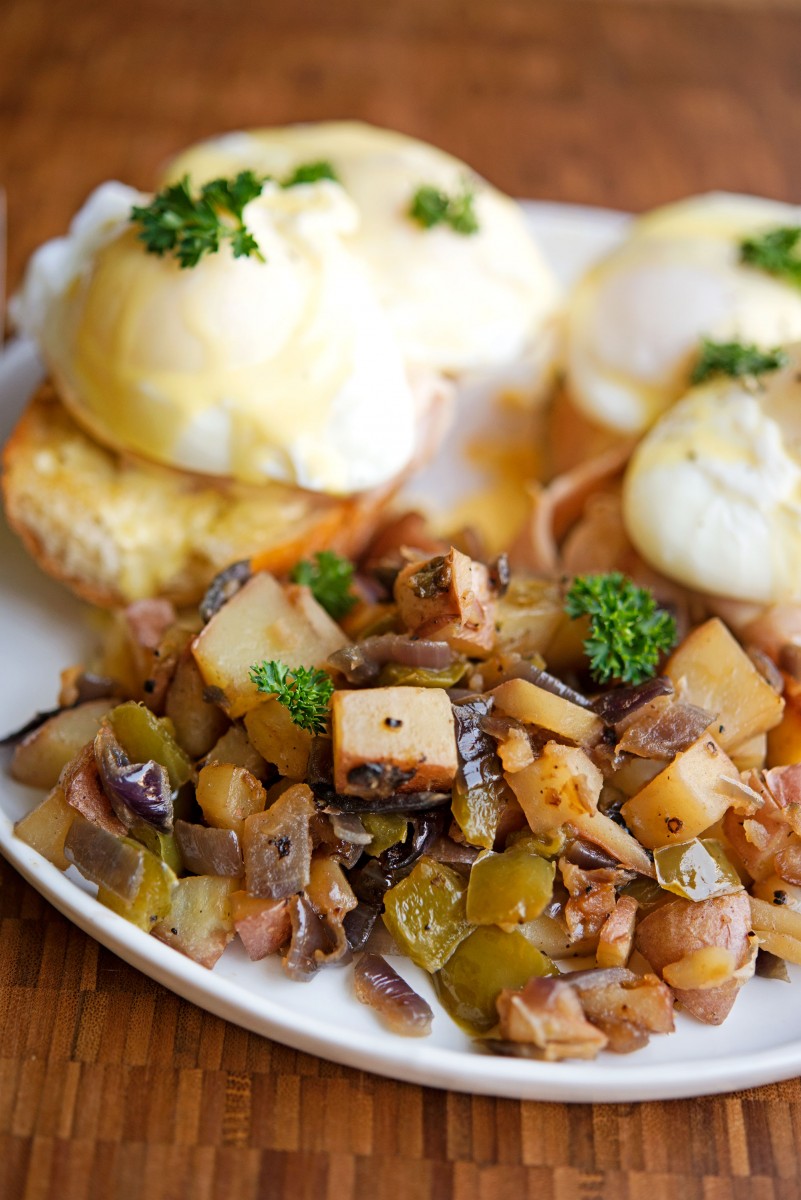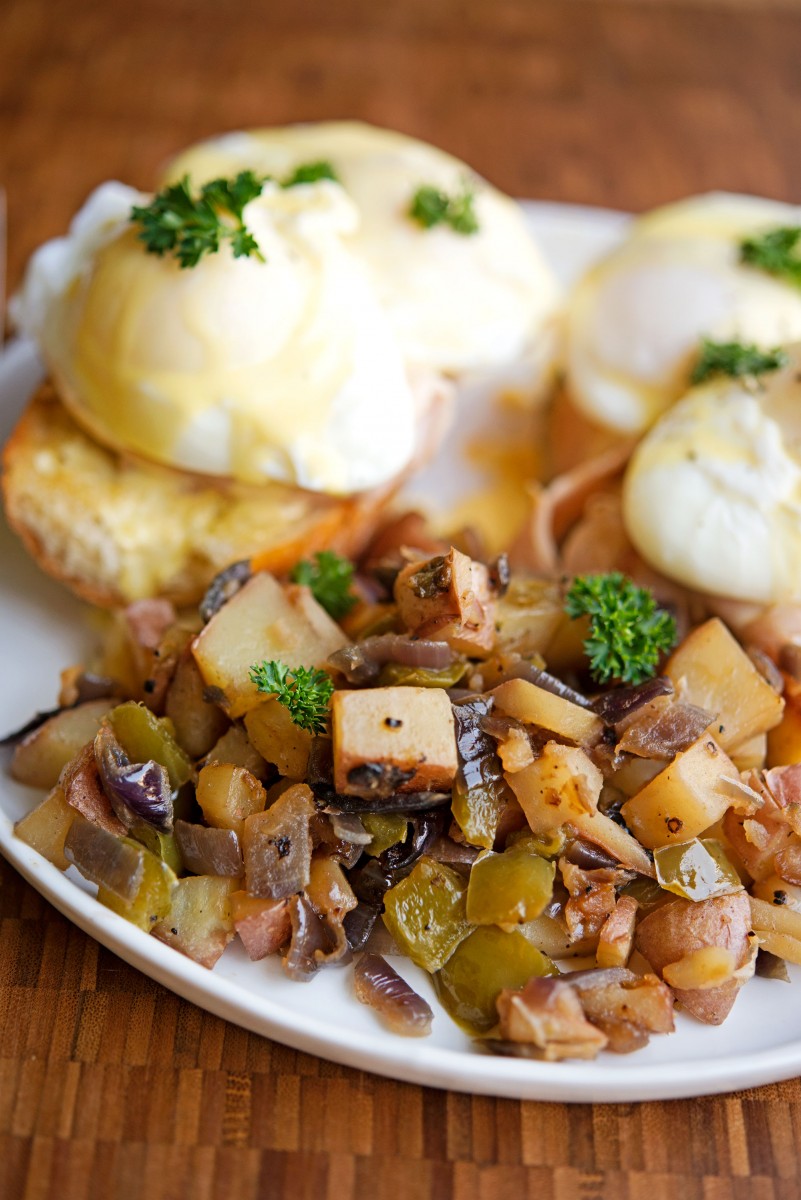 So there you have it – a perfect Sunday morning meal to serve for a lazy day ahead – or to power you through errands all day. Or a morning hike. Whatever y'all are up to these Sundays.
What is your fave weekend meal? Do you go sweet or savory, or somewhere in between?
[addtoany]
Yum