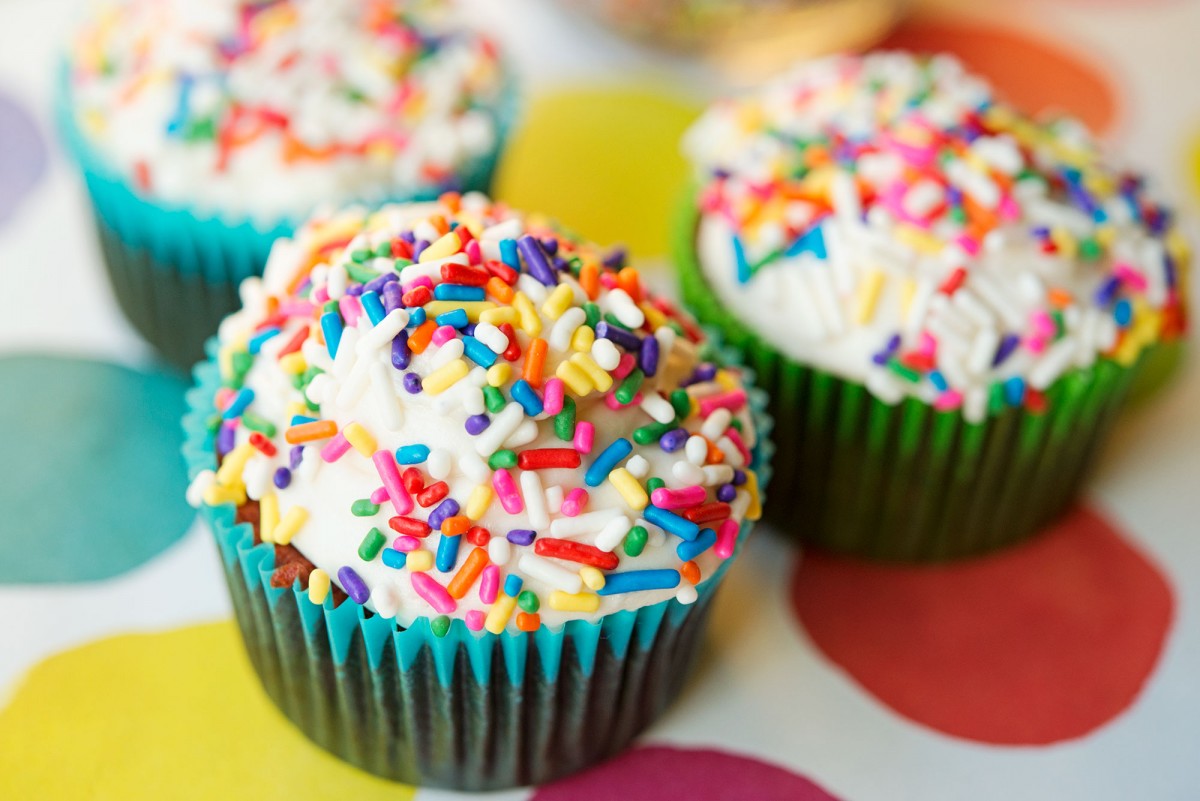 Around these parts, we love making people cakes and brownies and cookies for their birthdays. But, as we've gotten older people often have their get-togethers in bars and the like, making it hard for us to cart along a two layer cake. Thankfully, the stars align every now and then and we get to make a cake (or cupcakes) and share them with our friends. This year, our friend A (hi, A!) turned 30, and we wanted to make him something since he's never had a birthday treat from the GMS kitchen.
The text convo went like this:
J: What kind of cake or treat would you like for your birthday?
A: Maybe this is totally decadent and horrifying, but some combination of red velvet and chocolate in a cupcake would be amazing, haha.
J: Can be done. You got it.
Not only was this not horrifying; it was genius. So we set out to make chocolate and red velvet cupcakes with butter frosting. The following recipes made 36 cupcakes all together – a big batch, but perfect for a big party!
Here's what we did: start with Ina's Chocolate Cupcake recipe, but make only half the recipe. We made a few adjustments using ingredients we had on hand, too:
Ingredients
6 tablespoons unsalted butter, at room temperature
1/3 cup granulated sugar
1/3 cup brown sugar, packed
1 extra-large eggs, at room temperature
1 tsp pure vanilla extract
1/2 cup buttermilk, shaken, at room temperature
1/2 cup plain yogurt, at room temperature
7/8 (3/4 cup + 2 tbsp) cup all-purpose flour
1/2 cup cocoa powder
3/4 tsp baking soda
1/4 tsp kosher salt
Directions:
1. Cream butter and sugars at medium speed about 5 minutes until light and fluffy.
2. Lower speed and add egg and vanilla.
3. Meanwhile, mix in a bowl buttermilk/yogurt.
4. In other bowl, mix flour, cocoa powder, baking soda, salt.
5. Add buttermilk and dry ingredients to bowl alternating between the two in thirds (so add each one a third at a time) until combined.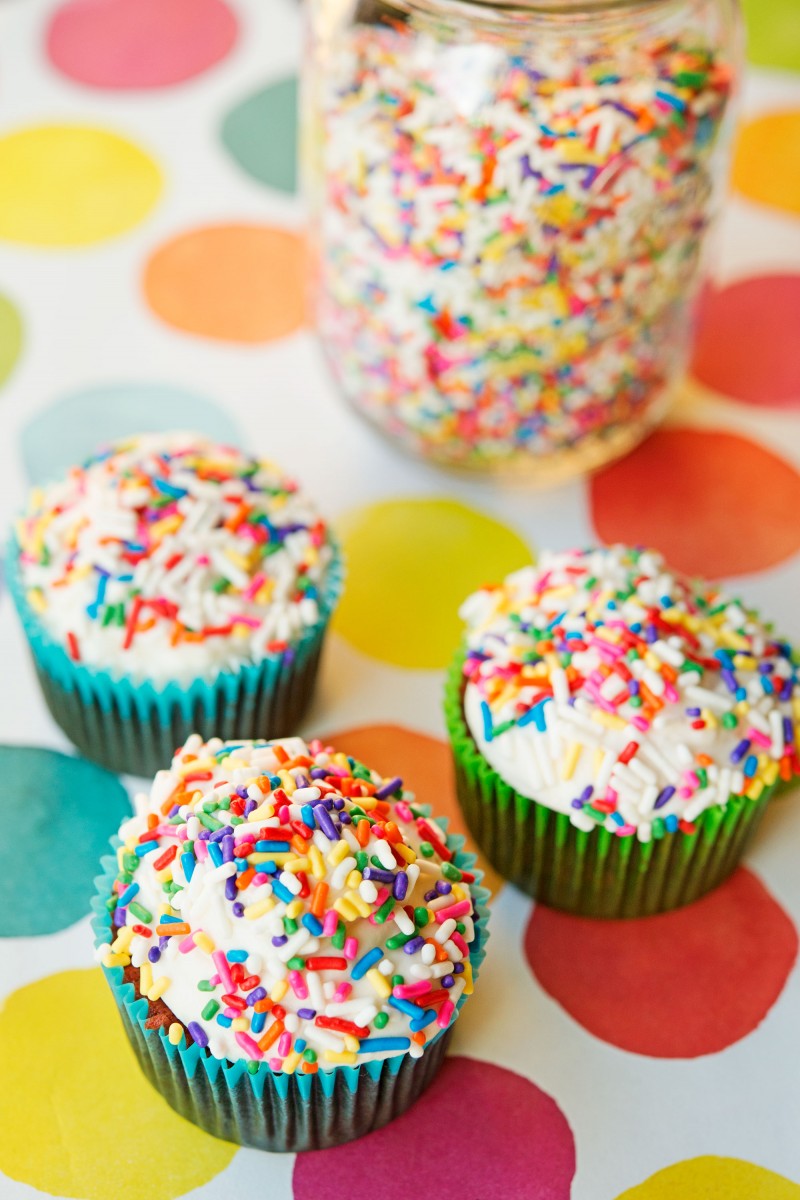 Now, you need to make some Red Velvet Cake. We used the Wilton Red Velvet cake because it had two eggs – easy to half. You also want to make half the recipe. Here's how we made it:
Ingredients:
1/4 cup butter
3/4 cup granulated sugar
1 egg
1/2 tsp pure vanilla extract
1 cup all-purpose flour
1 tbsp cocoa
1/2 tsp salt
2 tbsp red food color, gel recommended (really to your desired color)
1 cup buttermilk
3/4 tsp baking soda
1/2 tbsp white vinegar
Directions:
1. In a medium bowl, stir together flour, cocoa and salt; set aside.
2. In large bowl, beat butter, sugar and vanilla until light and fluffy. Add eggs and red icing color; mix well.
3. Add flour mixture alternately with buttermilk to butter mixture, beating until well blended.
4. Stir baking soda into vinegar and fold carefully into batter.
Now, here's where it gets interesting. You're going to do 350 for your oven. You want to fill your cupcake tins about 2/3 full – that's it, or they'll overflow. You want 1/3 chocolate cake on the bottom, then 1/3 red velvet on that. Stick them in the oven about 20 minutes, until a toothpick comes out clean.
Top with Butter Frosting because it's the right choice. Add sprinkles if you want, or not, if you don't.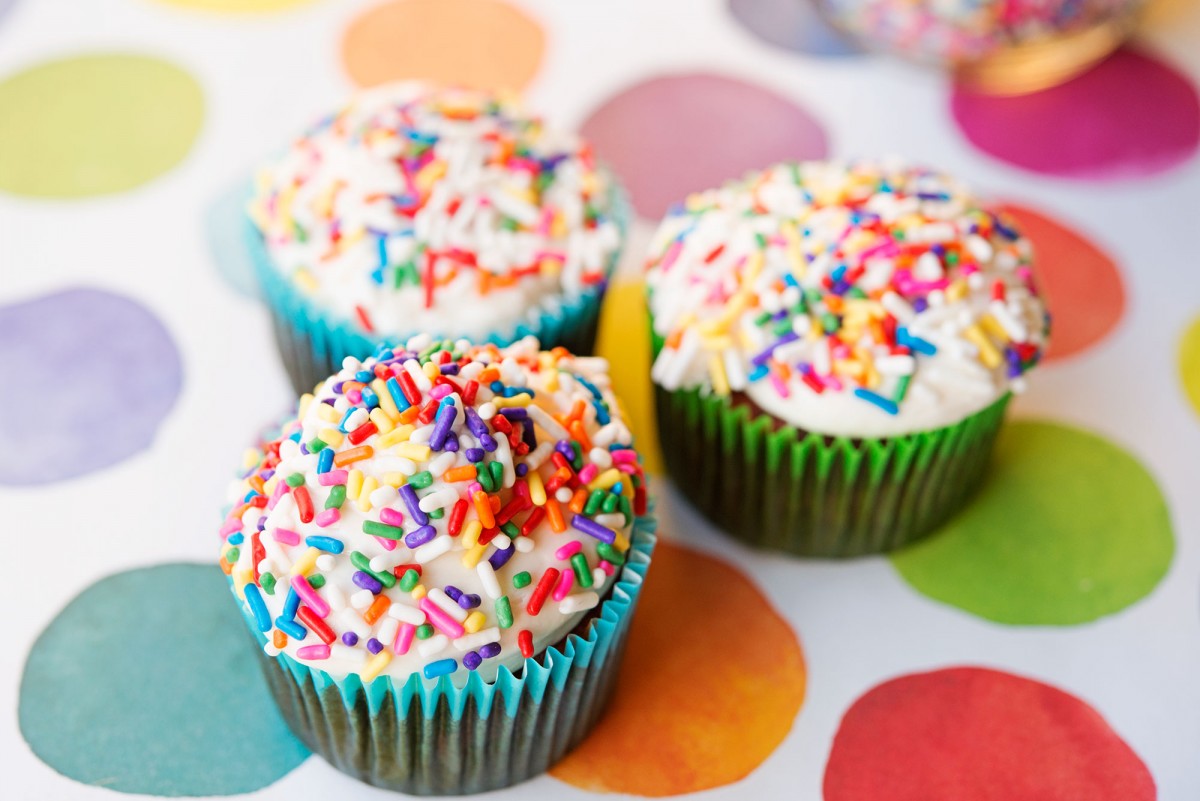 What is your fave birthday treat? Do you love chocolate, or would you rather have an apple pie? Let us know and we'll add it to our "to make" list!
[addtoany]
Yum