One of this month's Cucina Fresca recipes is Veggie Burgers. We used beans as the base for the burgers, and we looked up a few recipe options online before making a decision on what to use ourselves. We did try the recipe last night, but the final recipe will have a few tweaks. Overall, we felt there were too many beans, not enough veggies. That said, I did eat two meals yesterday that were what I DID make, so the recipe as I made it was also delicious. The good thing about making veggie burgers is you can pretty much put whatever you like in them and they'll turn out delicious.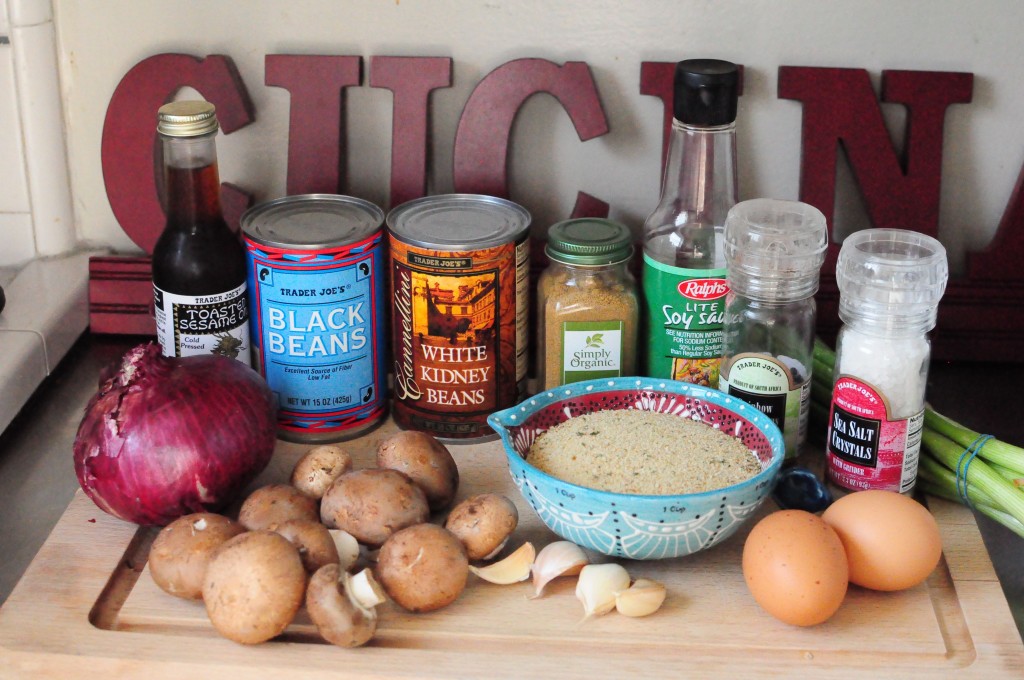 First, grab your ingredients. (Make sure you also lower the the ISO on your camera, or else your photos might not be so hot. Like mine. Never mind that, though.)
You need black beans, kidney beans, onions, mushrooms, garlic, breadcrumbs, eggs, cumin, salt, pepper, soy sauce, toasted sesame oil, or maybe Worcestershire sauce but I happened to be out of it, so I used soy sauce and sesame oil.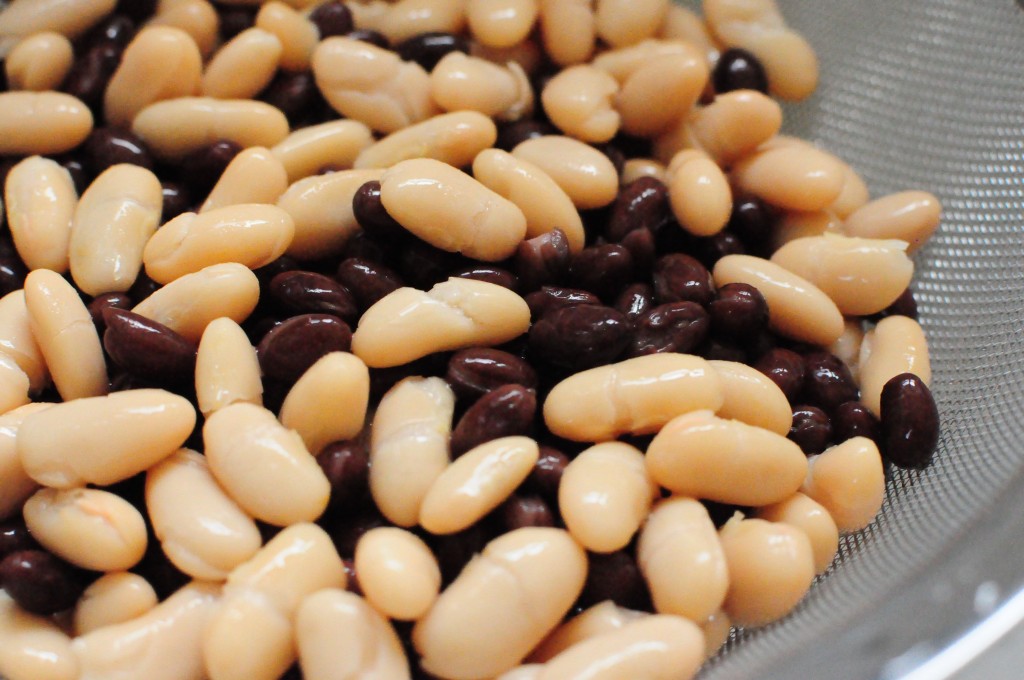 So you take your beans. You rinse them. Shake off the water for a minute. Yum.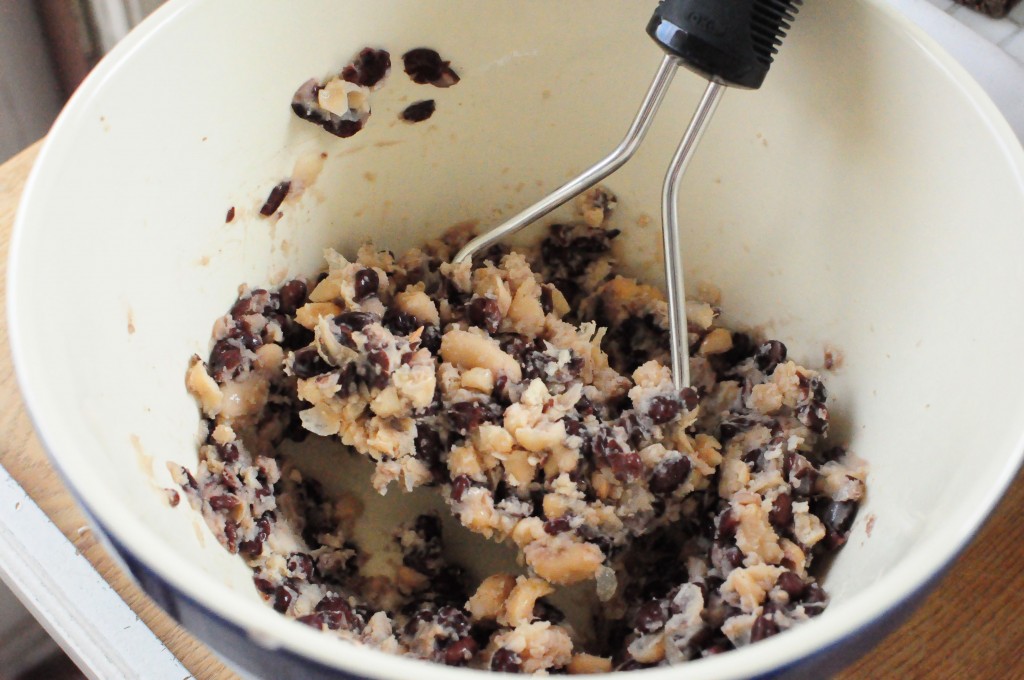 Them stick them in a big bowl. Mash 'em up. If you're lucky, like I am, you can have a friend do it while you get some other stuff done.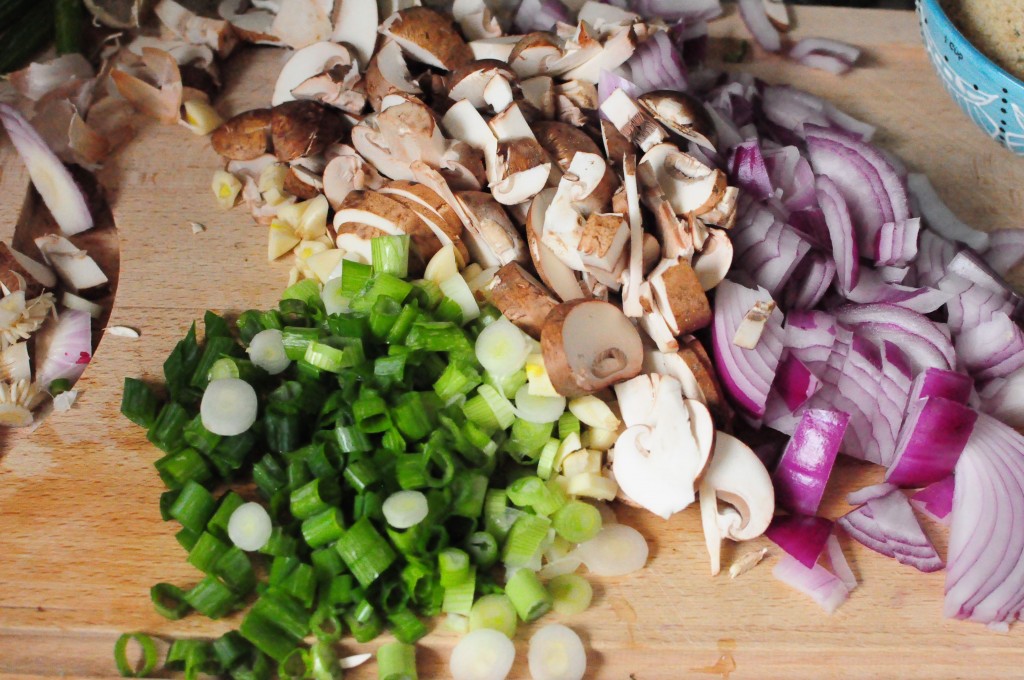 So next, you chop your business. That'd be about 5-6 green onions (greens included), an entire container of mushrooms, garlic, and a red onion. You can roughly chop it all, because you're going to stick it in your Cuisinart. Don't have one? Use your blender. Don't have that, either? Chop it all up real small. Whatever you got. Mincing it up will be just fine.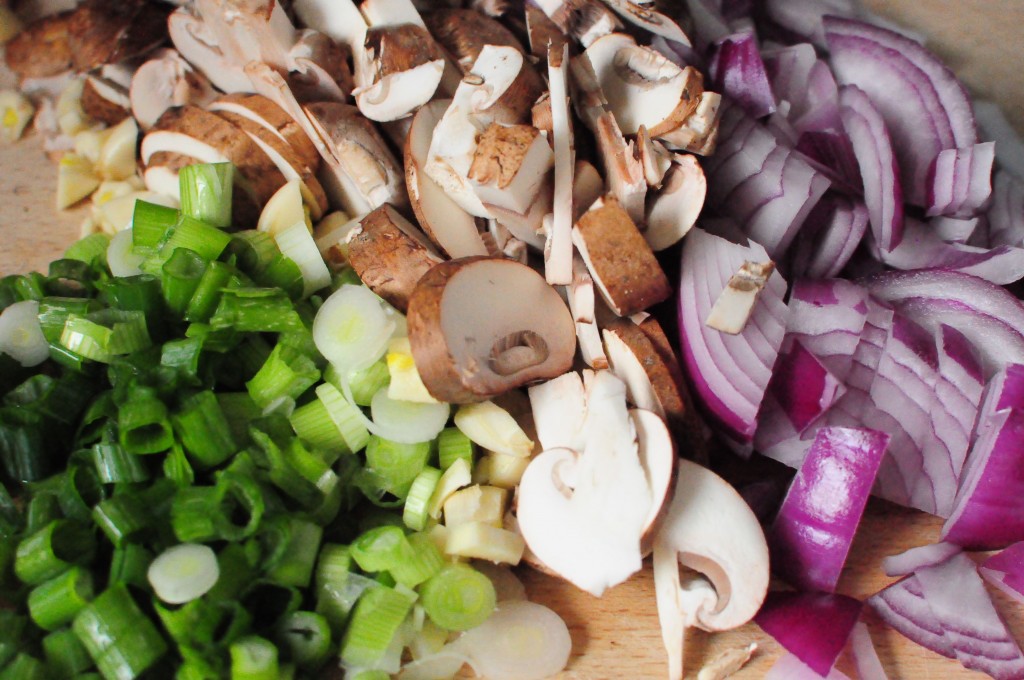 Yum yum. So delicious. Make sure you let your buddies have a piece of mushroom (or two) so they don't get grumpy.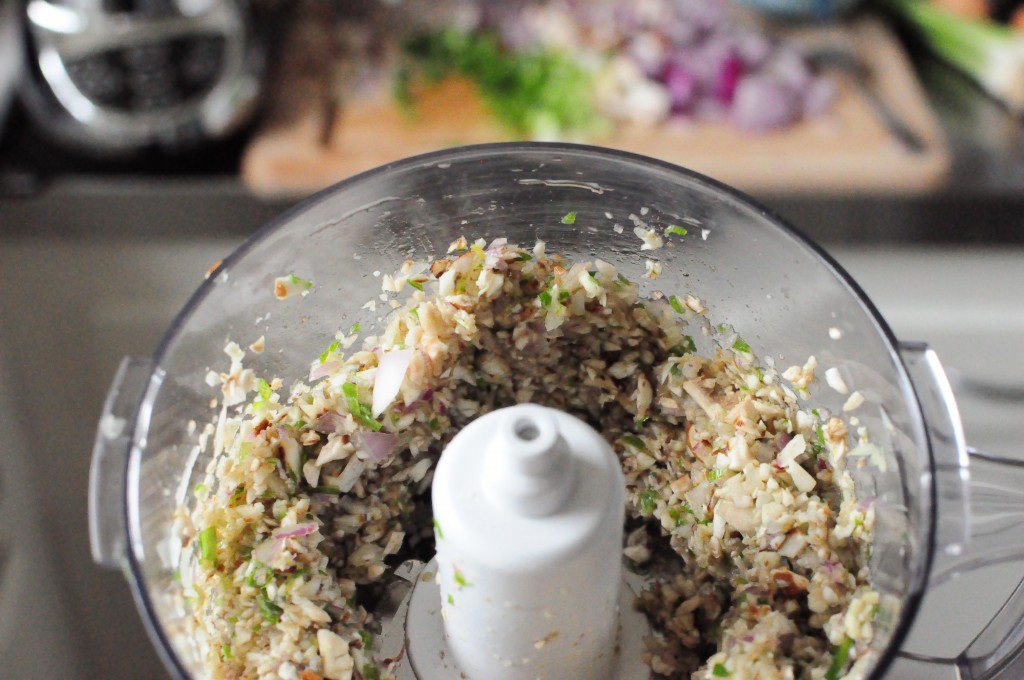 Stick about half of it in your food processor, and have at it. It should look like this when you're done.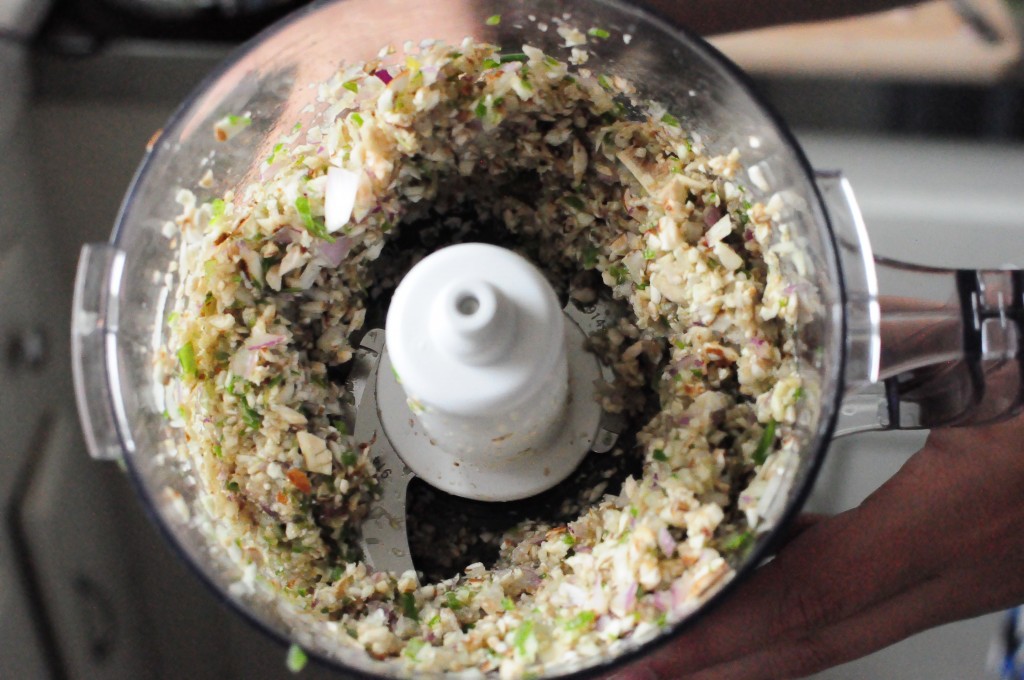 Look at that. Delicious. So good.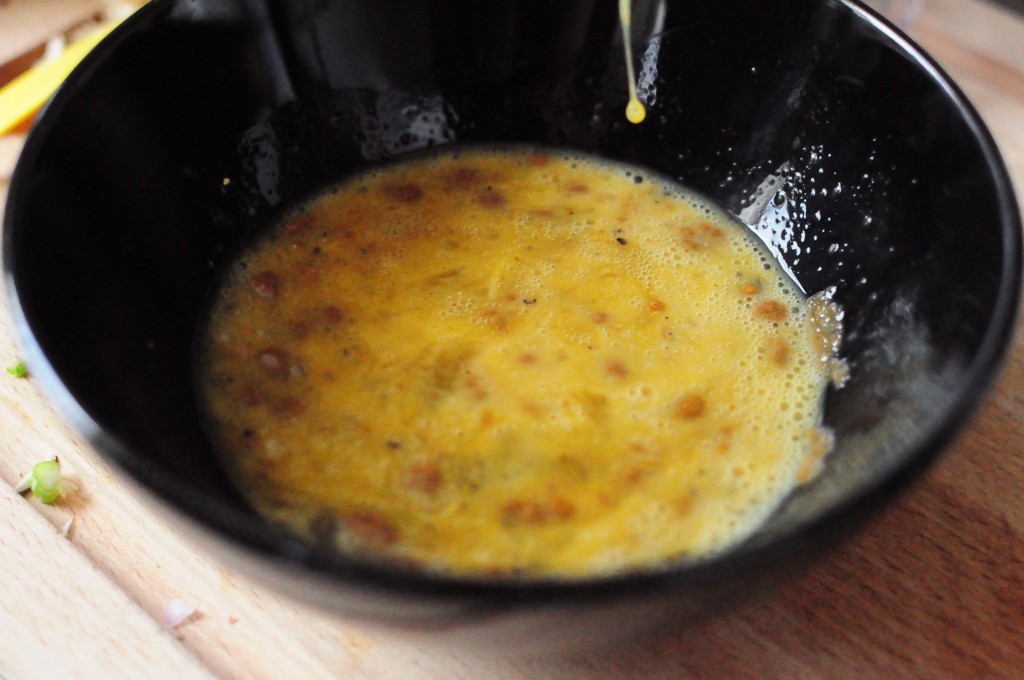 So meanwhile, you go ahead and grab your eggs. Whisk them, and then add your spices. We used cumin, salt, and pepper, but you can use whatever you want. Cayenne if you want, maybe some garlic powder, etc. You should also add your soy sauce/oil/other sauce now, if you remember. I didn't, and my burgers were still delicious, but you probably should.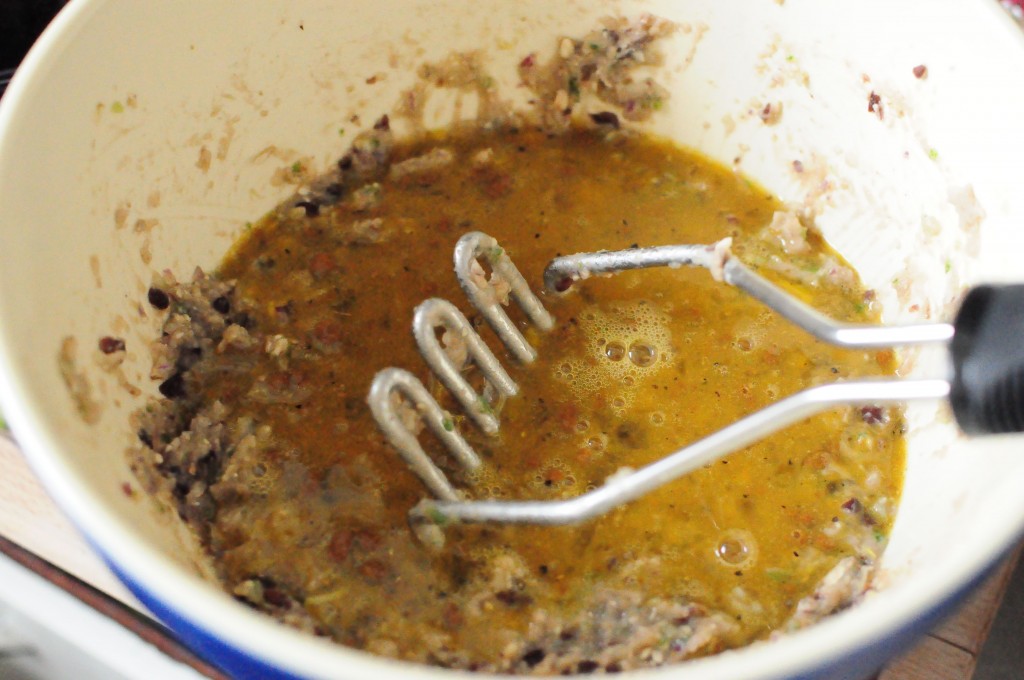 Now you're going to add your egg mixture to the bean mixture. Mix it until it is sticky.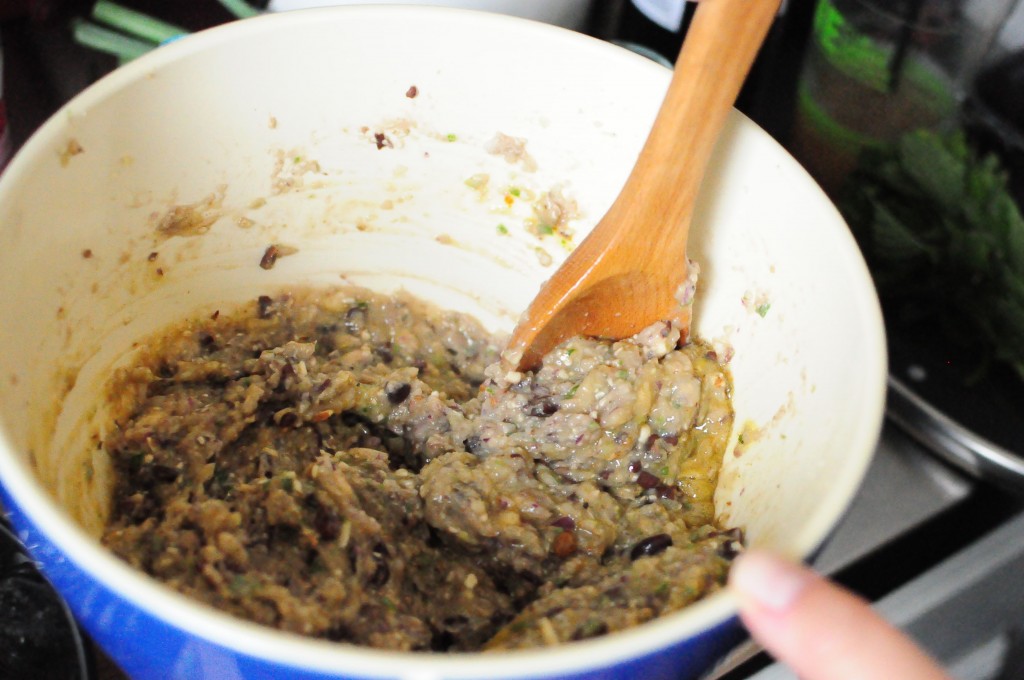 Next, you need to add your breadcrumbs in to your sticky bean veggie mixture.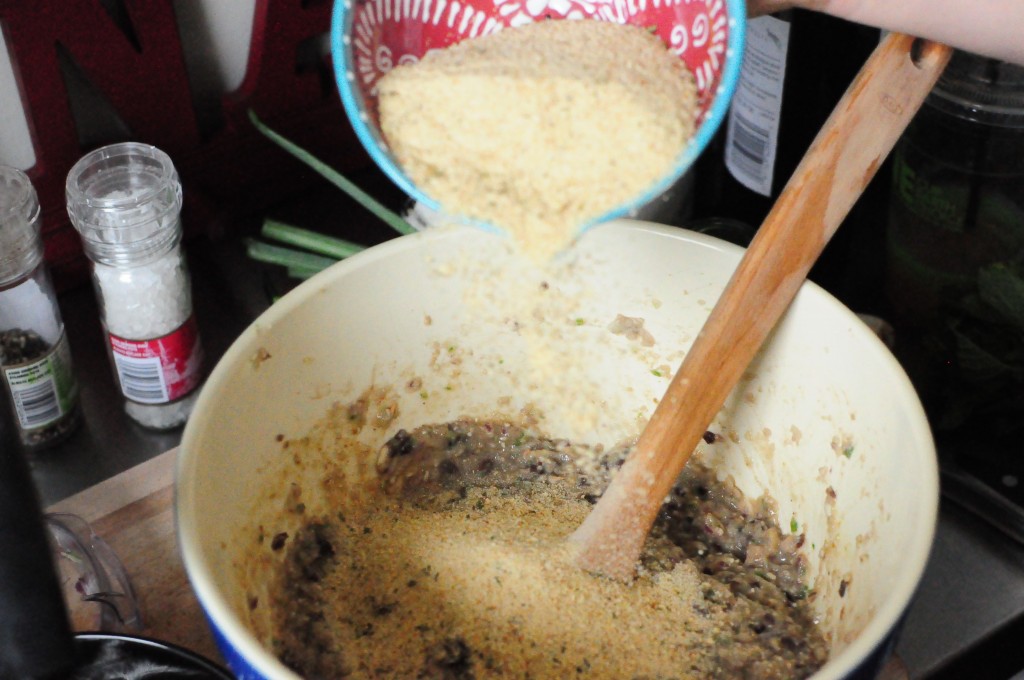 Add a cup of breadcrumbs in. I used Italian seasoned bread crumbs, but you can use whatever you want!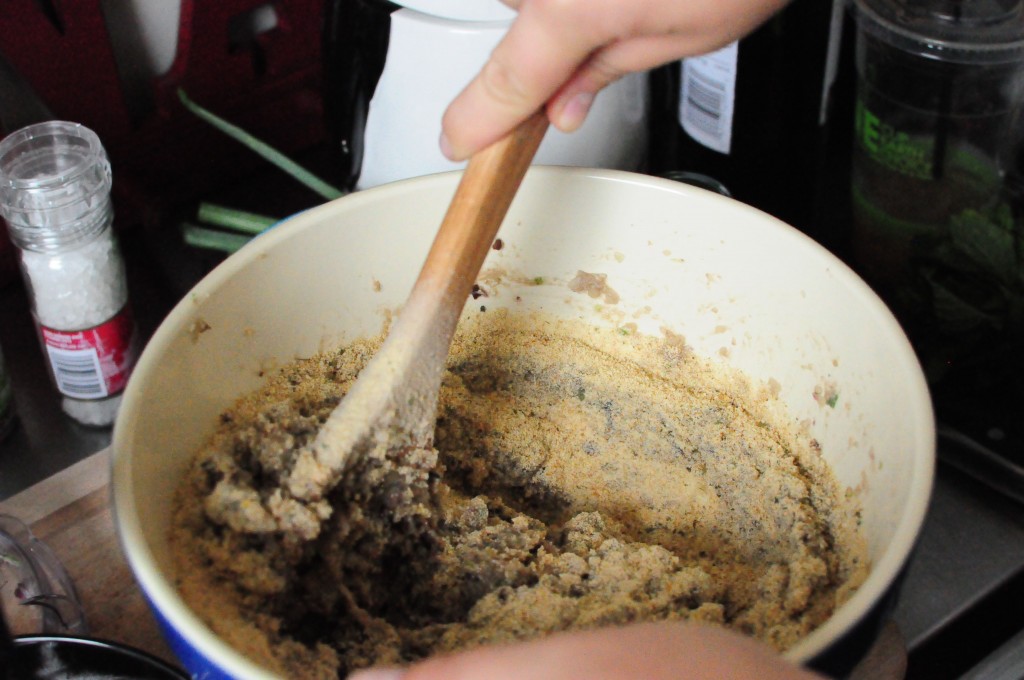 Mix it in, and you're ready for burgers!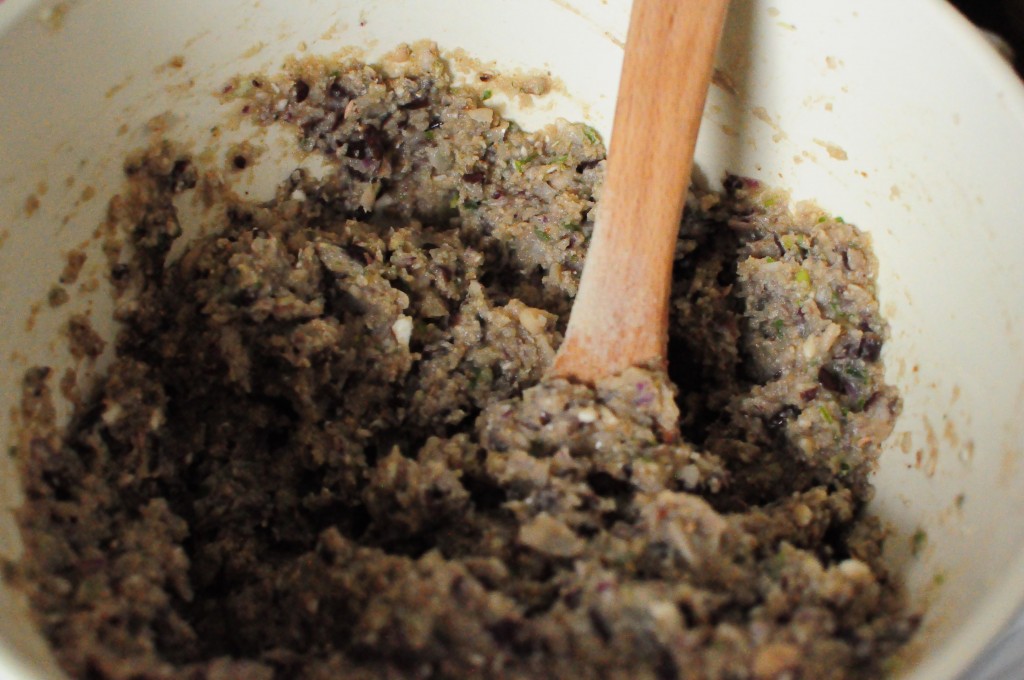 So now you should form your sticky bean burger mixture into burger patties.
Use your hands to form patties with the burgers.
Throw your burger patty in the air. If it stays together, you're ready to go. If not, clean up the mess you made, and add some bread crumbs. (Feel free to skip this step.)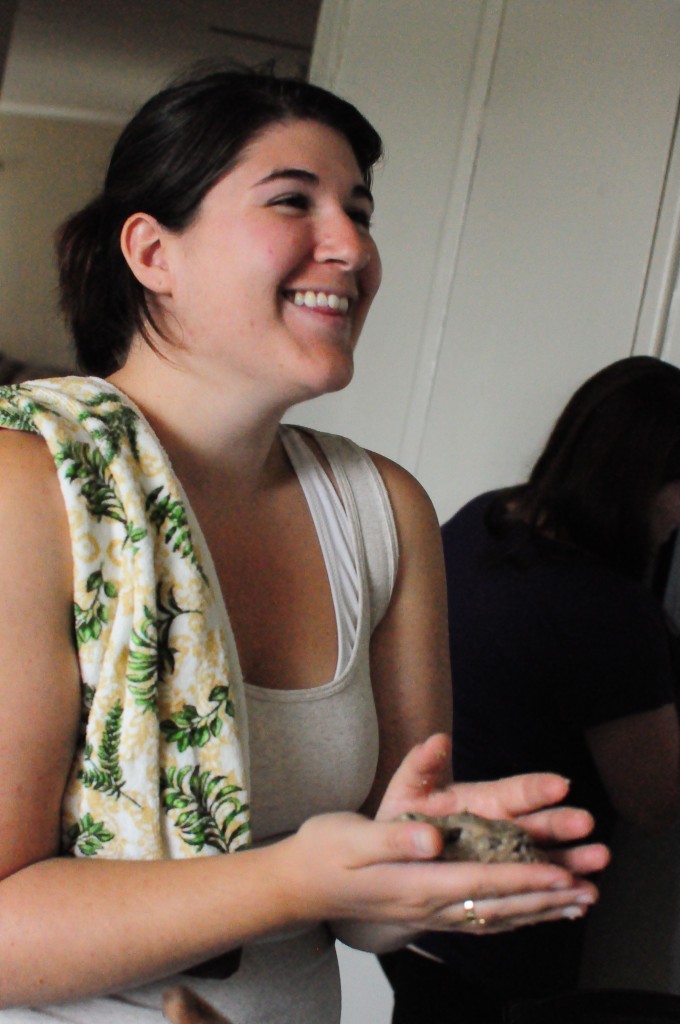 Smile. Aren't you excited for burgers?!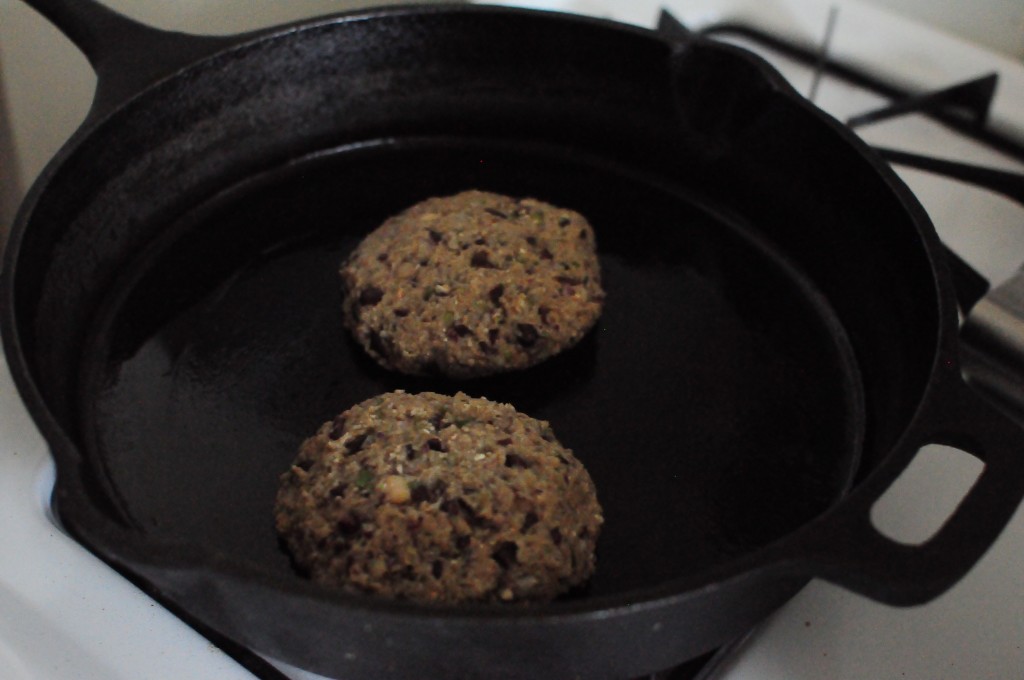 Stick your burger patties into a pan that's been spray with oil or rubbed with butter, or greased with bacon fat, if you're into that sort of thing. Cook 'em on medium heat for about 5 minutes on one side.
After one side is browned, flip 'em over and cook the other side for about as long. You want to make them thin enough that the edges get brown too.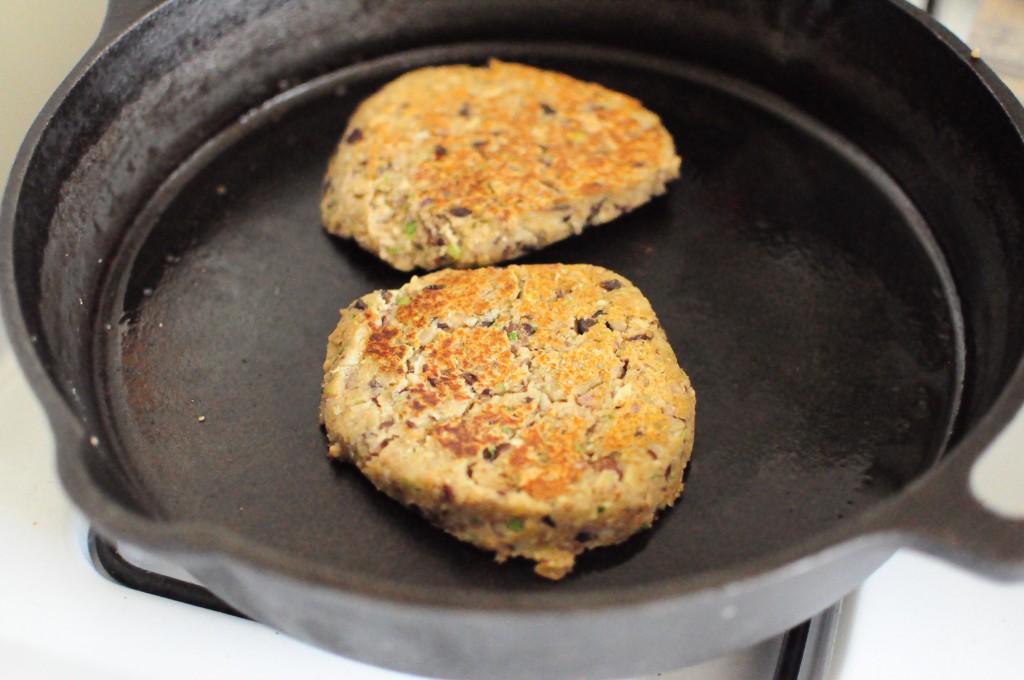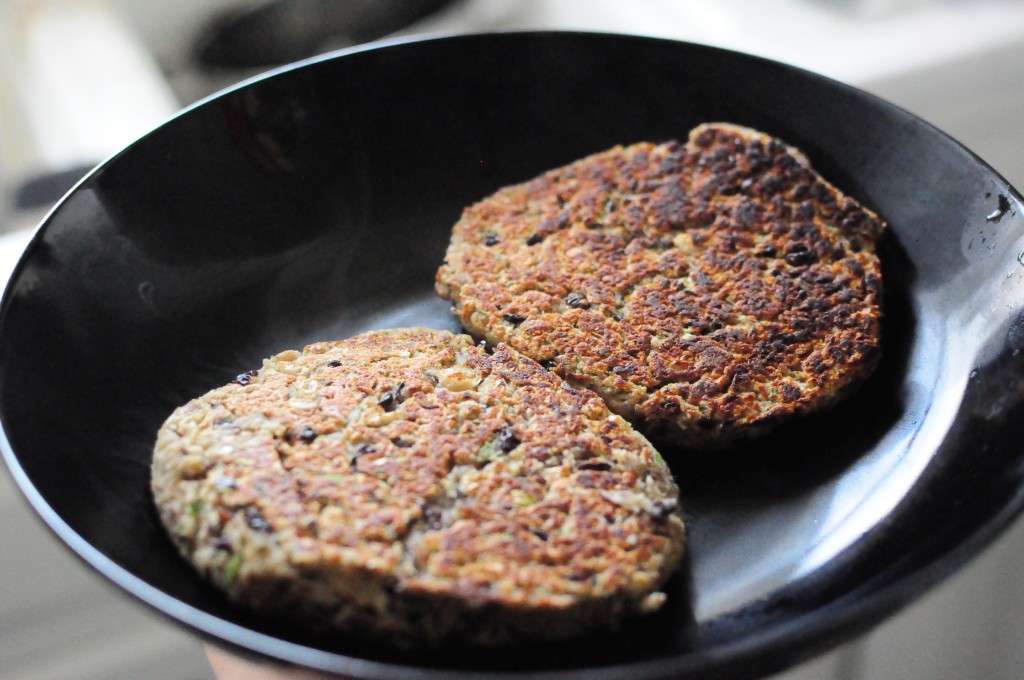 When they're done they should look basically like this. Serve them on a plate, on a piece of toast, on a bun. With pita! Make sure to add ketchup, or BBQ sauce, or avocado, or tomatoes, or mozzarella cheese slices, or any kind of cheese in general, or fresh spinach. You get the idea. Dress 'em up! Eat 'em plain! Whatever tickles your fancy. I had one with BBQ sauce, and one with spinach and cheese on toast. Both delicious. Both filling.
This recipe makes about eight patties, more if you make them a little smaller, and word on the street is they freeze well. I froze six, so I'll let you know how it goes when I go to make them!
[addtoany]
Yum