As you may know, here at Garlic, My Soul we have a lot of pizza nights. Some of them are large – thirty of my closest friends, wandering around my apartment eating slices for four hours. Some of them are small – just Corelyn, Jeff, and me. Recently, we had an in-between pizza night with my friend K from the east coast, and a few other buddies. We were going to make one of our most common – and favorite – pizzas. One that we make when the CSA has been particularly full of chard. And we decided maybe you'd like to be in on one of the most delicious pizzas ever.
So here you have it: Swiss chard and caramelized onion pizza.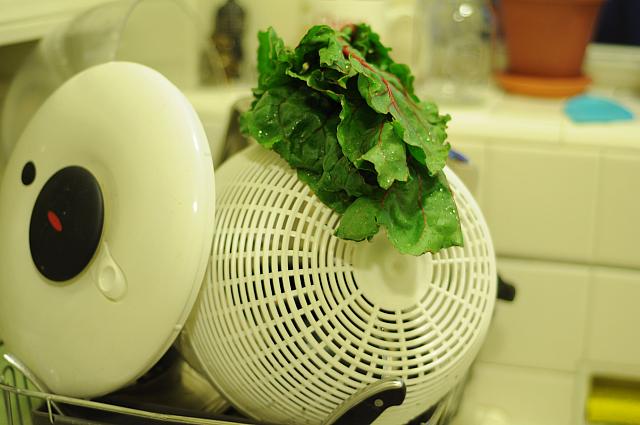 First take some Swiss chard, and if it's from the farmer's market or somewhere equally as dirty, rinse it to get any sand/soil off of it. I used about five big leaves of Swiss chard.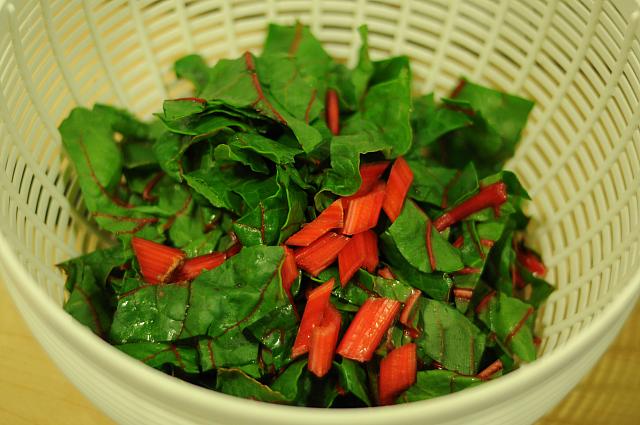 Then I somewhat julienned the chard. Remember that chard, like spinach, will wilt as it cooks, so it will be much smaller. Also, please take this moment to know that chard is one of them most nutritious vegetables around.
Meanwhile, take about a half of an onion (depending on your like of onions) and sauté it with about a half-tablespoon of olive oil. Let the onions cook until they're almost caramelized (give them about 15 minutes) and then add the chard.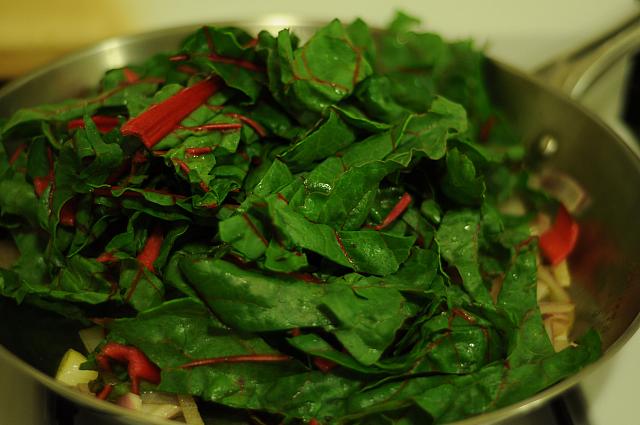 There is a skip to a photograph here, but basically you're going to wait another 10 minutes or so while the chard reduces and the onions really have time to caramelize.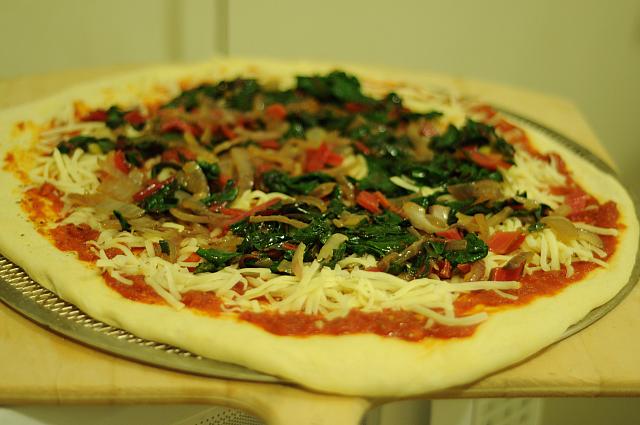 Now you're ready to put it on a pizza. Some notes about our pizza:
* We make our own dough. PW has a recipe, but we've made up our own. Family secret, but here's PWs.
* We also make our own sauce. Also family secret, but we start with TJ's diced tomatoes (which we blend) and use a can of tomato paste, along with some spices. Play with your sauce recipe, or ask your closest Italian friend. You want your pizza sauce to be a little chunky, not too sweet, but not too acidic.
* We use TJ's quattro formaggio for our cheese, topped with some parmesan-romano blend. We also usually add a little sea salt, a little oregano, and some basil.
*Then we add our toppings.We put the oven all the way up and usually our pizzas take about 10 minutes.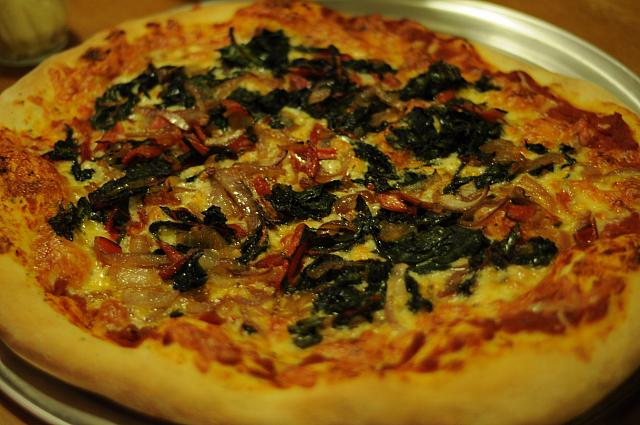 Look at that delicious pizza. And the best part? Even the boys that ate this liked it — they though the chard was spinach. Our secret. If you'd like more adventure, add goat cheese – it really adds another layer to the flavor!
[addtoany]
Yum