In my new digs back near the East coast, where I'm temporarily staying with my mother and helping her through a period of poor health, we've been receiving generous donations of food from our friends, family, and neighbors. One thing people keep bringing over is STRAWBERRIES, and lots of them, because they're in season, and they're a delicious treat. So, I thought I'd like to incorporate some of this bounty into my May recipe for Cucina Fresca. I threw together this Strawberry Spinach Couscous, thinking it would be easy and pretty decent, and it turned out to be so much better than decent. I loved this dish, and I can't wait to make it again very soon!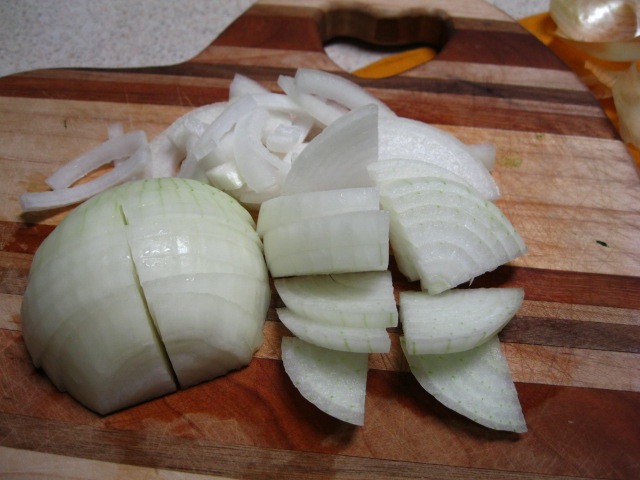 Like so many of our recipes, this one begins with an onion, which I chopped up to caramelize. You can chop your onion into smaller pieces if you like, but I'm really into long stringy pieces of onion lately, so I left mine mostly in quarters.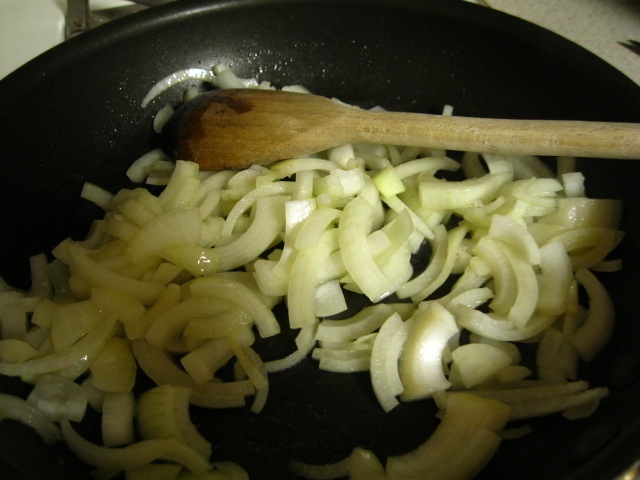 Now, when it comes to caramelizing onions, I usually get impatient and cheat. But this time, I figured I'd do it right, so I set my onions in a pan over medium-low heat with a little olive oil (and a tiny amount of butter) and I mostly forgot about them for the next 30 minutes while I prepared the rest of the dish. Only returning occasionally to stir. It's kind of a pain, yeah, but OH was it worth it! Think about it, no matter what you're cooking, you're probably going to spend at least 30 minutes in the kitchen, so if you put the onions on first and then go about your business, it really doesn't take that much extra time and the results are seriously to die for. Just food for thought. (If you really can't stand the thought of waiting this long to caramelize your onions, my trick is to quickly saute them over medium-high heat and add a little brown sugar when they've turned translucent.)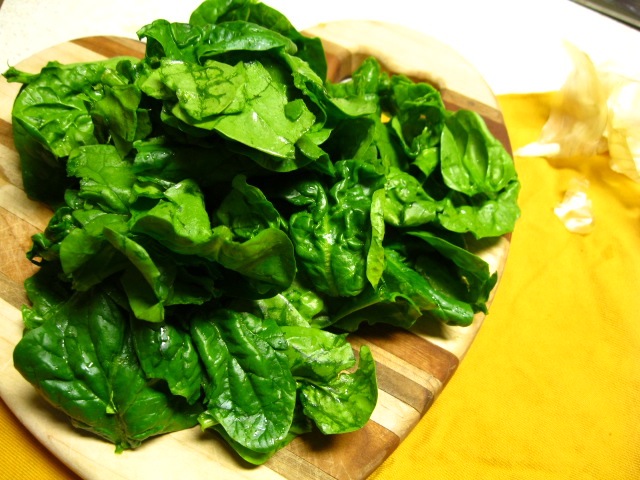 Next, wash and de-stem your fresh spinach, then roughly chop it so you have slightly more bite size pieces. I just went over this pile with my big chopping knife in a loose grid pattern, and that was all the chopping required. If you're using baby spinach, there's no need to chop or to remove the stems.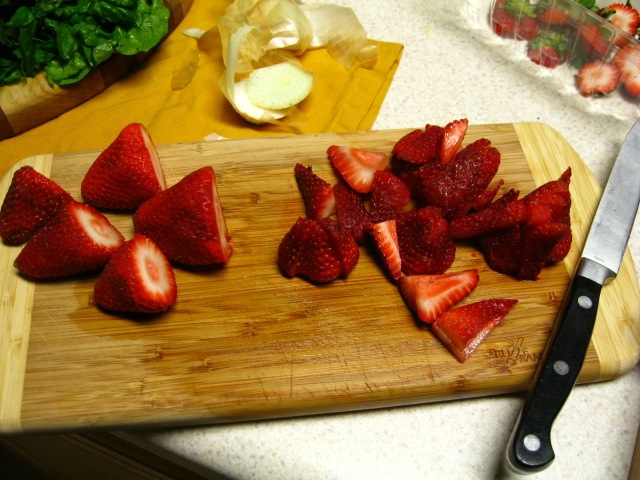 Next, chop up your strawberries into whatever bite size you prefer. Take a moment to admire how juicy and red they are.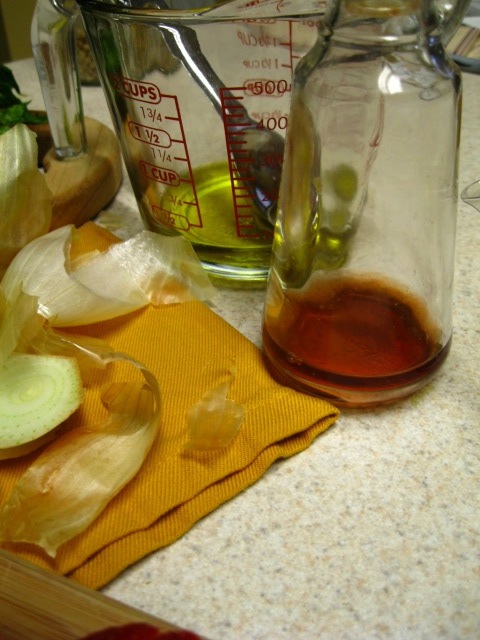 At this point, I started my dressing with a liquid base of 4 tablespoons of olive oil and 2 tablespoons of what I am reasonably sure was red wine vinegar. I found the substance above in an unmarked glass container, so I guess anything is possible.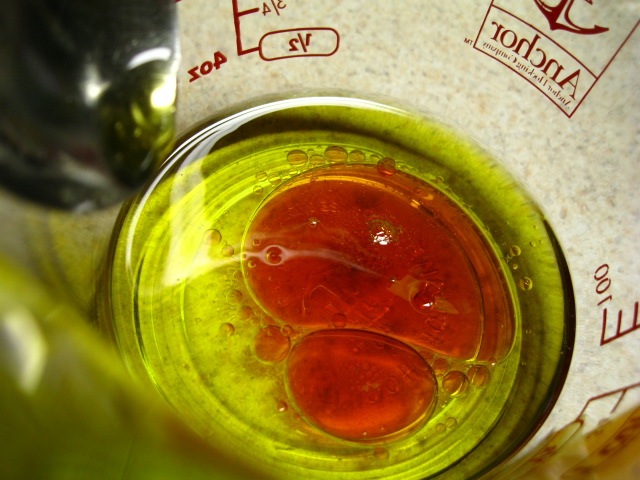 Mmm. Oil and vinegar.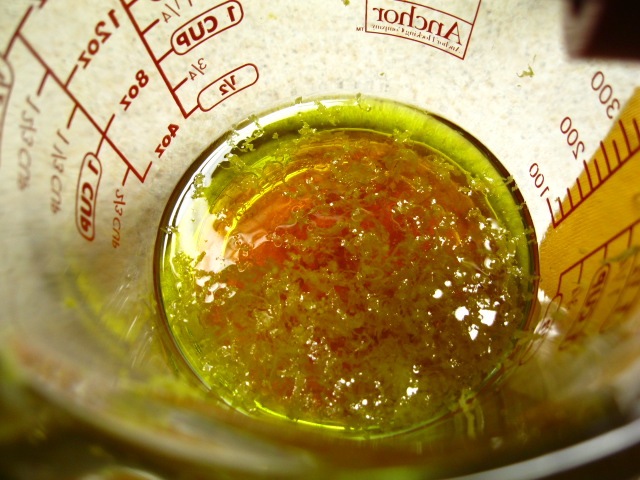 Then, I added my lemon zest. I put the zest of 1/2 lemon in the recipe, but I certainly wouldn't judge you for opting to zest the entire lemon…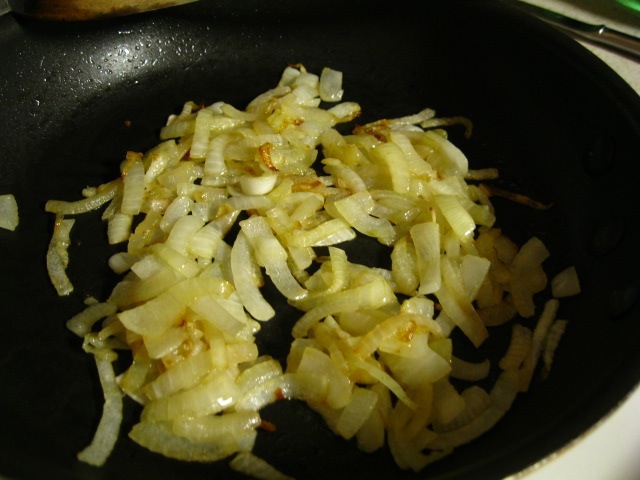 Time to check in on the onions, which were coming along nicely and smelling divine. I noticed them getting a little dry shortly after this and added a small amount of water to prevent them from burning.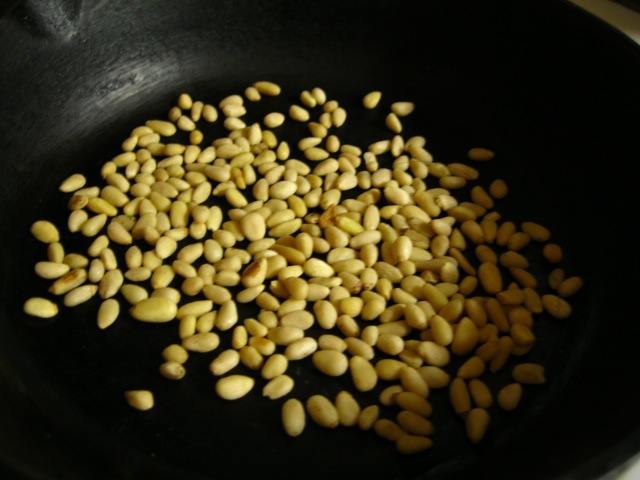 To "roast" your own pine nuts, throw them in a cast iron over high heat for a couple minutes.
It doesn't take them long to brown, and they're very easy to burn. You probably need to remove the pan from heat as soon as you start to smell them.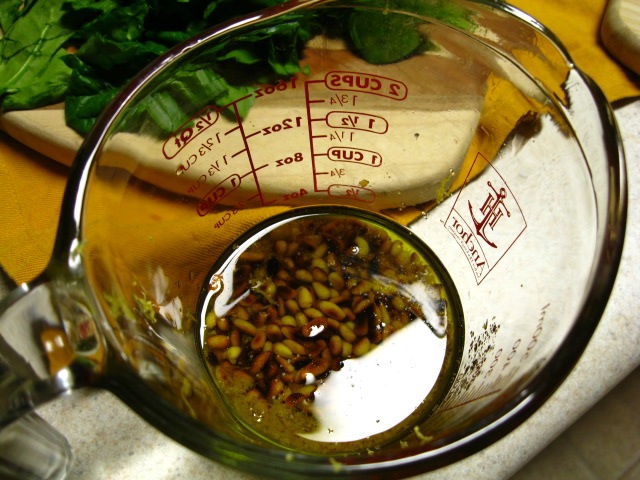 And the pine nuts went directly into the oil mixture while still hot, which I hoped would infuse the oil with some pine nut flavor, but I couldn't tell if that really worked…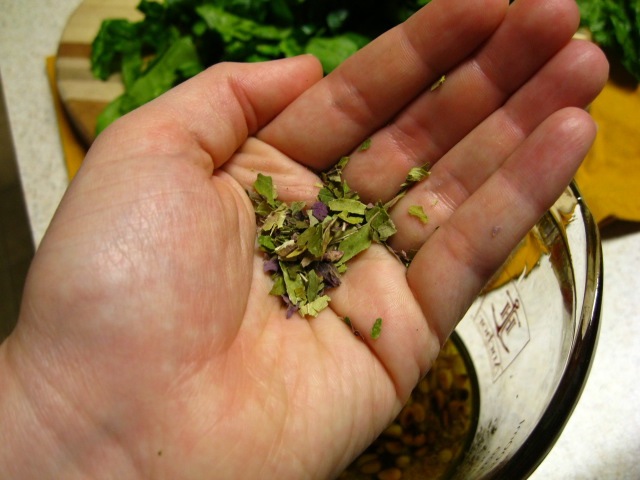 I added some dried oregano, one of my favorite go-to spices.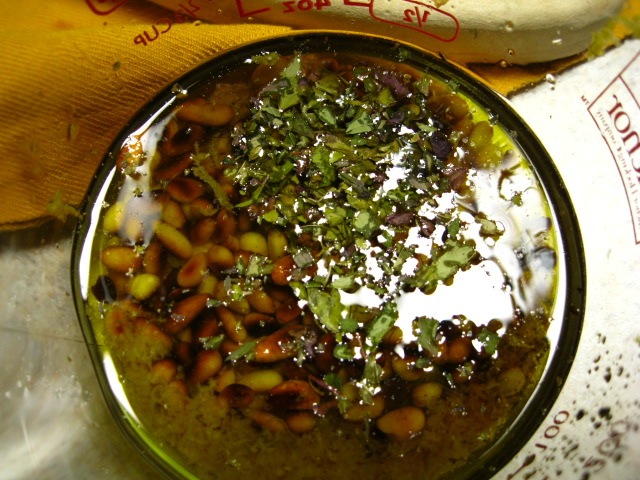 Also, added some salt and pepper to taste. (For me, that was 4 grinds of the sea salt pepper shaker and 2 grinds of the whole black peppercorns shaker.) YUM.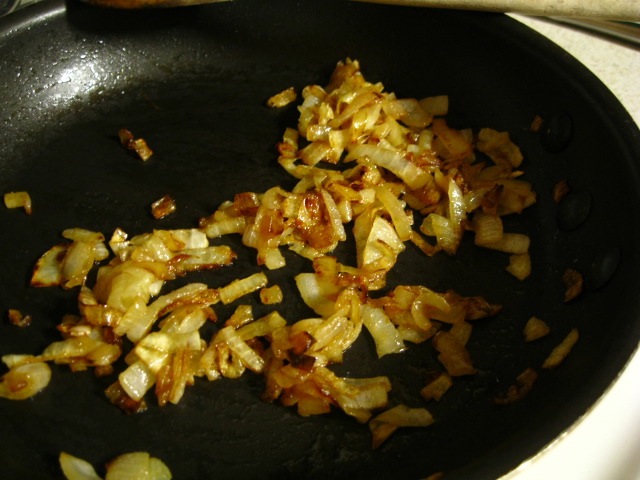 Back to the onions, which were finally done caramelizing. I had a lot of trouble not eating them directly out of the pan at this point. Instead I turned the heat off, set the water to boiling for the couscous, and threw the spinach and oil mixture in to the same pan as the onions.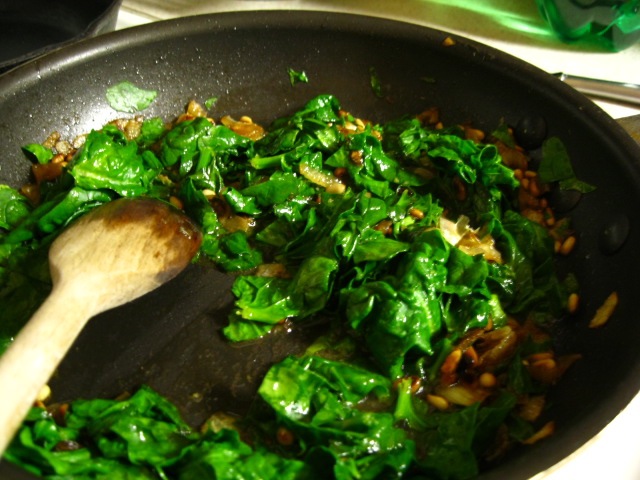 While I waited on the couscous to absorb the water, I cooked this spinach over medium heat until it JUST began to wilt.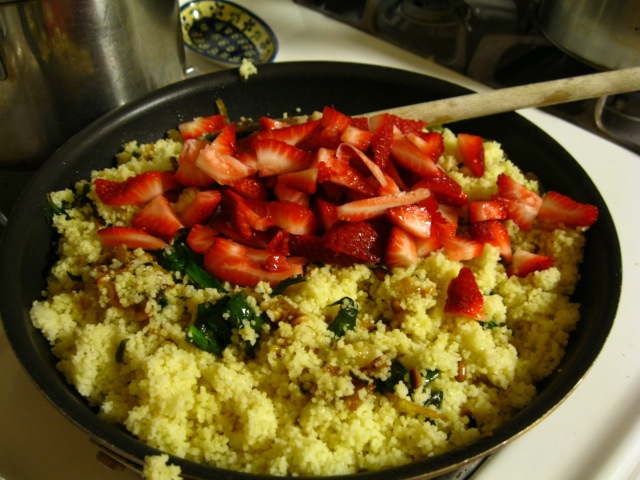 Then, it all came together in an instant. Throw it all together, mix it up, and add the strawberries at the very last minute!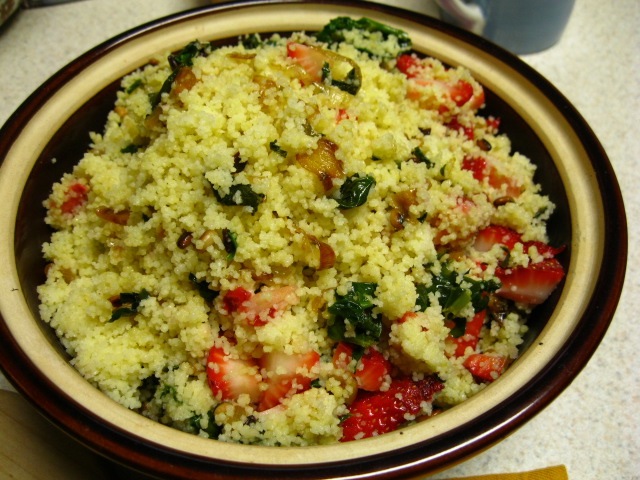 You can serve it immediately and it will be a delicious warm side dish, or you can chill it at least an hour and enjoy as a cold couscous salad. One tip: If you aren't going to eat it immediately, I do not recommend re-heating because the strawberries don't hold up very well in the microwave. You won't mind eating it cold though. I promise. As a cold salad, the caramelized onion flavor really comes through and the whole dish is superb after a night in the fridge.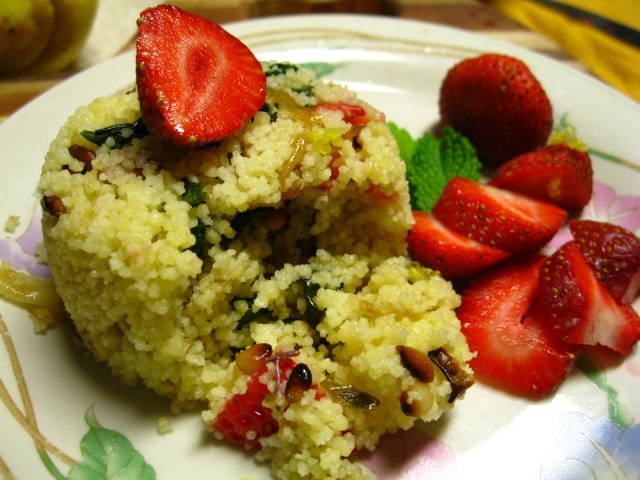 And voila! Go out, get yourself some strawberries and spinach (both currently in season) and make this for your Memorial Day barbeque!!
Yum