We just couldn't let the fall season pass us by without cooking our favorite fall vegetable. There are a million delicious ways to prepare Brussels sprouts, but this recipe is my favorite because it uses my favorite flavors –cumin and roasted onion–and it's the easiest thing in the world. We made these for Thanksgiving last week, but I recommend Brussels sprouts this way for any occasion. It works well as part of a 20 person Thanksgiving feast, or as your quick and easy vegetable side for a Tuesday night dinner.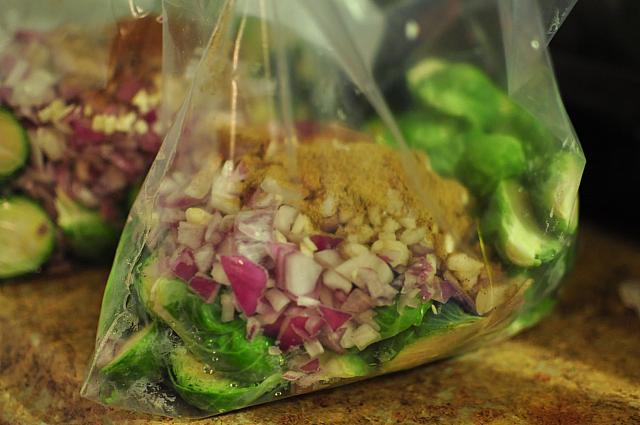 First things first. I like to get one or two gallon size plastic freezer bags and toss all my ingredients inside, including olive oil. Then I seal 'em up and shake shake shake. You can mix the ingredients in a bowl if you like. I've also been known to get really lazy and just lay my Brussels sprouts on a baking sheet, drizzle some olive oil, and shake my spices haphazardly over the top. Whatever works for you!
By the way, did you know that the proper spelling is Brussels sprouts? I didn't until just now. Thank you Wikipedia.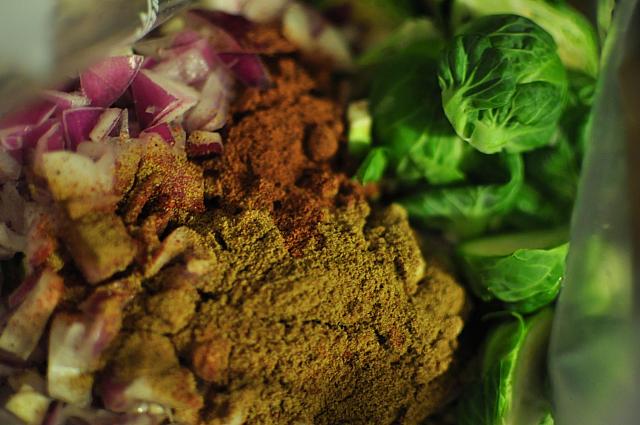 For the record that's Brussels sprouts, cumin, a little chili powder (feel free to sub in curry powder or cayenne), a little nutmeg, red onion, and olive oil. Get ready to shake!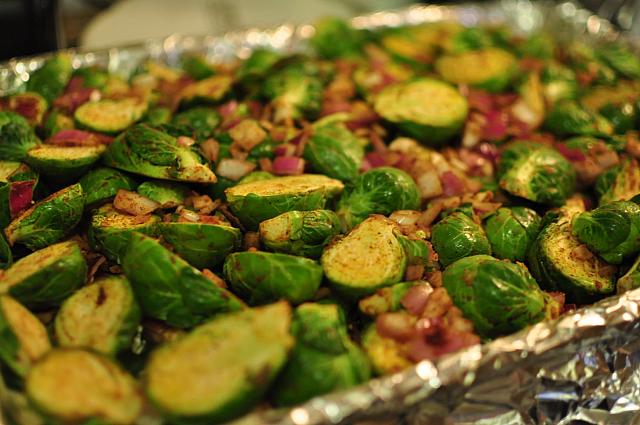 Spread them on a baking sheet, and throw them in the oven on around 375 for 30 to 45 minutes. Truthfully, we tend to just put these in the oven no matter what temperature it's on. I think higher temperatures for shorter times are better, because I don't mind if my Brussels sprouts get a little crisp and crunchy. Either way, just put them in the oven and check them every now and then. They're ready when you can pick one up with a fork, but they're still green and a little crunchy.
And on extra special occasions, we like to garnish with fresh pomegranate seeds. Not required, but truly delicious. Give it a try!
See recipe here.
[addtoany]
Yum