A month ago, Jennie sent me a calendar invite to "Pot Pie Night" with some of our friends. I've learned not to ask questions when these things happen, so I responded by RSVPing "yes" and researching pot pie recipes.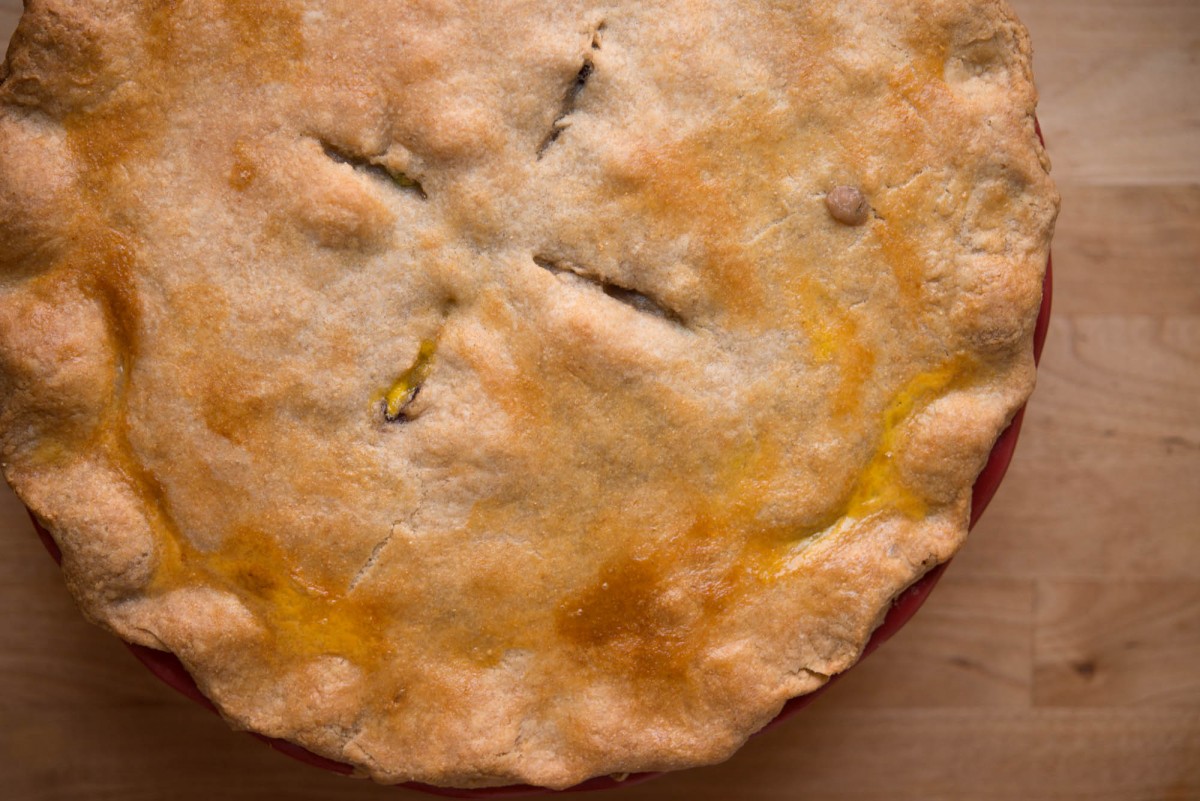 We've been itching to make more pie crusts ever since the Bake for Good tour with King Arthur Flour. I am proud to say that for the first time ever, making this pie crust actually didn't terrify me. And if came out pretty well!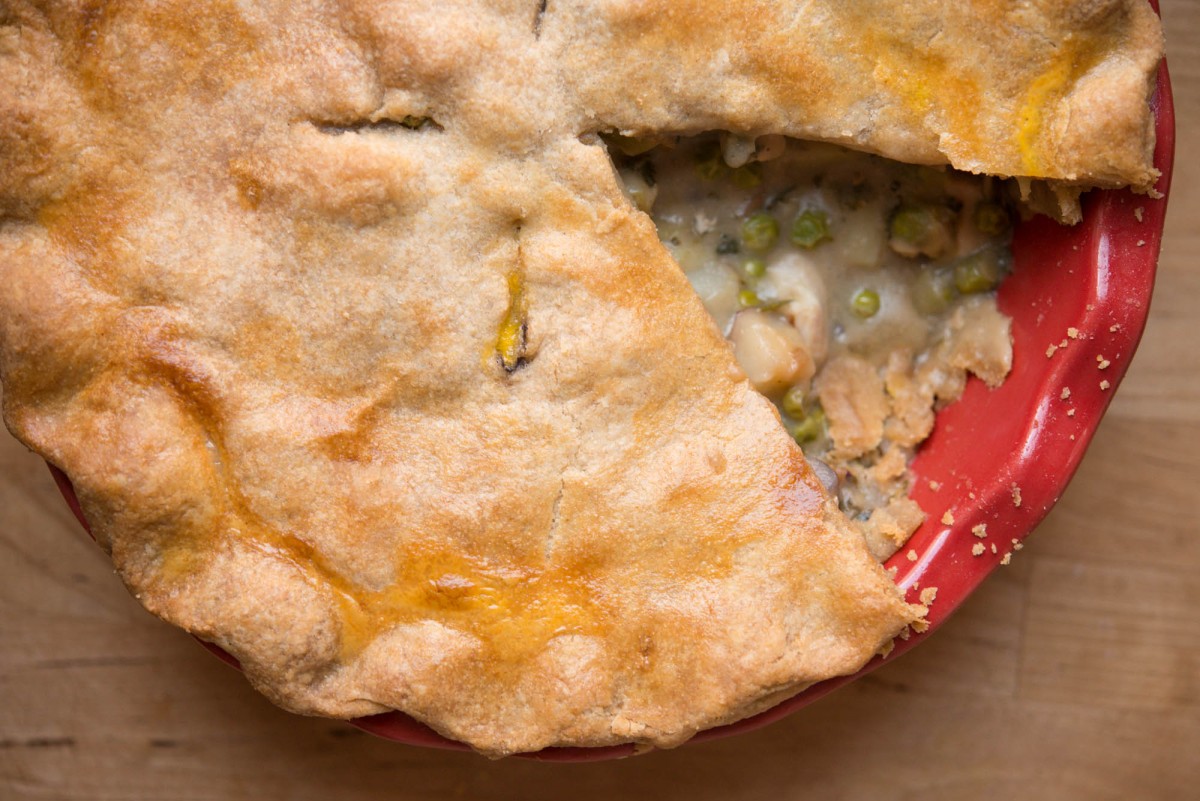 Pie Pastry (Recipe by King Arthur Flour)
Ingredients:
2 1/2 cups all purpose flour (we used wheat flour)
1/4 teaspoon salt
1 cup unsalted butter, chilled
1/4 to 1/2 cup ice water
Directions:
1. Combine the flour and salt in a mixing bowl.
2. Cut half the butter into pea-sized pieces and work quickly into flour mixture.
3. Cut in the remaining butter, this time in larger pieces (a little smaller than dime-sized)
4. Sprinkle about three tablespoons of of the ice water over the flour/butter mixture and mix just until the dough begins to mass. You may need to add additional tablespoons of ice water for this to occur.
5. Remove the dough mass to a flat surface, divide into two equal portion and flatten into rounds. Cover in plastic wrap and let chill for at least 1/2 hour before rolling out and creating your crust.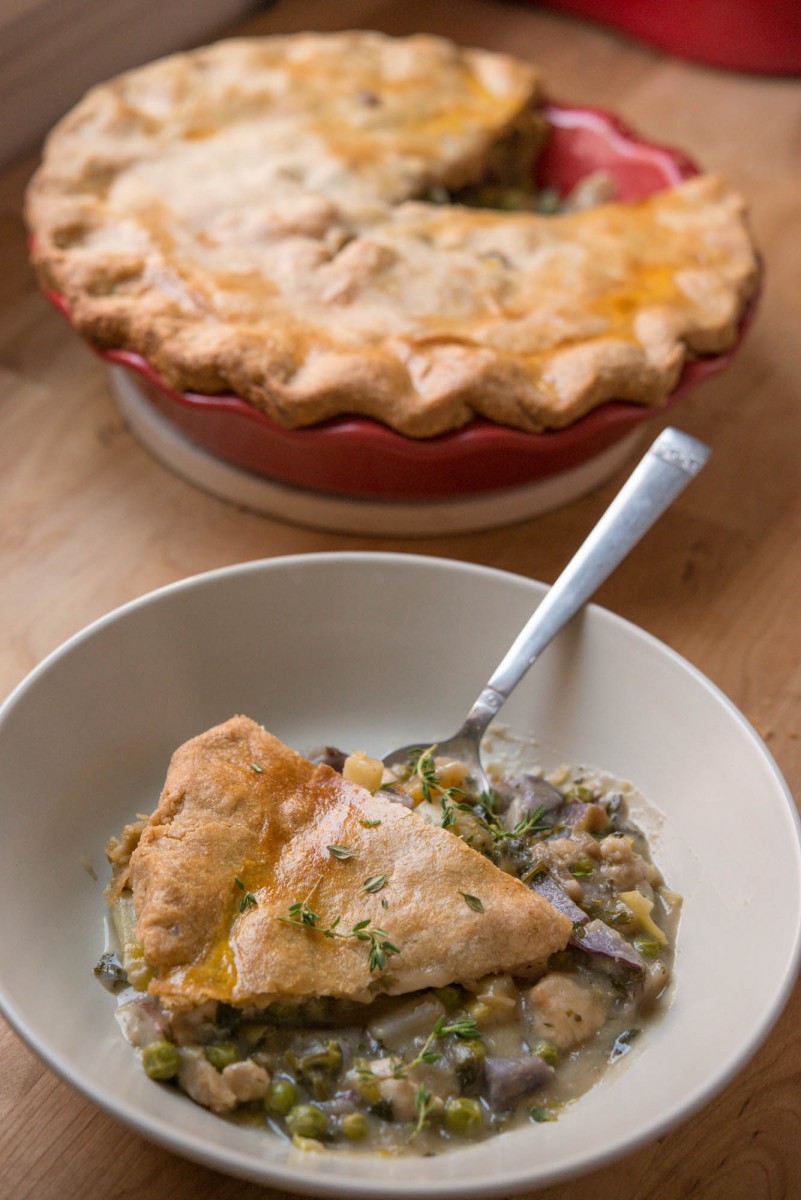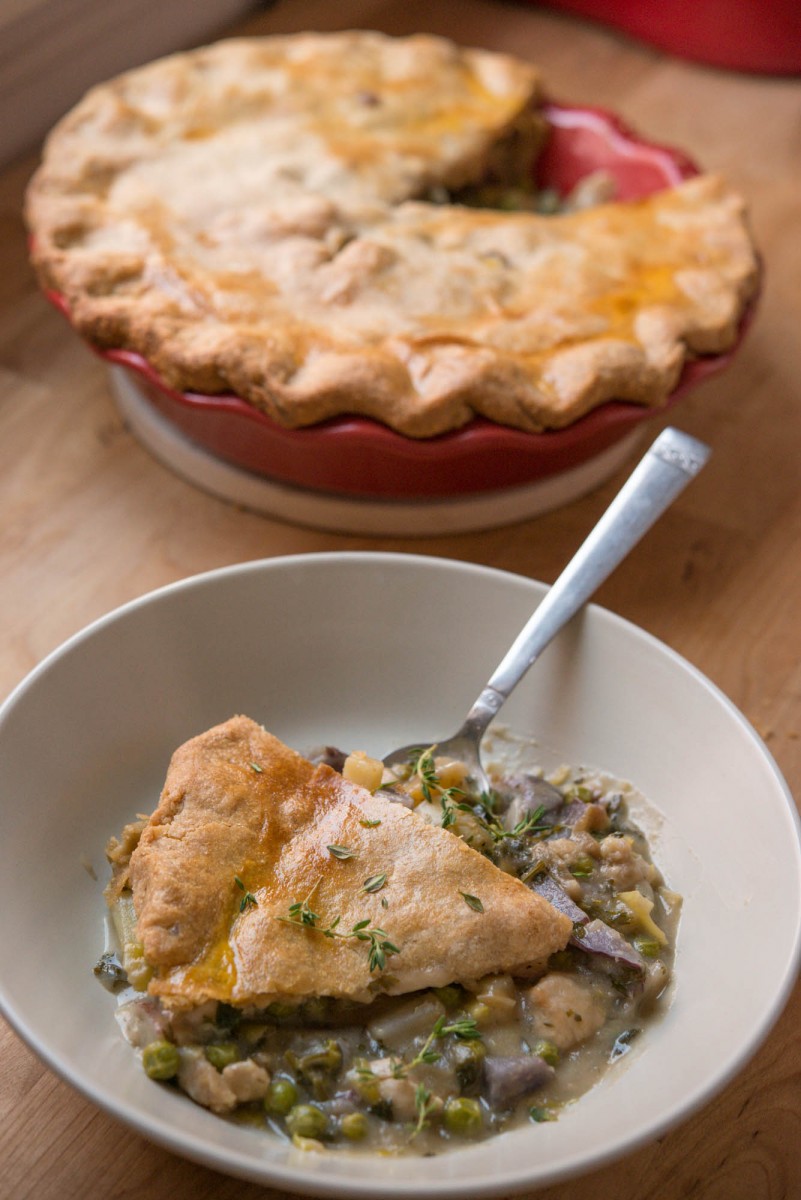 Pot Pie
Ingredients:
6 tablespoons butter
1 large onion, chopped
1 1/2 lbs potatoes, cut into approx. 1″ pieces
3-5 medium leeks, sliced
1/2 cup dry white wine
6 tbsp all-purpose flour
2 cups chicken broth
1 cup milk
5 cups chicken, cooked (we cut ours into cubes and cooked it in the cast iron skillet)
1 cup fresh green peas
3 tbsp fresh parsley, chopped
2 tbsp fresh thyme
salt and pepper to taste
pie pastry (see recipe above)
1 egg yolk (for egg wash)
Directions:
1. Preheat oven to 425°F.
2. In a stock pot or dutch oven, melt the butter over medium-high heat.
3. Add onion, potatoes, leeks, salt and pepper. Cook, stirring occasionally, until tender; about 10-12 minutes.
4. Add white wine, stir in flour and cook for about 1 minute to combine.
5. Add chicken stock and milk and bring to a simmer for about 2-minutes, stirring until mixture thickens.
6. Add chicken, peas, parsley, thyme, salt and pepper, and combine well.
7. Roll out your dough and transfer to pie plate.
8. Fill your crust with pot pie mixture and cover the filling with your top dough.
9. Lift both layers of dough together and tuck to fold the top layer under. Seal the edge by crimping with your fingers or using a fork.
10. Cut slits in your top crust to vent
11. Bake for 30 – 35 minutes, checking every ten minutes to be sure your crust isn't burning. If it begins to brown too quickly, cover with tin foil for the remaining bake time.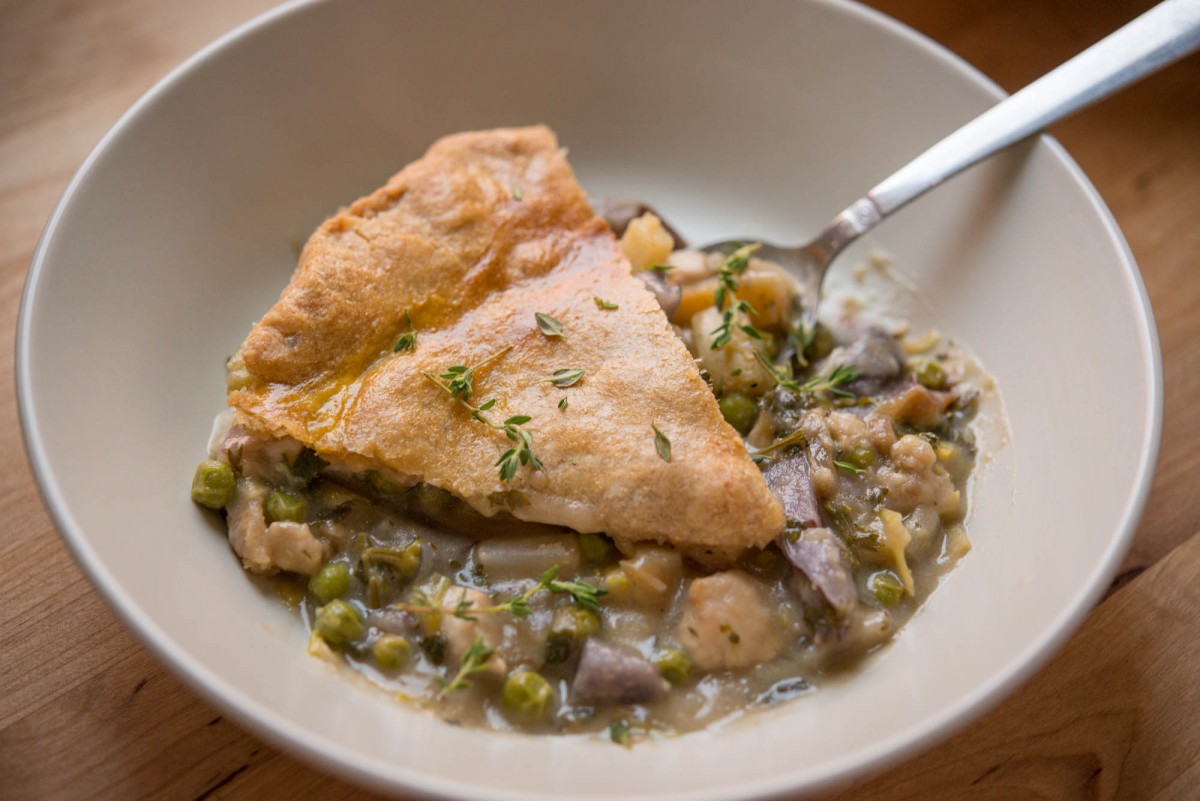 [addtoany]
Yum