My latest Cucina Fresca assignment was to come up with a simple egg-based casserole that could be adapted to use whatever vegetables, herbs, or cheese you might have lying around the house. As usual, I went a little too far and instead came up with a decadent frittata recipe.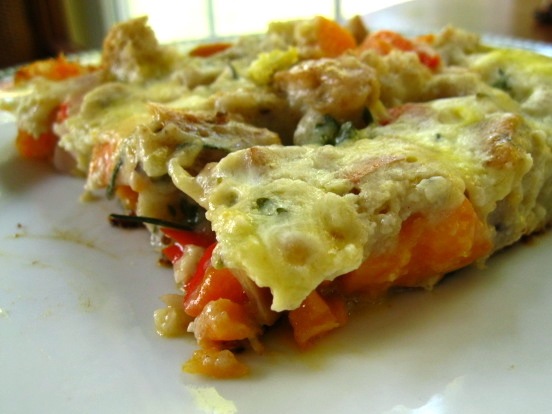 The result was rich, creamy, and very filling. I think you really can't go wrong combining sweet potato, onion, garlic, cheese sauce, eggs and bread.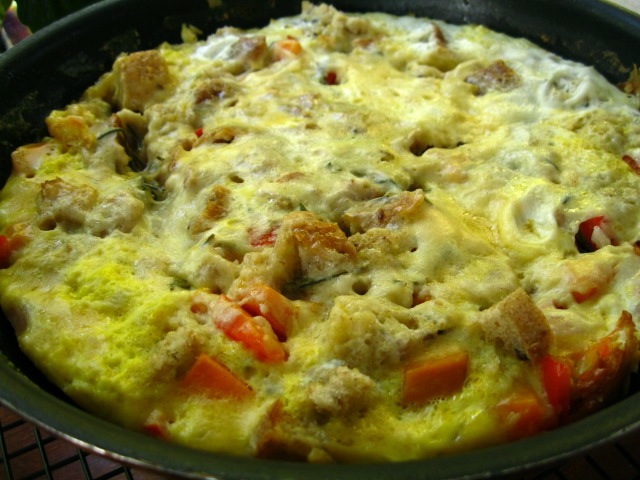 I know words like cheese sauce might scare some of you (or it may delight you), but this recipe is actually not as unhealthy as it sounds. I made this batch with fat free, unsweetened almond milk. I only used 1/2 cup of grated cheese and 1 tbsp of butter and 1 tbsp white flour for the roux. This will serve 4 to 6 people, so that's a nominal amount of cheese and butter per serving. Adding the spices (fresh rosemary and thyme) to the cheese sauce created a richer flavor without upping the fat or salt content.
The recipe also calls for bread cubes. I used a hearty whole grain bread from the Costco bakery, and I highly recommend using something similar. Bland pre-sliced white bread just wouldn't be as delicious. The bread's primary function in this recipe is to soak up the egg and cheese goodness, but it also adds some good texture and fiber.
I didn't test it out, but if you really want to get decadent, I think you could substitute breakfast sausage and get fantastic results.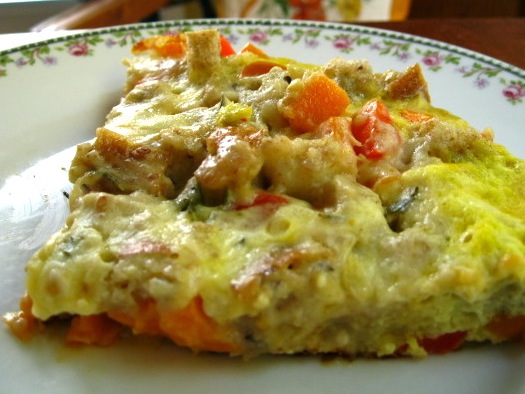 Voila! Cut into 4 pieces for a full meal at breakfast or dinner! Or cut into sixths and serve with a side of fruit or salad!
Full recipe here
Yum