Today's post is brought to you by our friend Vanessa. She runs Garibali Goods, an amazing online store of curated California goodies. As we roll into February, we want you to remember those resolutions you made around the new year and kitchen your kitchen into shape – and Vanessa's here to help. Check out her tips below and her delish pantry faves that you can get on her site!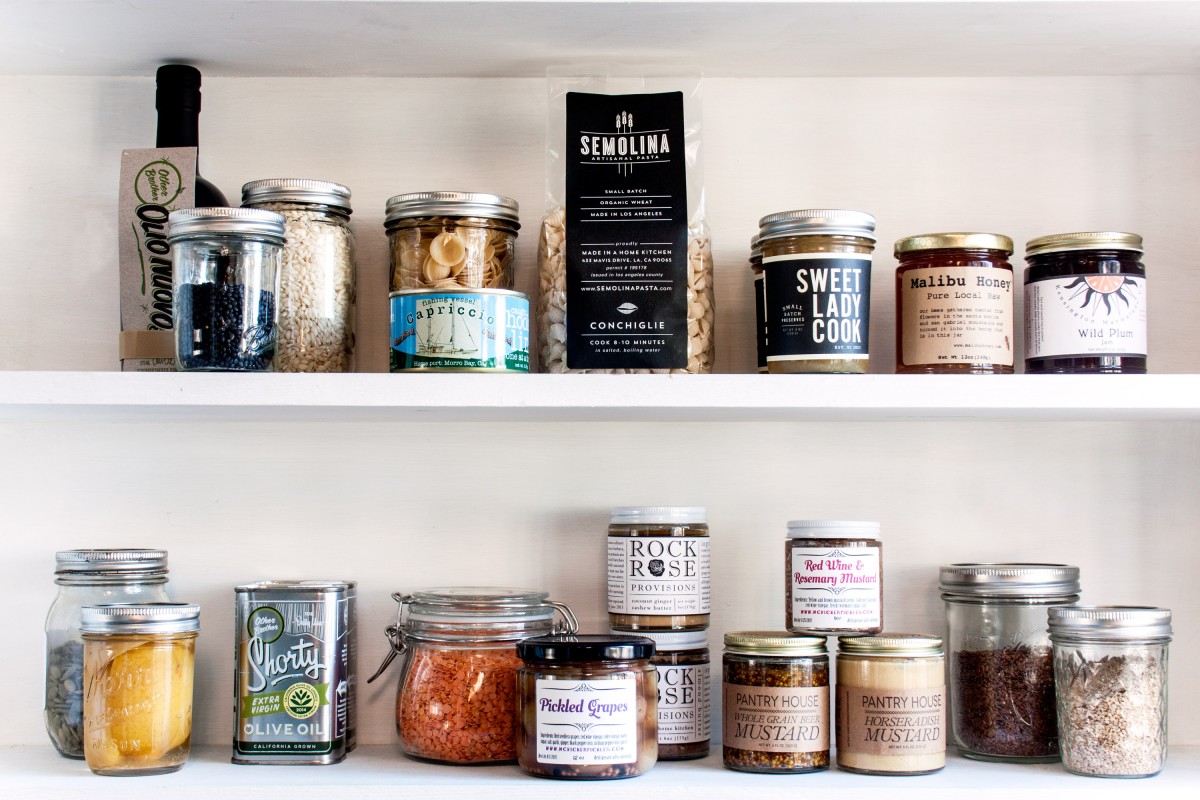 Kick off February with a kitchen cleanse. Turn resolutions into reality by building a sustainable, organized pantry that will help carry you through the year – it will make make meal prep more efficient and you'll cut down on fresh food waste. Your kitchen awaits you.
Begin by cleaning out your pantry of stale spices and expired items. Combine half-empty bags of pasta, and label and sort through canned goods placing older products toward the front (where you can actually see and hopefully USE them.) If you amass bags of alternative flours from the bulk section (as we tend to) throw them all together in a glass jar labeled "multi-grain flour" – ideal for pancakes and waffles or to bump up the flavor profile in whole grain yeast breads.
Once you've sorted and streamlined, it's time to restock! California has some of the best agriculture and one of the longest growing seasons in the country. As a result, we have a vast array of high-quality produce available for fresh eating and preserving. From heirloom beans and grains, to specialty Italian olive varietals and rare citrus, finding interesting pantry goods couldn't be easier.
Seeking out local pantry goods is a benefit to your community. It means your money goes directly to small farmers, growers, and food artisans who work hard to maintain traditional cooking methods and preserve the season's best; people who celebrate diversity of cuisine and produce.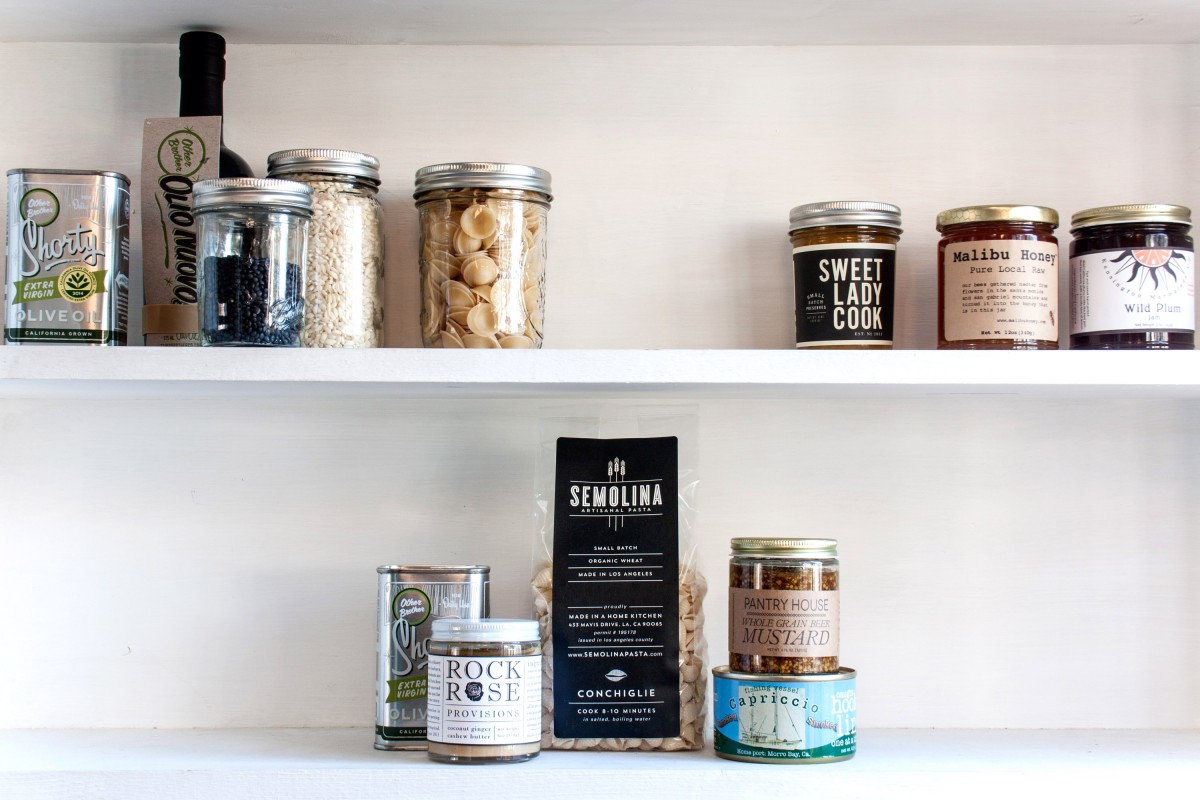 Make your pantry work for you. It should be a collection of goods you're excited to cook with – not sad bags of unknown beans you're forced to throw into a pot of chili! Get to know what's regional and applicable to your household palate and cooking style. Then stock items you love and look forward to using. You'll find that creativity follows.
Pasta: We all reach for pasta mid-week when there seems to be no time, no energy and nothing fresh in the fridge. This line of hearty, semolina pasta from Los Angeles producer Semolina Artisan Pasta is made using traditional bronze die extraction and comes in long, short, and medium shapes. Use them in baked pasta dishes, with sauce, or added to quick soups and stews.
Olive Oil: A great, everyday olive oil is essential and does far more than serve as a fat for sautéing. Shorty Extra Virgin Olive Oil from San Francisco-based Other Brother Company, has a refined, green yet buttery flavor. The oil works well in vinaigrettes, brushed over pan-fried fish, or drizzled over tomato basil soup. Or think outside the box and spoon over vanilla bean ice cream.
Canned Smoked Tuna: Think of preserved fish as an accompanying ingredient, instead of the headliner. This pole and line caught albacore tuna is cleaned, smoked and processed out of Moro Bay, and distributed by Community Seafood. It's a sustainable protein choice and can be added to pasta, leafy green or legume salads, or served over toasted bread, tartine-style.
Mustard: Never underestimate the power of a great whole grain mustard. This stout beer-infused version from Santa Cruz's Pantry House Goods has the perfect balance of tangy, spicy, savory crunch that works well with roasted vegetables and meat. Whisk into yogurt and use to marinate fish, brush over lamb skewers, or combine with olive oil and toss with roasted cauliflower and broccoli.
Smoked Chipotle Sunflower Seed Butter: Everyone should have a few secret weapons in the kitchen for times when mulling over spice combinations is overwhelming. The mild spice and nutty backbone of this Smoked Chipotle Sunflower Seed Butter, made in Santa Barbara by Rock Rose Provisions, is our go-to flavor enhancer. Add a spoonful to browned onions and garlic for a chili base, or spread onto tortillas then top with carnitas or grilled chicken.
What about your guys? What do you keep always in your pantry? Several types of rice? Canned clams? Mac and cheese? Let us know in the comments – we're always looking to round out our pantry!
Yum