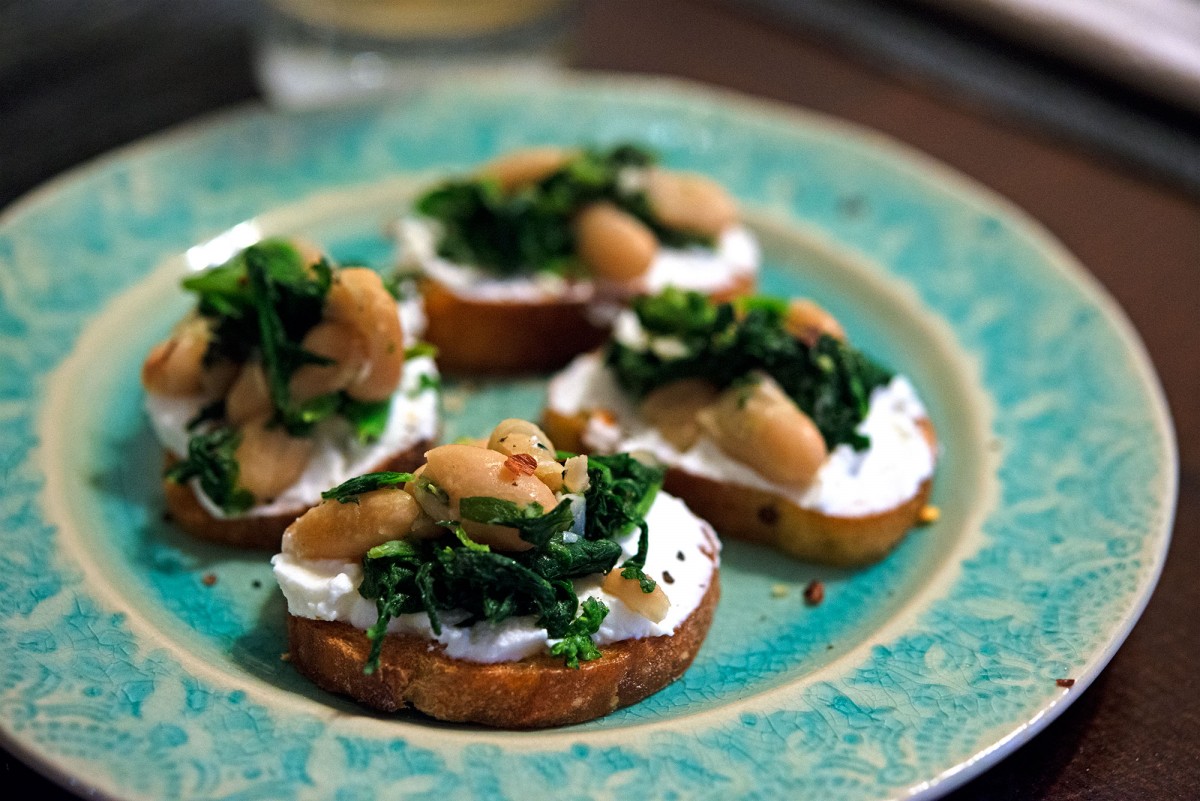 You probably saw George's post about our very first test kitchen. This recipe is one that I think I'll be making again from that day. Forgive the photo because we were running around cooking and it was dark out. That's the problem with dinner parties, am I right?
It was pretty easy, it was delicious, and it is nice to look at – all prerequisites for party appetizers, don't you think?
Broccoli Rabe & Ricotta Crostini
Adapted from Saveur
Ingredients:
1 baguette, sliced
3?4 cup olive oil, plus more for garnish
6 cloves minced garlic
1 bunch broccoli rabe, rough chopped
generous pinch crushed red chile flakes
1 15 oz. can cannellini beans, rinsed and drained
2 cups ricotta
s/p
Directions:
1. Slice baguette and put pieces on a cookie sheet. Drizzle with olive oil on both sides. Put the oven on to 350 degrees.
2. Rough chop your broccoli rabe. Put on a pot of water to boil, and boil your broccoli rabe for 3-4 minutes, and then drain and let cool. Once it's cool, squeeze the water out as best you can, and set aside.
3. Put your bread into the oven for about 20 minutes. Meanwhile, heat some olive oil, garlic, and chile flakes into a cast iron or pan over medium heat.
4. After about two minutes, add in your broccoli rabe, then a little salt and pepper. Cook for about five minutes, then add your beans in, heating through.
5. Pull out your bread, and spread with ricotta, then top with beans/broccoli rabe mixture. Do one last salt and pepper shake, then serve!
Yum