You may remember from our previous posts that we occasionally participate in the Daring Cooks' challenges, and in November I helped Liz over at Onions and Chocolate prepare a beef stew, but not just any beef stew – one that was made with lots of red tea.
I must say the stew was delicious, and very different than something I would have thought to do otherwise. Liz made a few changes (such as adding less cinnamon sticks than the recipe called for) that made the flavor more savory rather than sweet, and I must say I liked those changes.
Beef Braised in Rooibos Tea with Sweet Potatoes
1¼ pounds (600 gm) brisket or stewing beef, trimmed and cut into 2-inch (5 cm) chunks
2 tablespoons (30 ml) (18 gm) (? oz) flour
1 tablespoon (15 m) oil
2 onions, sliced
2 celery stalks, sliced
3 garlic cloves, crushed
1 tablespoon (15 ml) (8 gm) tomato concentrate
5 rooibos tea bags (or 2 tablespoons loose tea leaves)
1 quart (1 litre) just-boiled water
5 tablespoons (75 ml) red wine vinegar
4 strips unwaxed orange peel, pith removed (the peel of about half an orange)
2 cinnamon sticks
2 inches (5 cm) fresh ginger, peeled and sliced
4 small sweet potatoes, peeled and thinly sliced
¾ cup (175 ml) mild honey (optional)
cilantro (coriander) leaves, to garnish
salt and pepper, to taste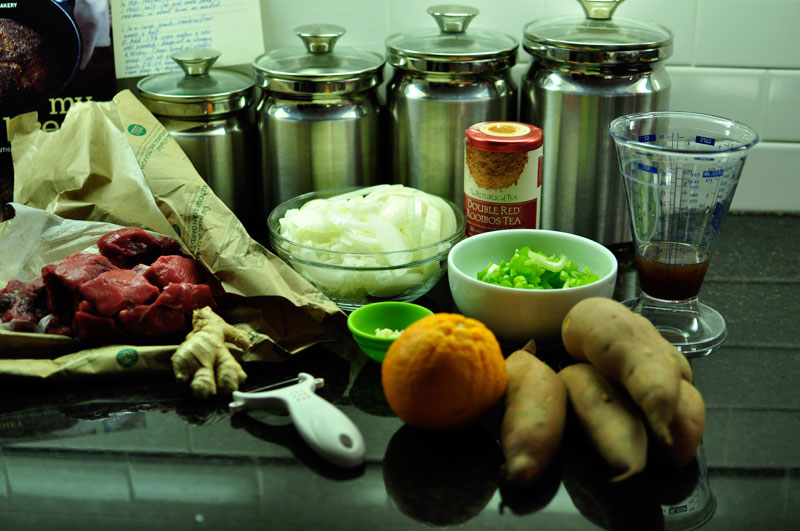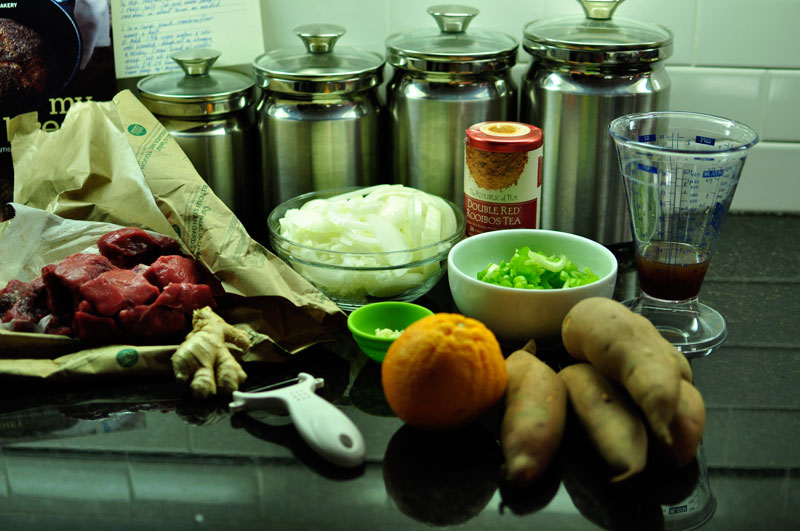 Cast of characters, including the red tea, sweet potatoes, celery, onion, orange peel, ginger, beef, and the like.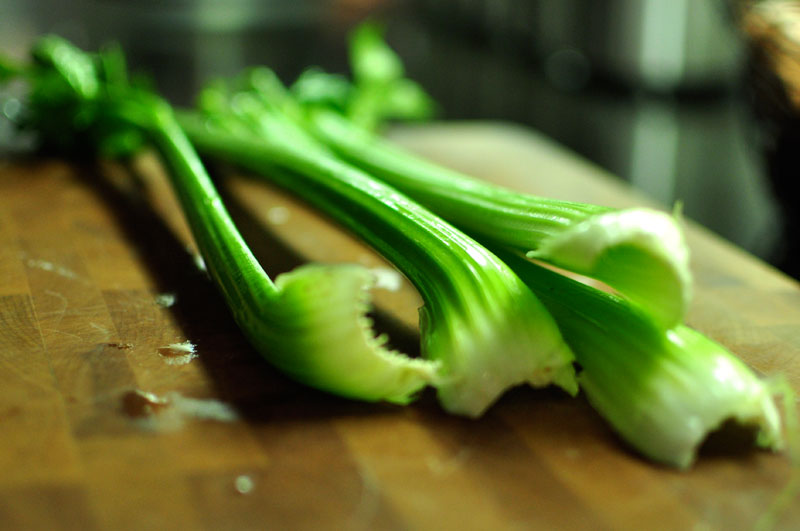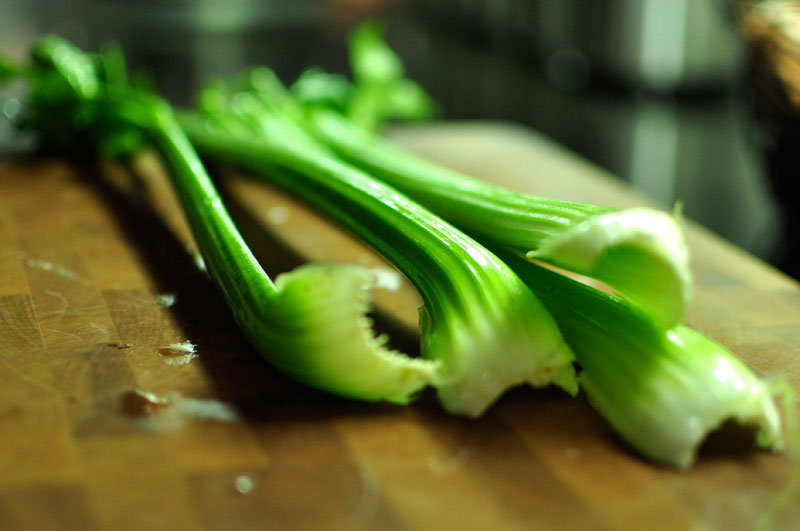 We used a little more celery than the recipes called for, as you can see above.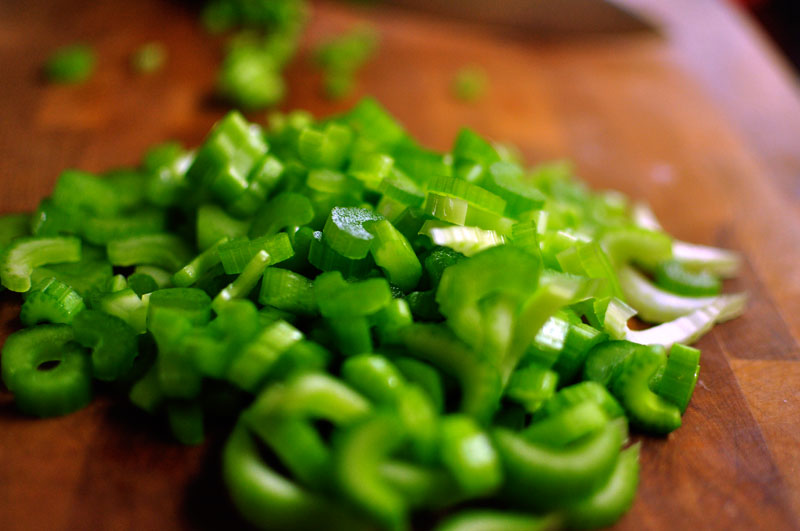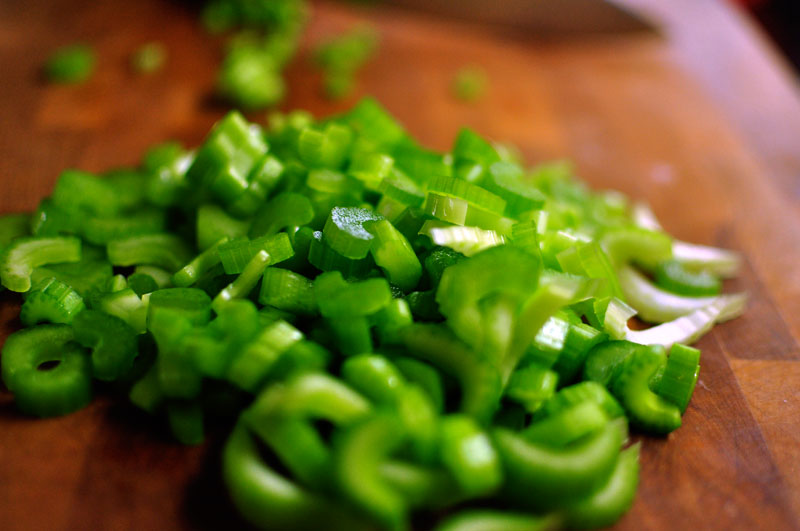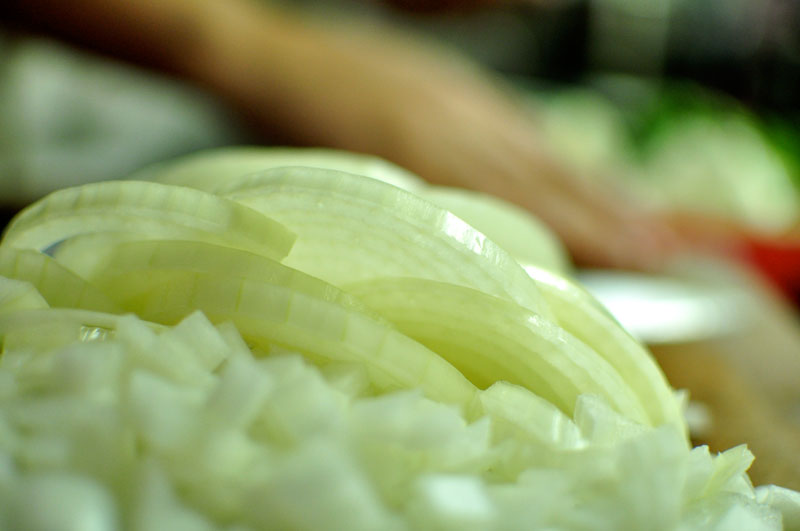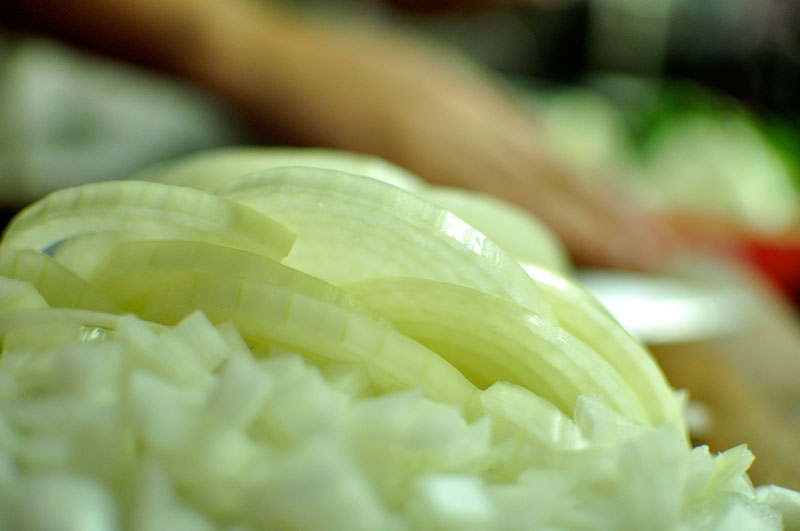 And of course, plenty of onion.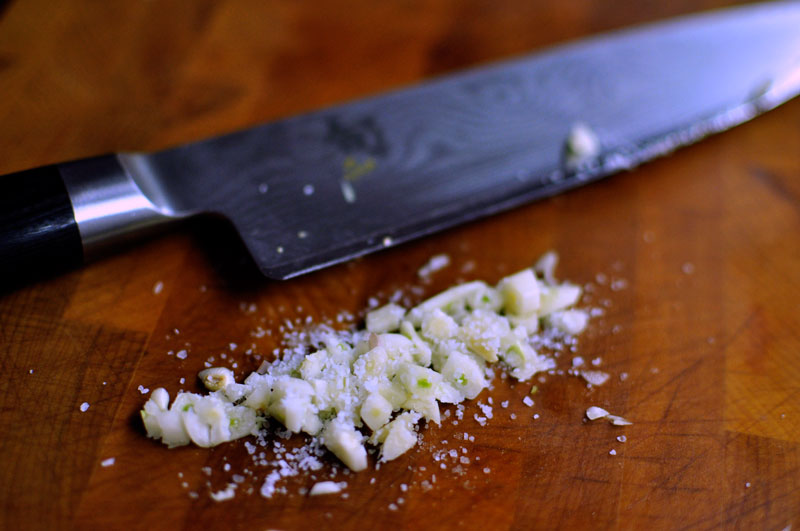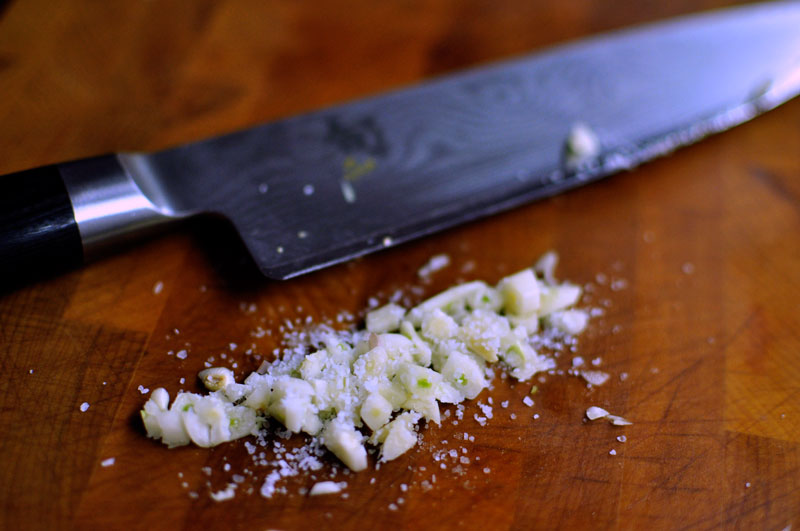 Liz likes to crush her salt into her garlic, which I thought was so smart of her – she teaches me little kitchen tricks all the time!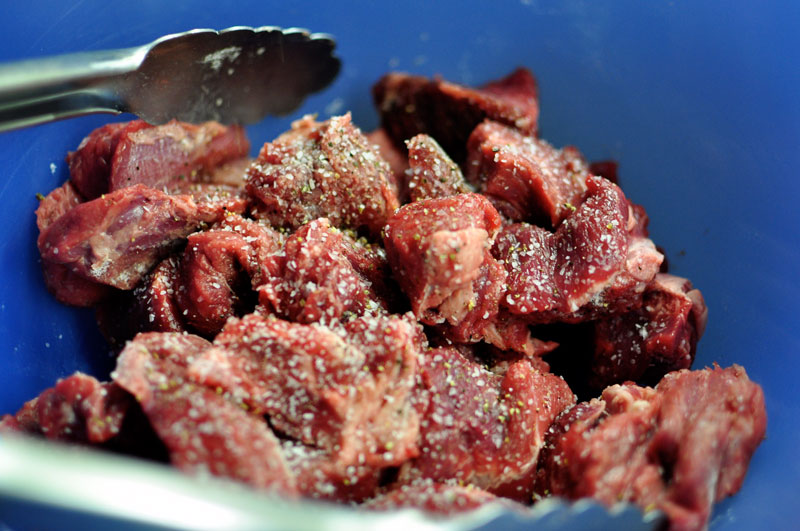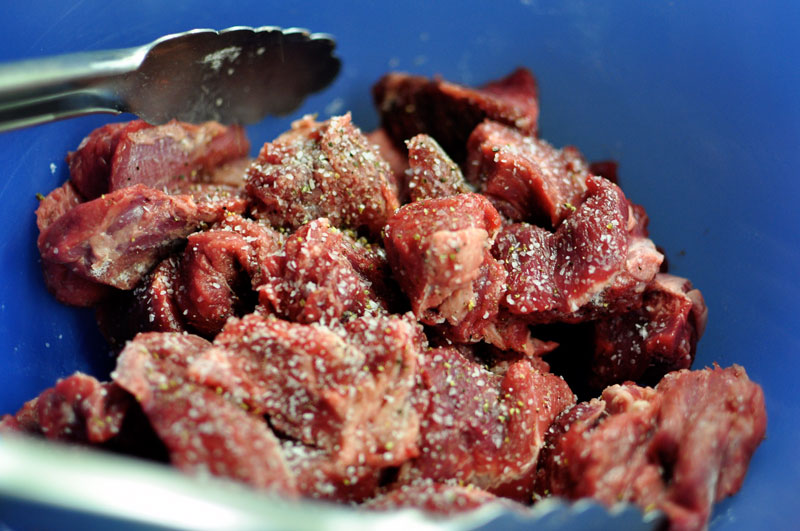 The delicious, beautiful beef.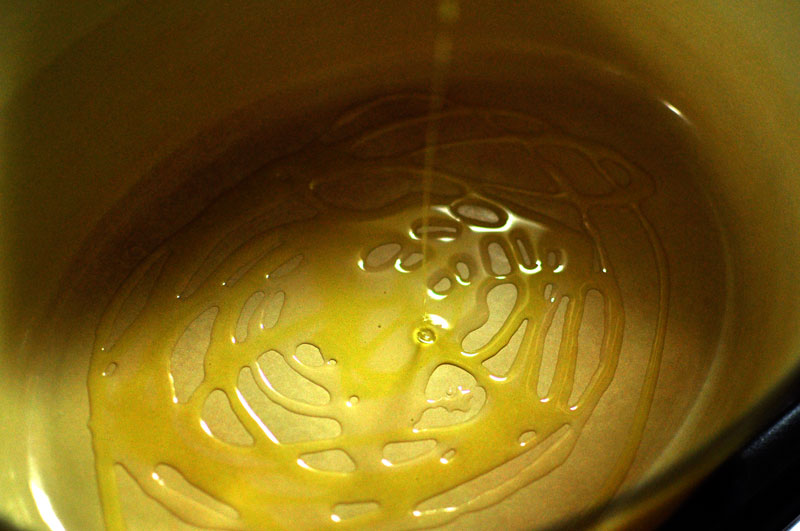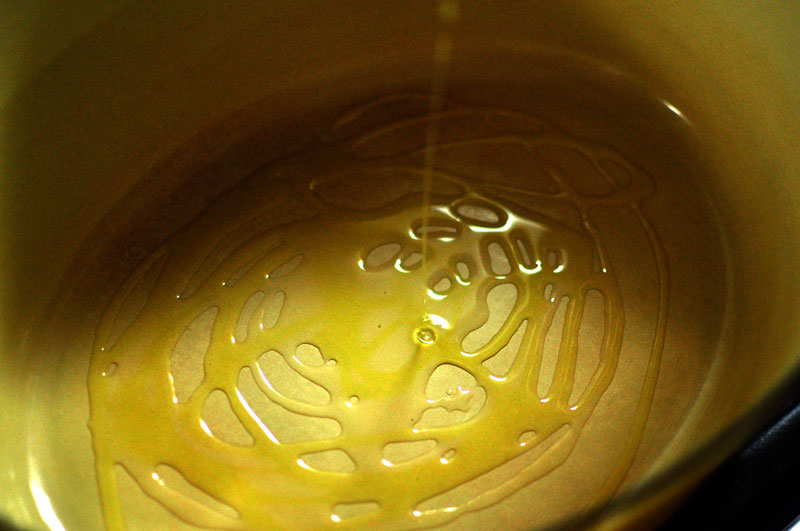 Put some olive oil in a pan, because you're going to brown some beef.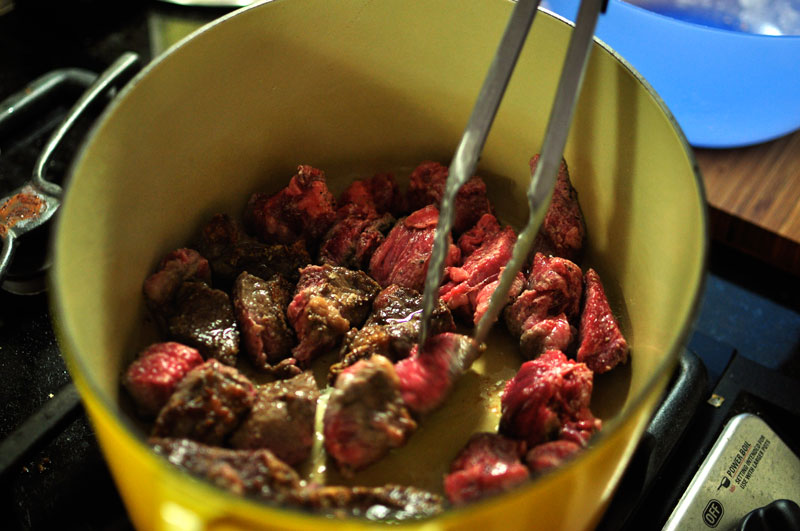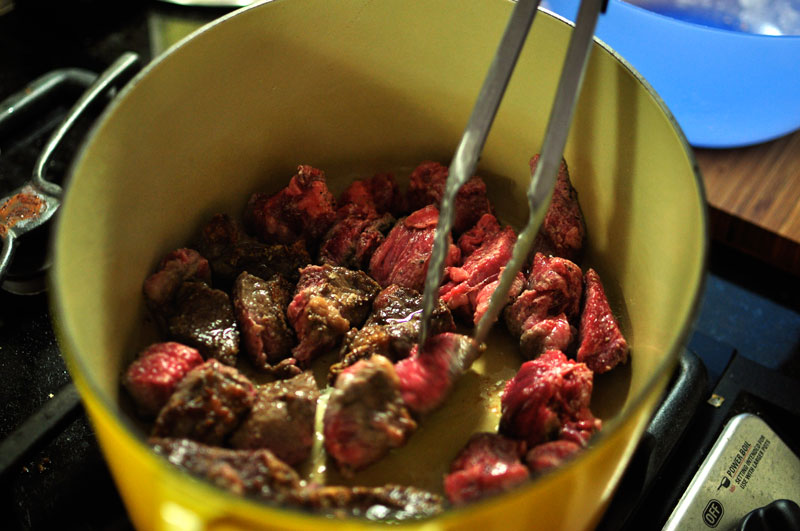 There we go…nice and brown.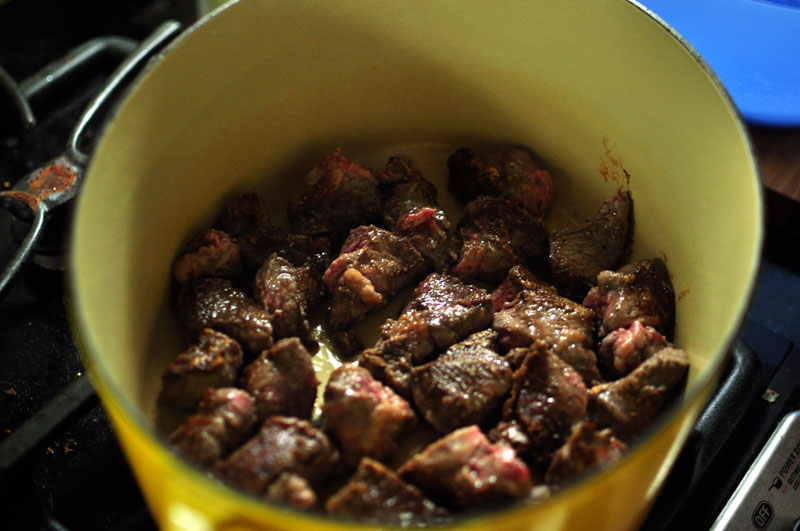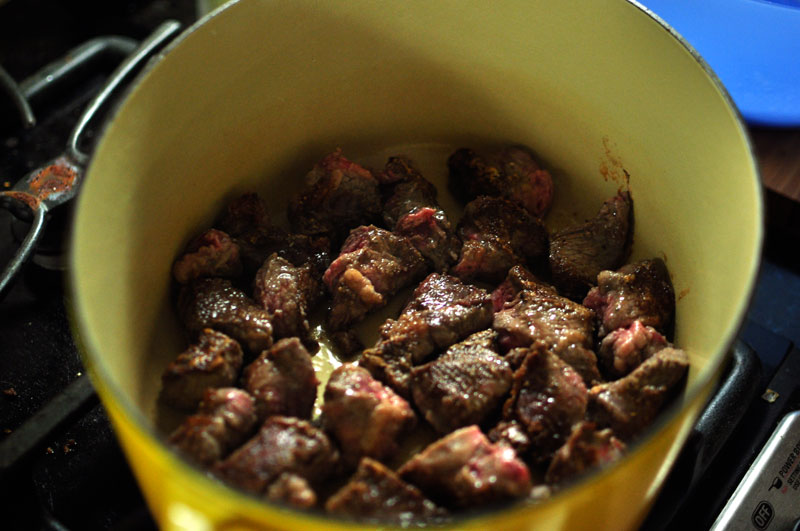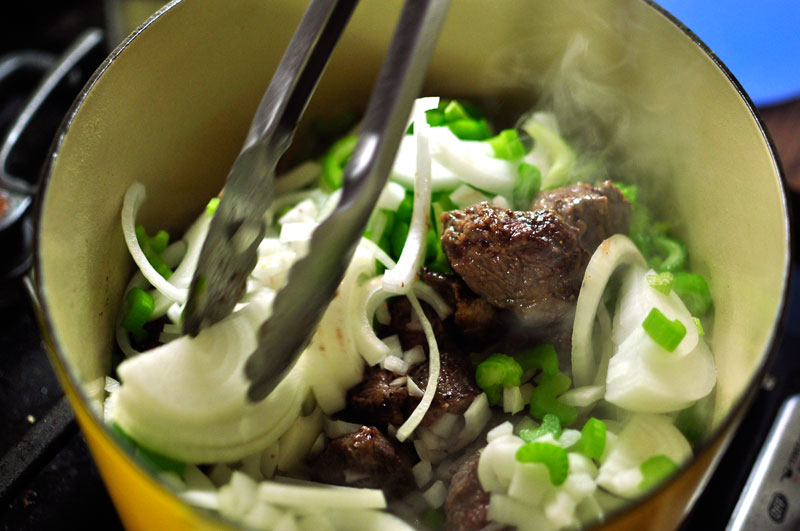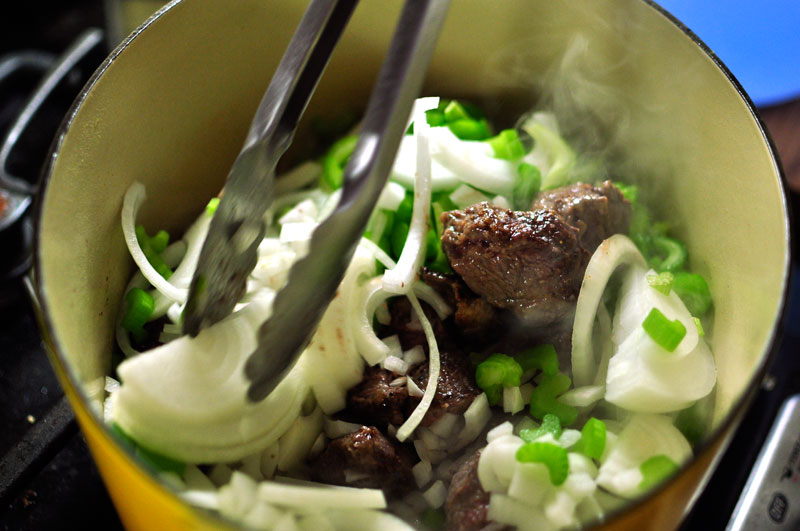 Now we're getting somewhere – all the goodness is about to come together.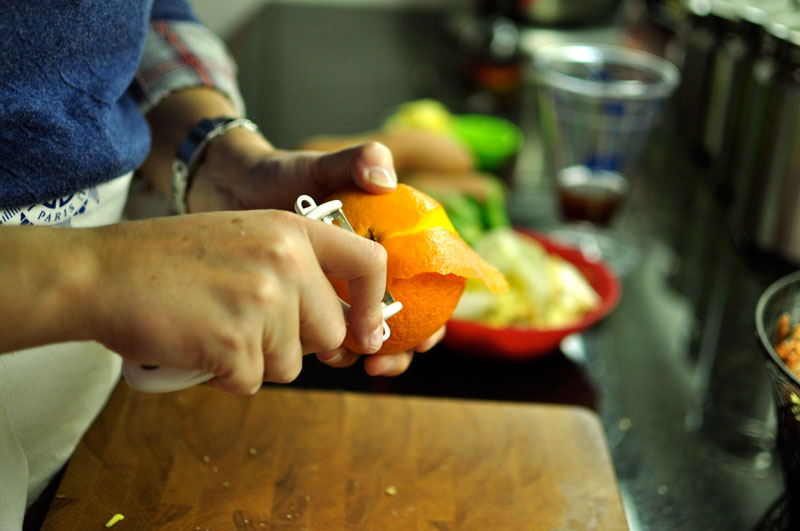 Liz then peeled the orange to be added to the pot of beef…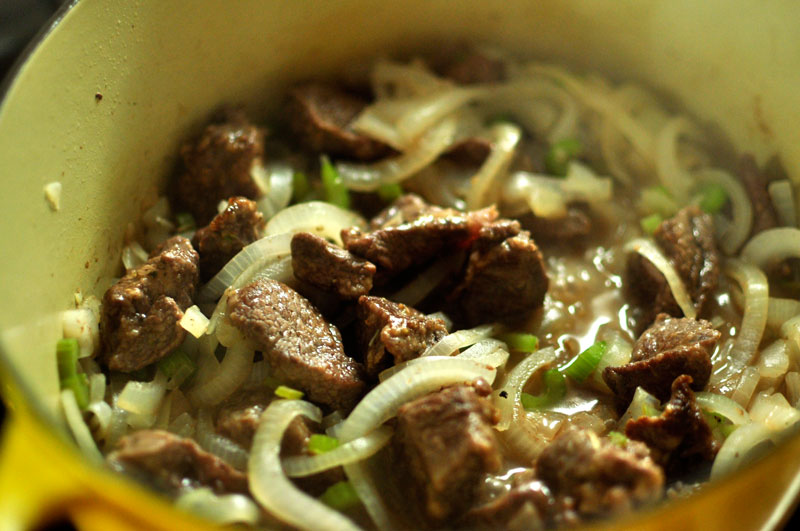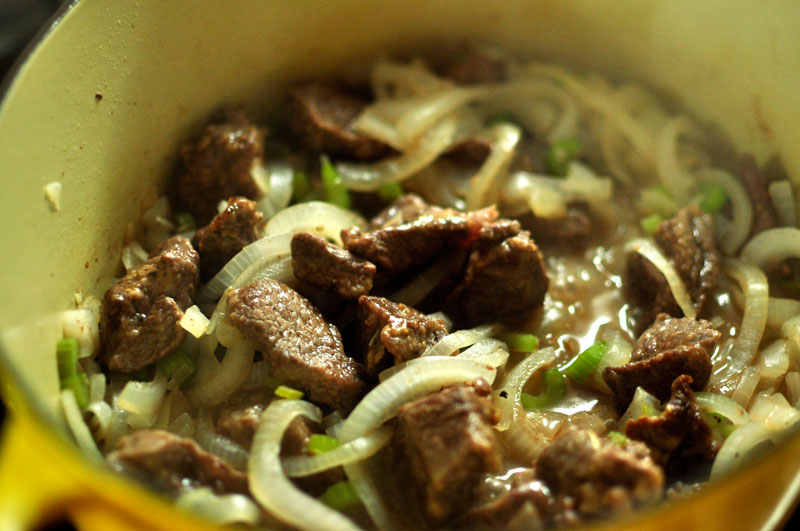 After about ten minutes, your celery and onions have softened delightfully.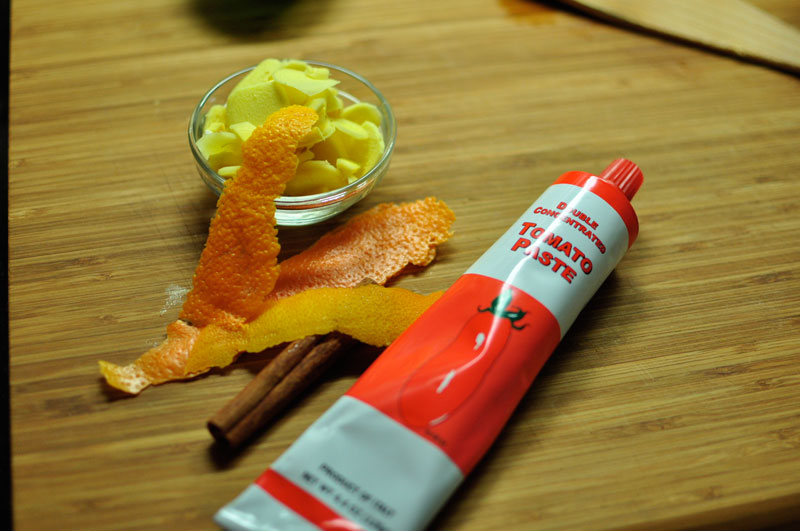 Look at how smart Liz is – she has a tube of tomato paste! I need to upgrade my kitchen to what I am now calling "Liz standard." Additions include mashing my garlic and salt, tubes of fancy tomato paste, and flour dusters.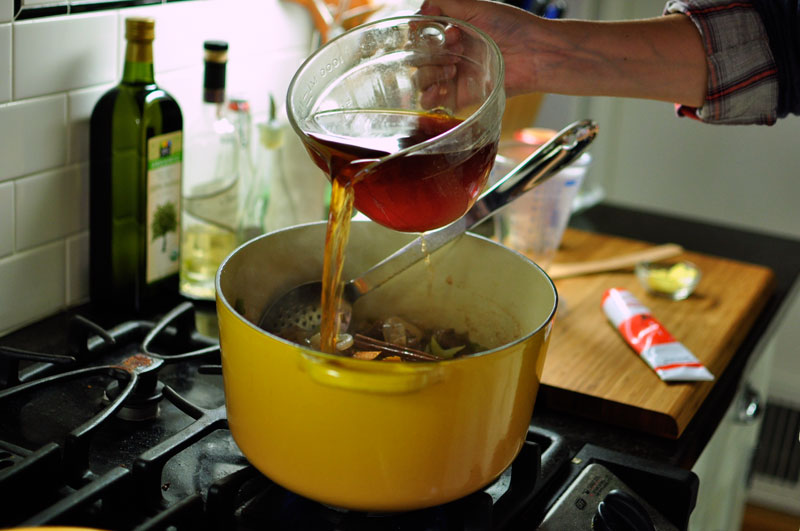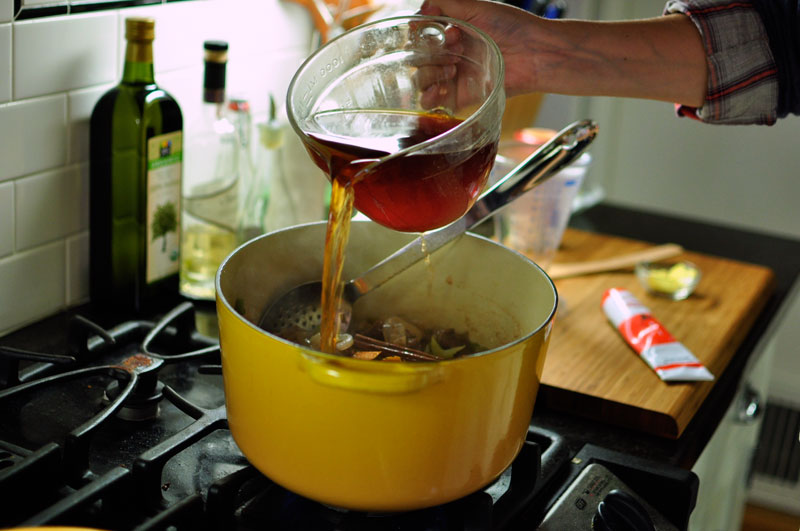 Add your tea, right about now, with that cinnamon and tomato paste and orange peel. Now you're going to let it simmer for a few hours while you go play Wii Fitness or chat with your friends or make some other recipes, or all of the above.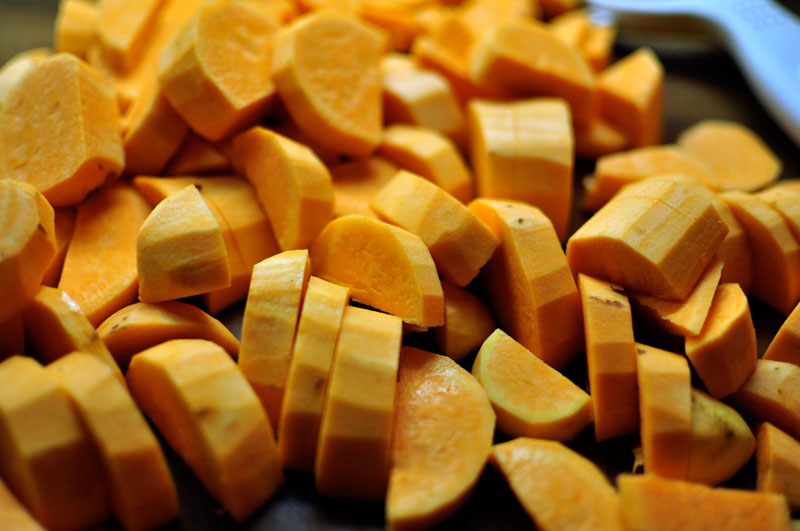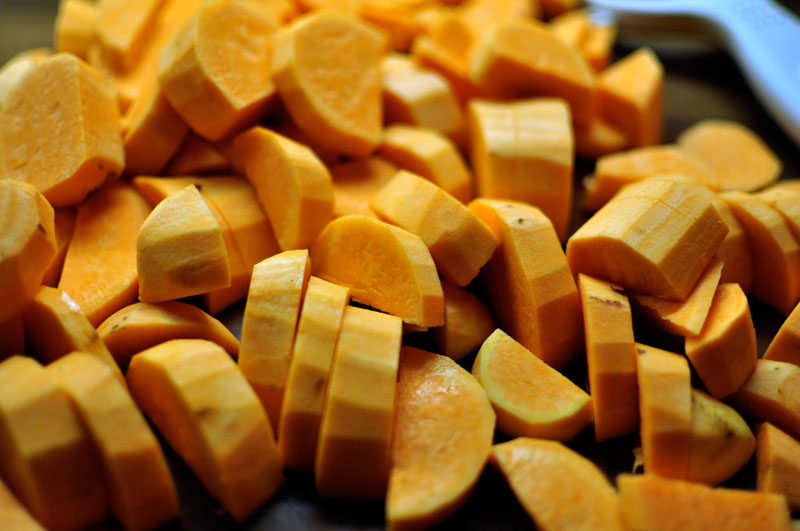 At some point during those two hours, or so, cut up your sweet potatoes.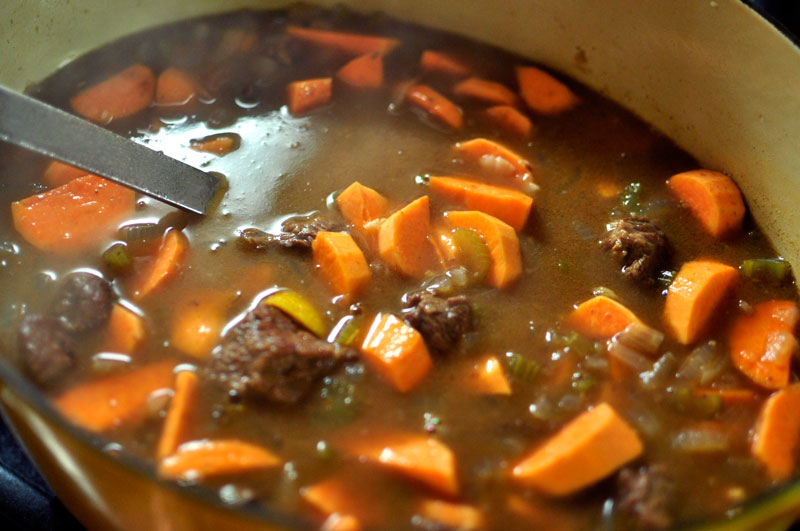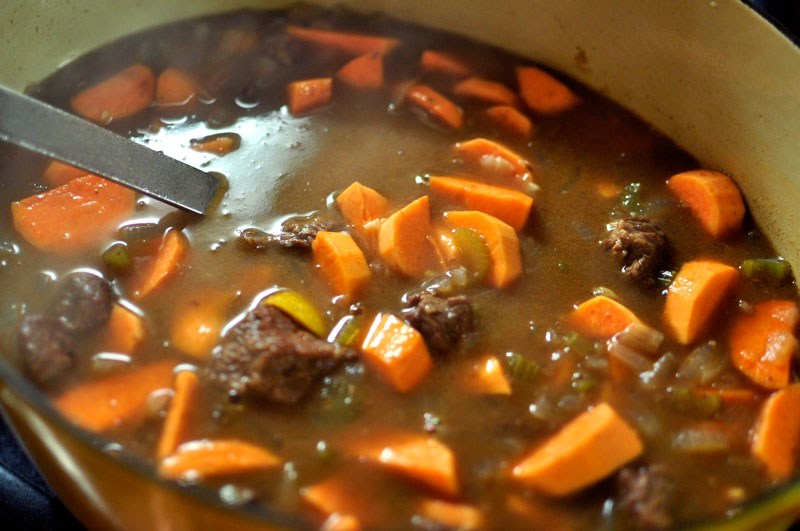 Add them after two hours, and let it go another thirty minutes or forty five. Also, make sure you taste along the way – we ended up taking out the cinnamon and orange during those two hours because it was getting to be a sweet stew, and also using a roux to thicken it up a bit.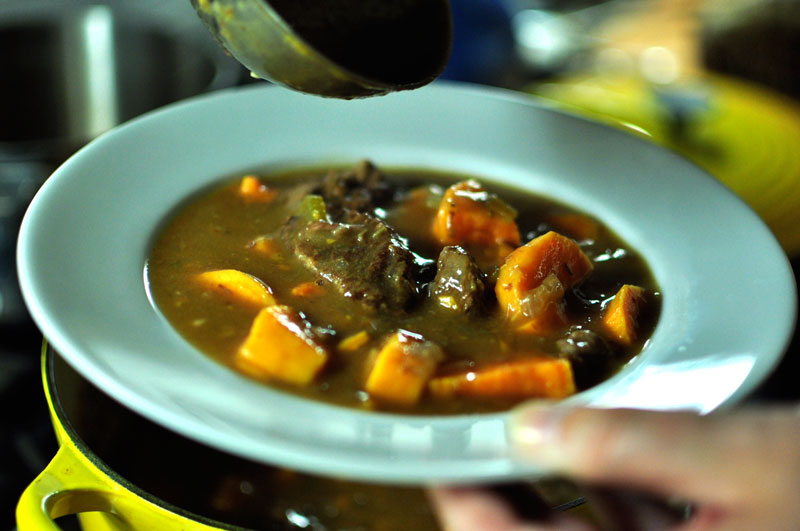 Then, serve it up for dinner!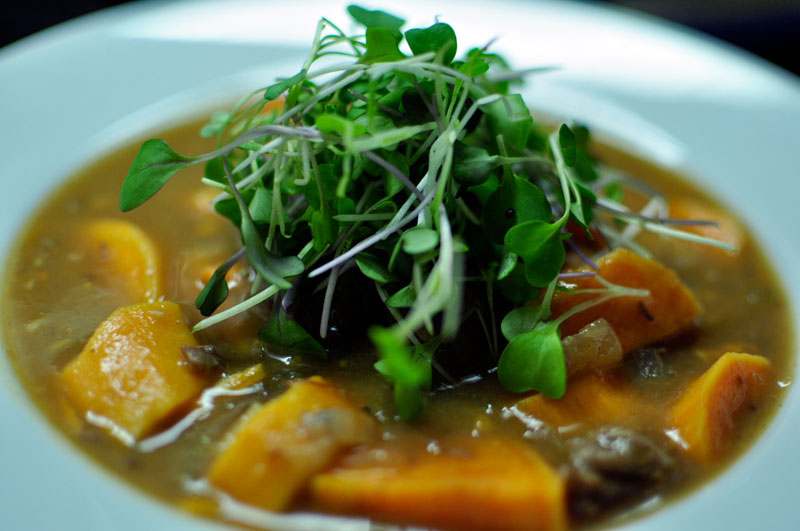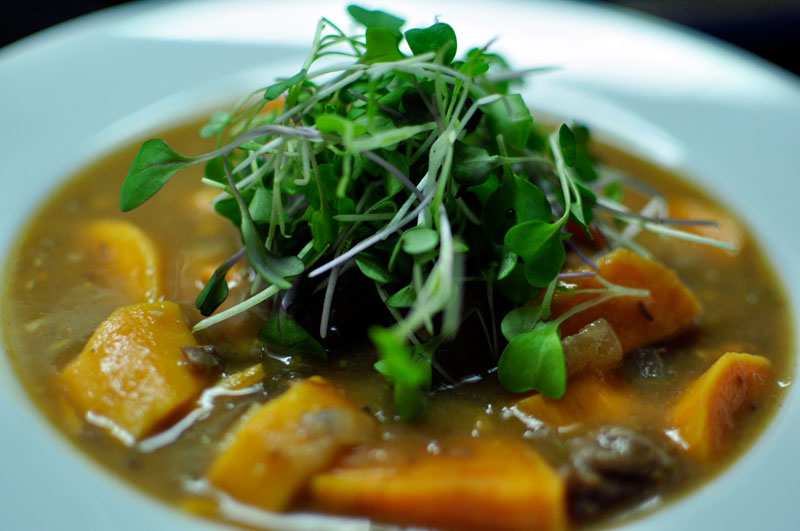 Liz topped with micro greens, which was great for me because the recipe called for cilantro, my nemesis.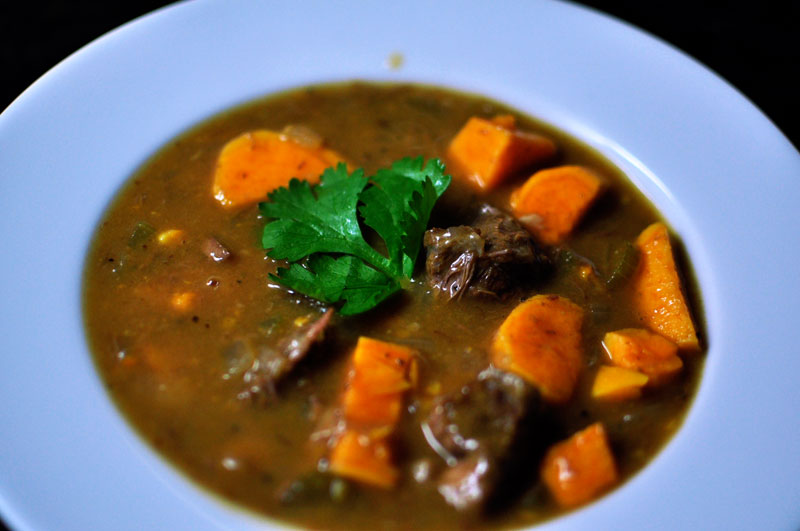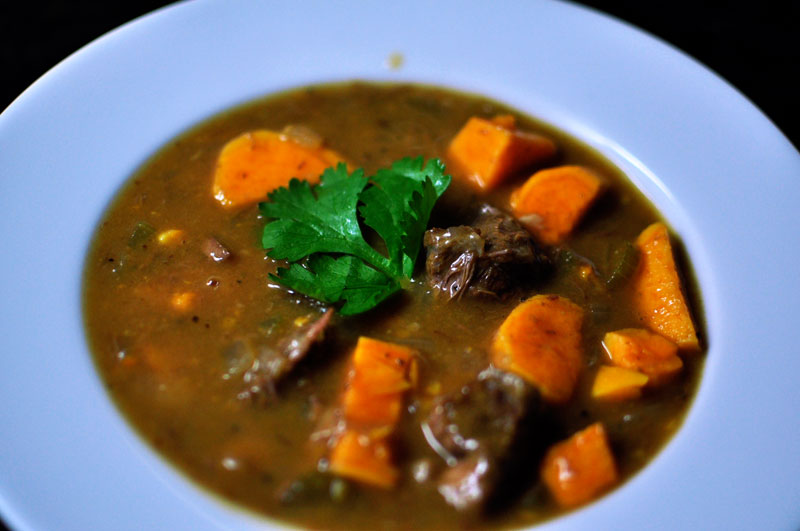 Here's one, with cilantro, if you're into that kind of thing.
What's your favorite kind of stew? A hearty beef, or something white with some beans?
[addtoany]
Yum