March's Food Network Magazine is the chocolate issue. Jeff brought it to me at work, which meant that it went around the cubes, and landed in the hands of Jasmine. Whose birthday happened to be last week. So she marked it up for me, and we finally decided on Boston Creme Pie. Which, really, is a cake, as it turns out. I've been calling it Boston Creme Pie Cake all week, and when I finally looked it up, turns out it's not a pie at all. Anyways, onward.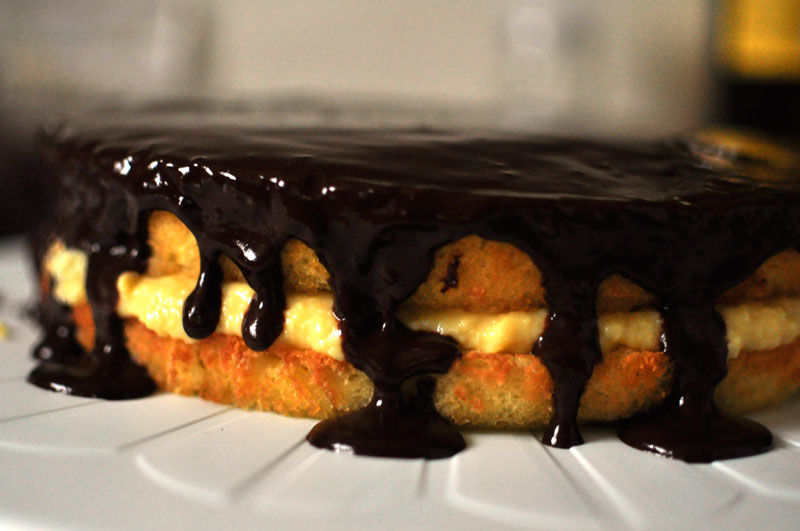 Here's the recipe (page 116 if you subscribe):
Cake
Unsalted butter, for the pan
1 1/4 cup cake flour
1 tsp baking powder
1/4 tsp salt
4 large eggs, room temperature
1 cup sugar
1/2 cup whole milk (I used half 2 percent, and half half-and-half)
1/3 cup vegetable oil
1 1/2 tsp vanilla
Pudding
1 1/2 cup whole milk (I used 2 percent)
2 tsp vanilla
2 large eggs
4 egg yolks
1/2 cup sugar
1/2 cup cornstarch
salt
Glaze
4 oz semisweet chocolate, chopped
1/2 cup heavy cream (I used half and half)
1 tsp vanilla
salt
I ended up making the recipe over two nights, the cake and pudding with Becca on Sunday, and the glaze the morning I served the cake (two days later.) The recipe was time consuming, and there are several matters I have to discuss, if I were ever to make it again.
First, we made the cake by whipping the eggs and sugar in a stand mixer.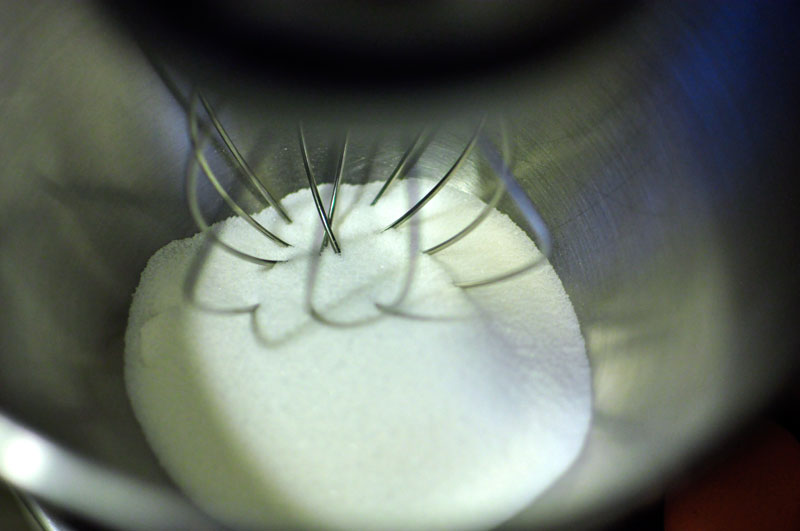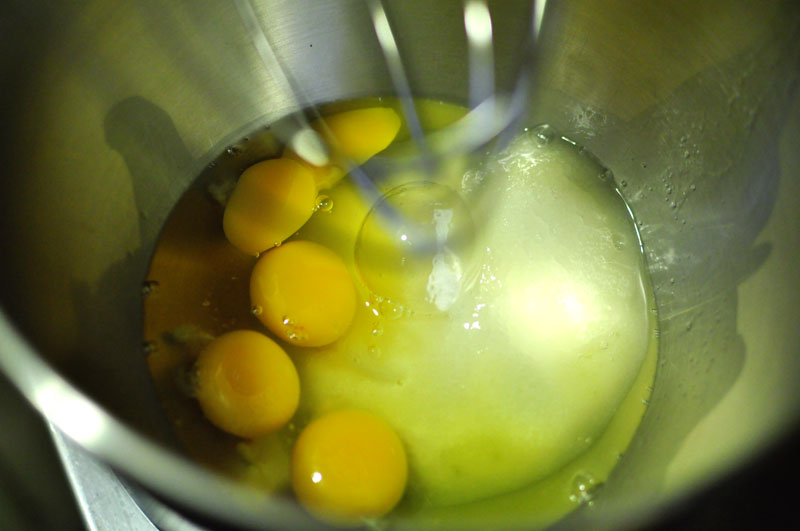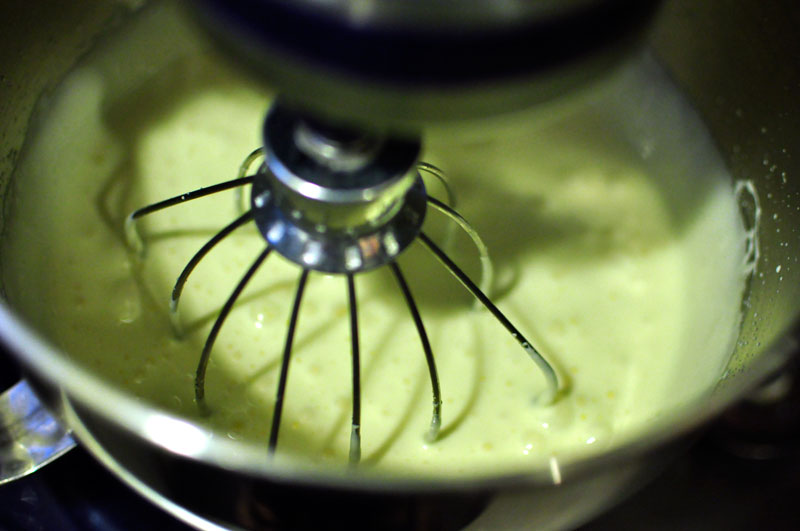 Now, the recipe says to put the eggs and sugar on high speed for fifteen minutes, until "pale and triple in volume." However, this only ended up taking about five minutes, and we didn't want to over whip the eggs, so we went for looks over time, and I think that was the way to go.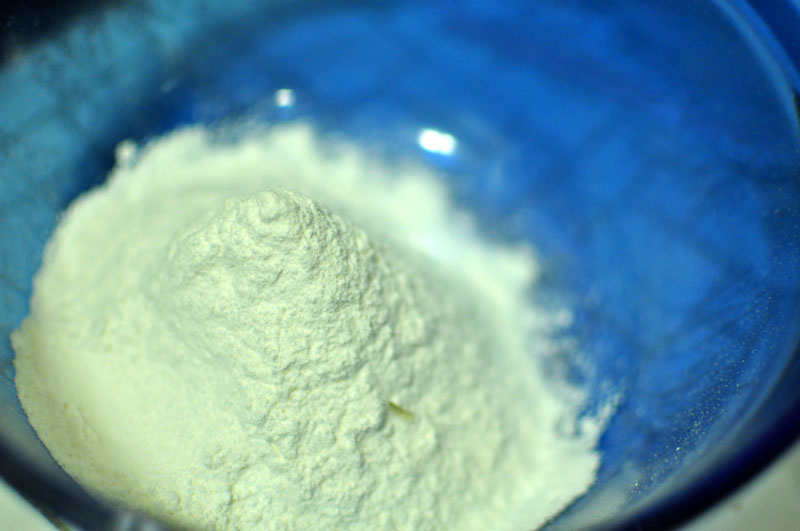 Then, we added the flour, baking powder, and salt, which we had sifted together whilst the eggs and sugar were going. Here's another thing about this recipe: the recipe says to sift first, then whip your eggs and sugar. And if you're anything like me (read time strapped, impatient, and probably hungry) the last thing you want to do when making a recipe is waste time. So why would you ever sift first, get that bowl ready, and THEN wait fifteen (or five) minutes for your eggs and sugar to triple in size?
Which brings me to a lesson I learned long ago with the PW: always read a recipe through completely at least once before you attempt to make it. Unless you conveniently always have six hours and a back up recipe ready, which I'm pretty sure no one does.
Anyways, back to the recipe.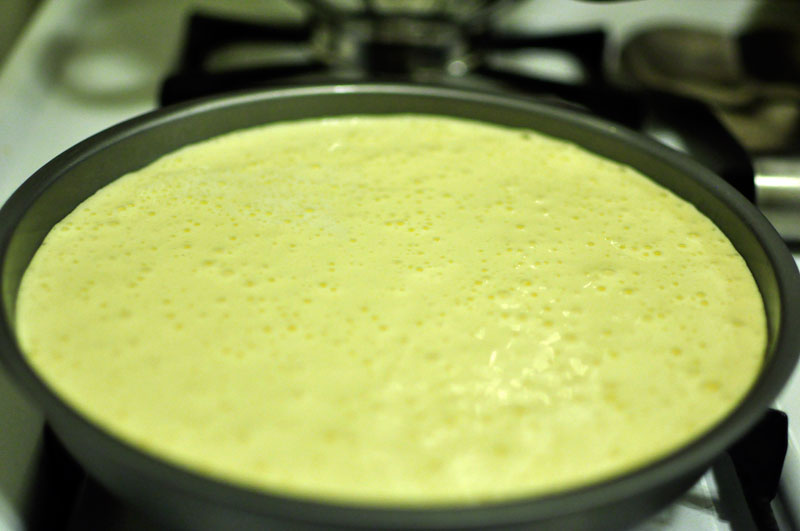 So after you mix in the flour combo, and then your milk/oil/vanilla, you beat until well combined. Then, you pour into your baking pan, which presented another problem. The whole idea here was that you made one cake and sliced it down the middle. However, halfway through my pouring the batter, Becca said, "Um…no. That's not going to fit." And so we took out another pan, buttered, parchment papered, and poured. (ie wasted time.)
Upon looking at the photograph of this step, we realized their pan was two inches deep. But it wasn't in the directions. I don't know about many bakers out there, but I wouldn't automatically reach for a 2-inch deep pan.
Neither here nor there…we made two small cakes.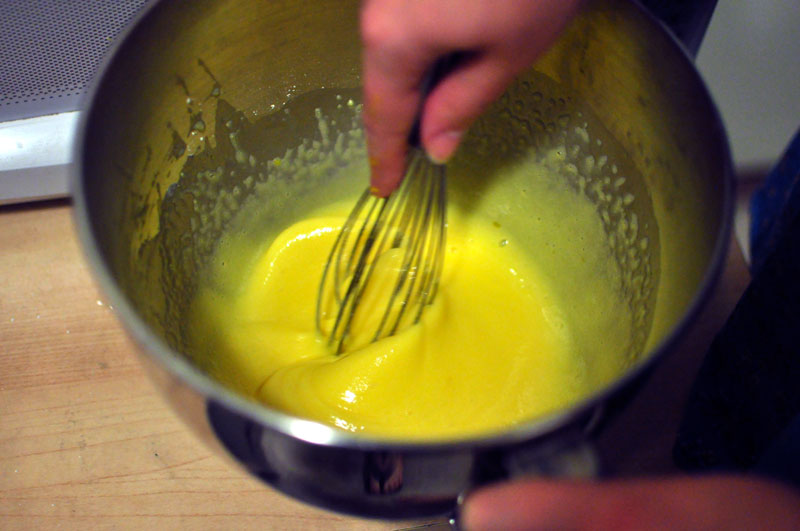 Now, onto the pudding while the cake is in! First, whisk the eggs, yolks, and sugar in a large bowl until light and fluffy, while also slowly heating your milk.
Now you're going to temper the egg mixture (so it doesn't cook, and curdle) by adding a little bit of the milk, then adding the whole thing back into the rest of the hot milk. Now you're going to heat it for about 15 minutes.
When it looks like this, you're pretty good. We didn't understand why we were going to have to strain it, but at this point it's pretty much the consistency of scrambled eggs, so it was better that we did.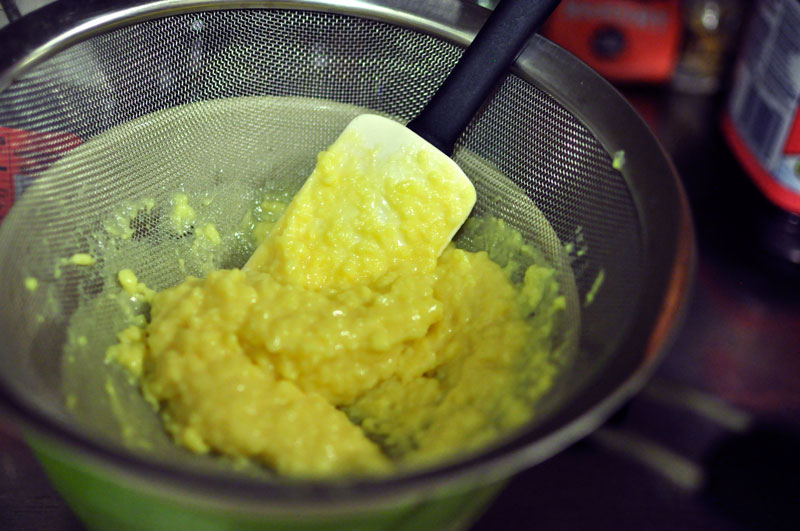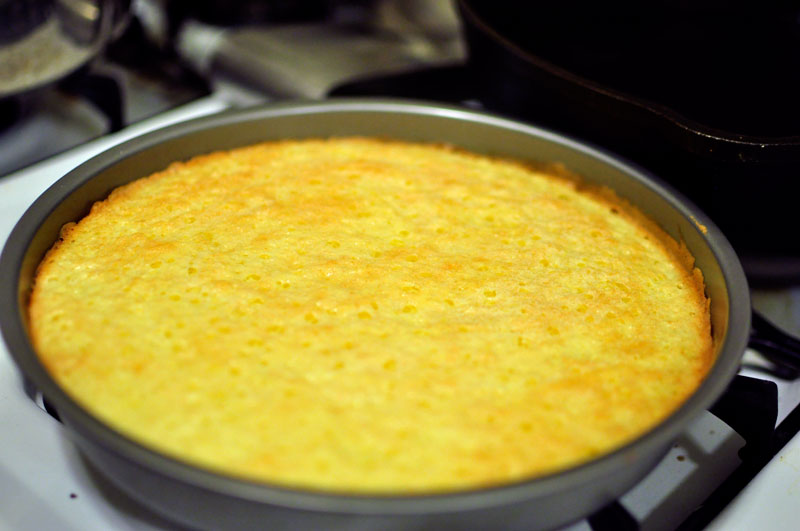 This is what the cake looked like, done, by the way. After the pudding was done, we put it in the fridge, with the cakes.
Flash forward to two days later, when I put the whole thing together.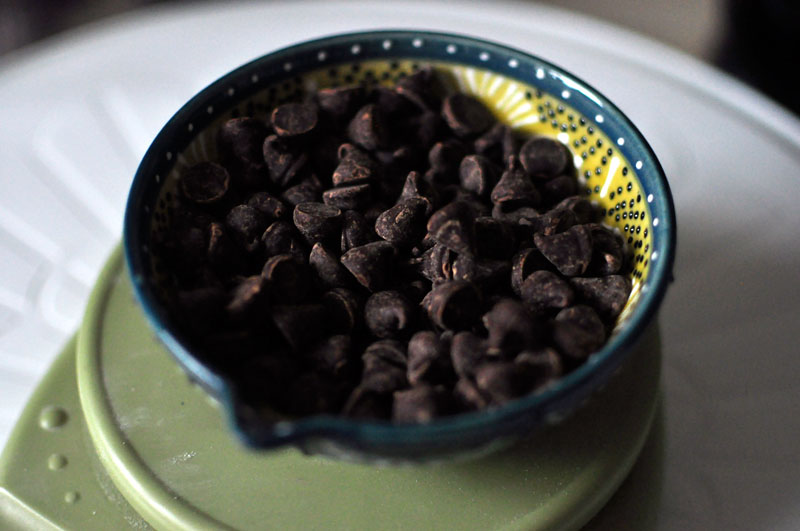 First, measure out your chocolate (I used chips, obviously.) Because I used half and half instead of heavy cream, I ended up needing five ounces of chocolate.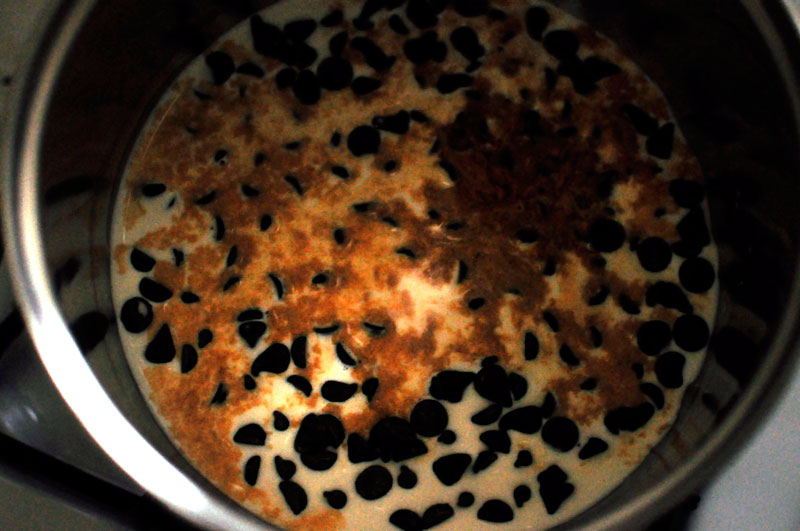 Now, to build a cake.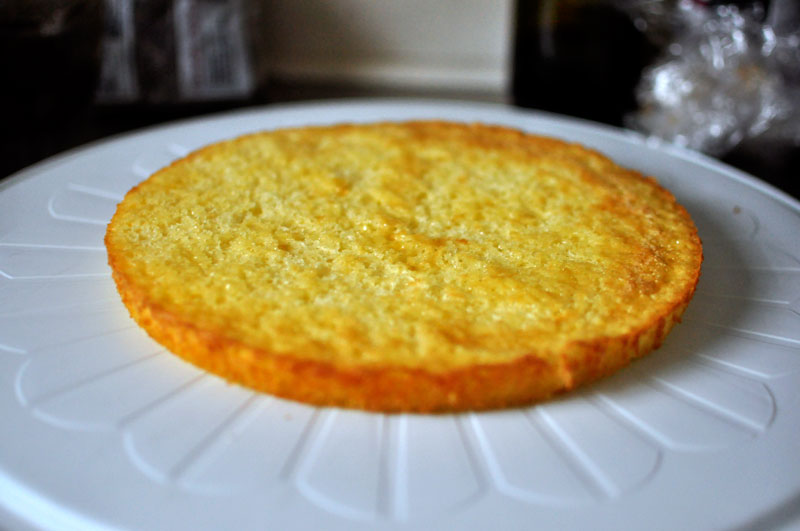 Cake. Add pudding.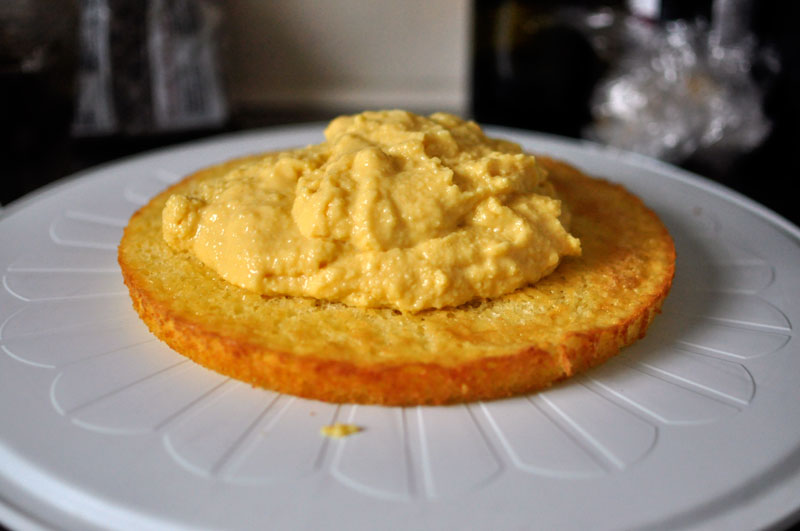 Cake and pudding. Add cake.
Cake, pudding, cake. Add chocolate.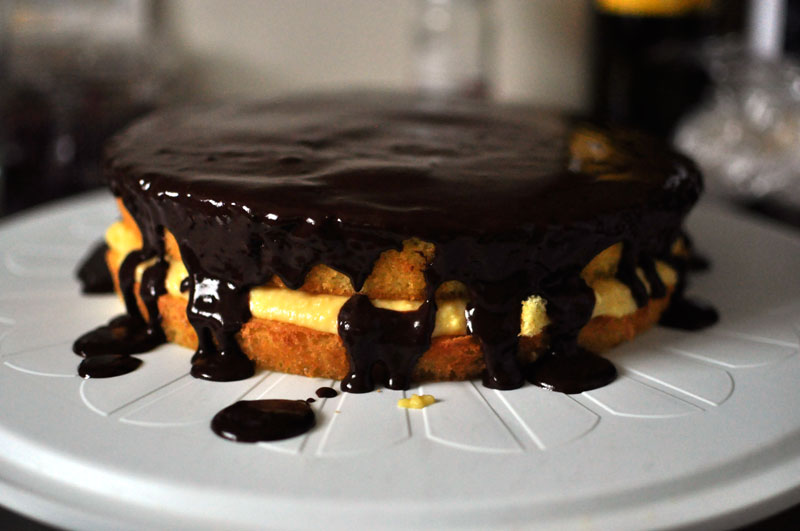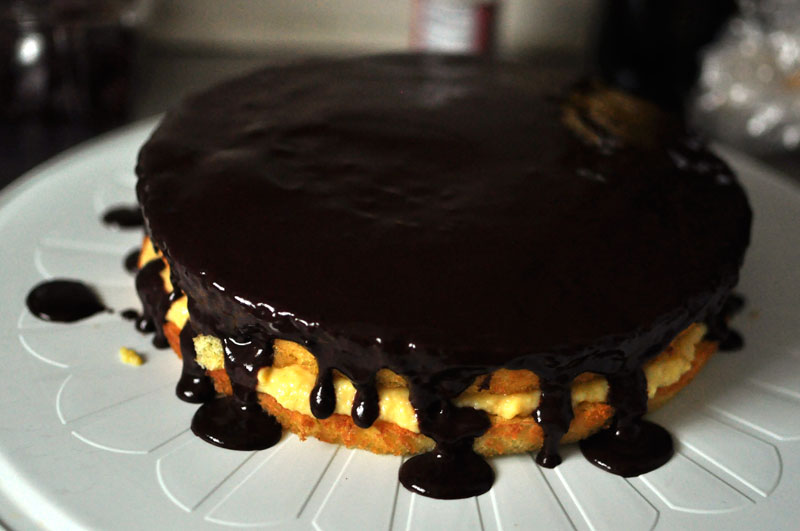 Now, I brought this cake to work, so a note about serving, if you plan on moving the cake: the cake is NOT stable. When I got to work, the top layer had slide off (hindsight: duh, because of the pudding) and so I had to put it back together. I don't know what you could really do to solve this, other than put it together when arrive where you're going, or just save the chocolate, or put toothpicks in it…any ideas?
Anyways, I would definitely suggest making Boston Creme Pie soon, because despite this recipe's flaws, it was delicious. Do you have a recipe for Boston Creme Pie that you like?
Yum