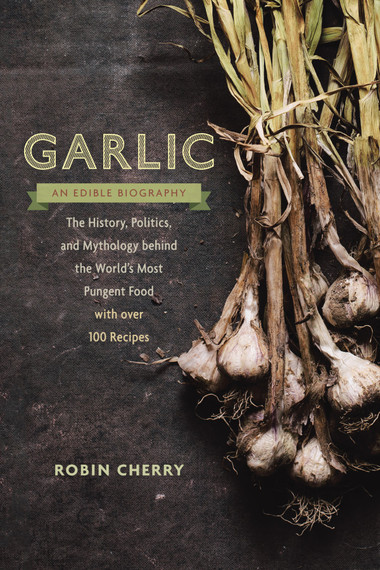 Hey y'all! Happy Monday. Today, I wanted to share a book review with you. I recently read through this amazing half-history, half-cookbook, and I think you might like it, too.
I'll be honest, the first 100 pages of so, aka the "book" section, confused me at times when I couldn't tell what was fact and myth (aka, does garlic lower cholesterol? Studies are unclear still, which I get, but it's good for your heart in other ways, so just keep eating it!) and at times, it was dry, which happens with books of history.
However, in other places, this book had me hooked in other places "Garlic also kills bacteria directly by invading their cells and causing them to explode" in explains on page 31; "Scientists today believe that eating garlic can reduce the risk of several cancers, especially those of the gastrointestinal tract…" it goes on further, on page 37. Garlic is so good for you in so many ways, and this book is basically a credo that's telling us to eat.more.garlic. Which I obviously can get behind.
I love to hear all the benefits of garlic (after all, we are Garlic, My Soul) and I love knowing that garlic has been in recipes since the beginning (recipes date back to 1700 B.C.E.) There is a whole section about how to grow your own garlic (which I hopefully will be doing once we move and can have a garden!) Seeing how many varieties there are of garlic really makes me think that I need to do some shopping…
The second half of the book is recipes, and I plan to try many of them soon, so I'll let you know how it goes. I love history, and obviously I love cooking, so I love a book that combine the two for me! I look forward to trying the recipes soon and seeing what new dishes I can add to our wheelhouse – I am hoping garlic soup, Chicken Ghiveci, and Roasted Garlic Soufflé is a good place to start!
If you love garlic, or reading about the history of cooking, I suggest you pick this up and give it a try – I have a copy if you want to borrow it, in fact!
What is your favorite cook book? Do you ever read about cooking and the history thereof? Share with me your favorite books – I am always looking for suggestions!
Yum