Chickens, it's cold in Chicago. And will be, for several months. Enjoy that sunshine if you've got it.
Over here, when things are cold and gray, we warm up with comfort food.
This time it was in the form of a Korean sandwich, called banh-mi, which must be Vietnamese for amazing.
Or something like that.
Anyway, we found the recipe on Shutterbean, but we adapted it slightly (because I can't get my mind around pate and also because I forgot about the fried egg), but it was still delicious. Here's the recipe, and here's what we did. This is good for warming up, and is best eaten with a cocktail and a side of chips. Also, this says it will make 4-5 servings, but if you have less people, I guarantee it will still be gone, because it's.that.good. You will not regret making this, we promise.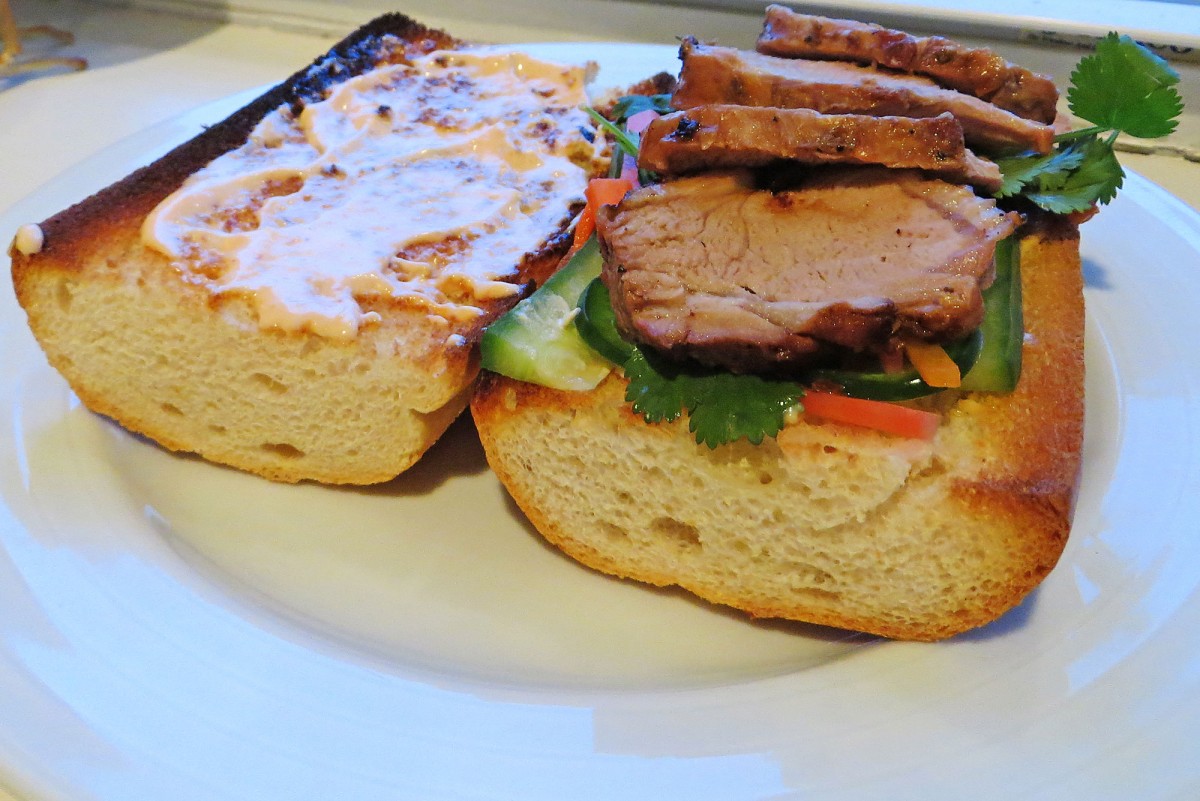 Serves 4-5
Ingredients:
For the marinade:
1/4 cup dark soy sauce
2 tablespoons fish sauce
one 2 inch piece of ginger, peeled & minced
3 cloves garlic, minced
1 large shallot, minced
2 tablespoons brown sugar
1/2 teaspoon freshly ground black pepper
1.5 pound pork tenderloin, cut crosswise into 1/2 inch wide pieces
For the pickled vegetables:
3/4 cup white vinegar
1/2 cup water
2 tablespoons sugar
1 teaspoon coarse salt
1 cup julienned carrots
1 cup julienned radishes
For the sandwich:
1 French baguette (we ended up using giant Italian bread- still delicious)
1/3 cup mayonnaise
2 teaspoons sriracha (to taste, we used more)
1/3 English cucumber, cut into 16 spears
10 cilantro sprigs
1 jalapeño, thinly sliced
Directions:
1. Combine all marinade ingredient in a bowl. Add the pork, coat evenly and let marinate for 30 minutes or so.
2. For the veg: bring the vinegar, water, sugar, and salt to a boil in a small saucepan, stirring to dissolve the sugar. Add the veg, remove from heat and let cool to room temperature.
3. Roast the pork in a 375 degree oven for about 45 minutes or until it hits 165 degrees. Basically, cook the pork so you don't kill anyone (you won't kill anyone, I promise).
4. Preheat the broiler with the rack as close to the broiler as possible with the ability to wedge the sandwich underneath it. Halve your bread lengthwise. Place cut side up directly on the oven rack and broil until toasty, which won't take long. Watch the broiler to avoid a burned bread sitch.
5. Combine the mayo and sriracha in a bowl, and then spread on the bread. Top with pork, cucumber spears, pickled veg, cilantro & jalapeños.  Close the sandwich, cut into portions & swoon.
[addtoany]
Yum