Update: We're happy to announce that Nicole has won our contest! Nicole, email us at jennie@garlicmysoul.com to claim your prize! Congrats – and I hope you all can get out to #bakeforgood!
Last weekend, we had the opportunity to work with King Arthur Flour on their "Bake for Good" Tour. We've loved King Arthur Flour since our youth, and my family has always preferred KAF. When I moved to Los Angeles, I found it harder to find, and quickly learned it's because King Arthur is based in Vermont. Luckily, we found a few local stores that carried KAF products, and our favorite flour has become more prevalent on the west coast over the last few years. Thank goodness!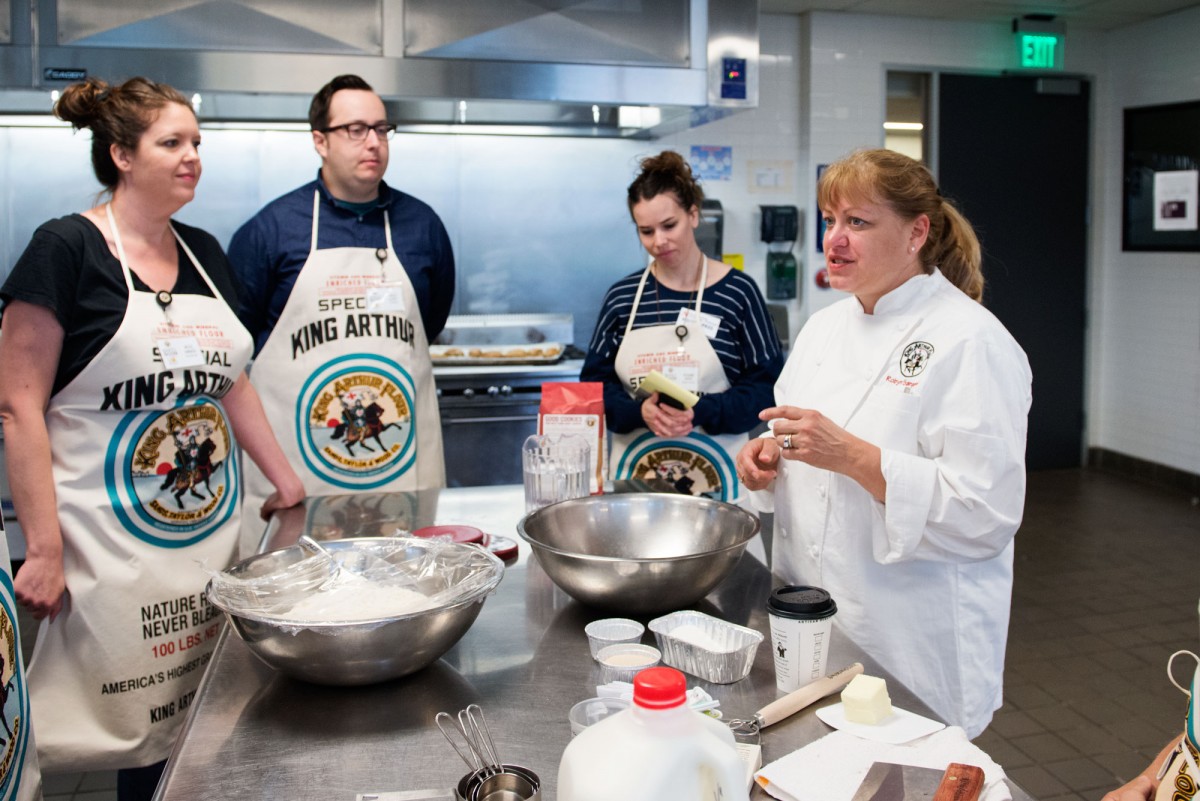 When we heard they were doing a tour, we knew we wanted to be a part of it. The Bake for Good Tour was a way for bloggers to come together, learn how to make basic baked goods (we made bread and pies) and then cook a meal for the homeless including the breads and pies we had made.
The Bake for Good mission is simple: bake something for someone who needs a little love; whether it be cookies for your neighbors, or a pie for your local senior center, or loaves of bread for a homeless shelter, you can do something that will benefit someone in need. To read more about the program head here.
We love this mission because we love baking, and we have great memories baking with family, friends, and each other. We want to share the joy of baking with all of you, and want you to bake it forward to someone.
The first day, our fabulous teachers Susan and Robyn taught us the ins and outs of making breads and pies, and we were beyond thrilled to get some hands on baking instruction from these talented and inspiring women. Robyn is one of King Arthur's baking instructors, and she really knows her stuff.
She took us through yeast breads and pie pastry, calmly reassuring us when our dough seemed a little too wet and correcting our tendency for aggressive kneading. Afterwards, Susan, who is a chef in the King Arthur test kitchen, taught us her secret for a perfect lattice pie crust.
On the second day, we headed to Homeboy Industries to see their bakery and learn about their program (we'll be doing a whole post about them later, but to learn more about them, head here.) Then, under Susan's masterful direction, we cooked a dinner for about 120 people at PATH, a local homeless shelter and organization.
We made some talented new blogger friends and had a great experience learning kitchen techniques and giving back to our community, and we want you to be able to do the same!
So to help you get started baking for good, we want to offer you a prize pack of the following items:
* 5 lb bag of King Arthur Flour White Wheat Flour
* 5 lb bag of KAF Whole Wheat Flour
* A KAF Bench Knife – helpful for cutting butter into your dough, or cutting your dough into loaf-sized pieces, or cutting up your brownies…
* A KAF Bowl & Dough Scraper – great for mixing your dough together without too much touching – great for those of us who hate touching flour, aka Jennie
* Vanilla Extract
* Chocolate Chips
To enter, here's what we want you to do:
1. Tweet, post on Facebook, Instagram, or comment on this post about how you'll use the prize pack to #bakeforgood – and make sure to use the hashtag so we can find you! For example, you can say, "I'll make chocolate chip brownies for my neighbors who just moved in!" or "I'll host a bake sale and donate the proceeds to Homeboy Industries!"
2. Extra points for any of the steps in the Rafflecopter below – connecting with KAF or GMS on Facebook or Twitter.
3. We hope that whether or not you win, you'll bake for good in your community anyways – so if you do, please tag your posts #bakeforgood so the great folks at KAF can see all of the good you've done!
4. The contest ends Thursday Night at 12:00 midnight (aka technically Friday morning) and winners will be announced sometime on Friday.
[addtoany]
Yum