With Halloween past us and Thanksgiving fast approaching we are entering into the full on throws of Autumn! This is one of my favorite times of year because it signifies a shift from the fruity, minty, and light drinks of summer to the heavier, earthier, and sophisticated drinks of the fall. This is always a time of year that I begin drinking brown liquors again and one of my favorites is of course Rye Whiskey!
So with this amazing spirit as our base, I wanted to share a few recipes that I really enjoy and most importantly are simple to make. They will really hit the spot on those temperate autumn days!
Manhattan:
This drink is one of the first mixed drinks I had started learning about making cocktails. To be perfectly honest, the first time I tried it I really didn't like it all that much, but I always heard other people talking about Manhattans, so I kept trying them at different places. This is a drink that really does depend on your particular taste and how it is made. It wasn't until I discovered the cocktail mixed with Rye Whiskey rather than Bourbon that I truly fell in love!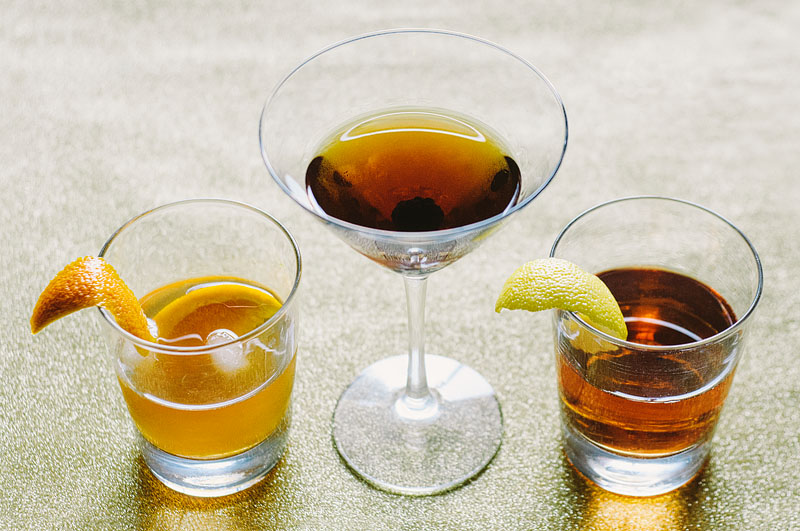 Prep Time: 2 Minutes
Yields: Drink for 1 Person
Ingredients:

2 ounces of rye whiskey (1.5 shots)
½ ounce of sweet vermouth
3 dashes of Angostura Bitters
1 blackberry
4 ice cubes
Directions:
Grab a mixing glass and throw in the ice cubes. Then add the bitters and give the contents a quick stir. This will allow the bitters to permeate the cocktail as some of the ice will melt during the preparation of the drink. Add in the whiskey and the sweet vermouth. Give the mixing glass another well-rounded stir to incorporate all the elements together. Strain the contents of the mixing glass into a chilled martini glass and add a blackberry as a garnish. Traditionally a cherry is used as garnish in this cocktail but I find it can make the drink a bit too sweet, the blackberry adds a wonderful sour note that really compliments the warm crimson color and taste of this fantastic classic cocktail.
Old Fashioned:
If you have watched an episode of Mad Men, you have seen an Old Fashioned cocktail! This drink is so easy to make, in one episode Don Draper has his young daughter make it for him. Regardless of your opinions on parenting, this drink is simple, classy, and incredibly tasty. And to be honest it simply makes you feel a little bit Old Fashioned!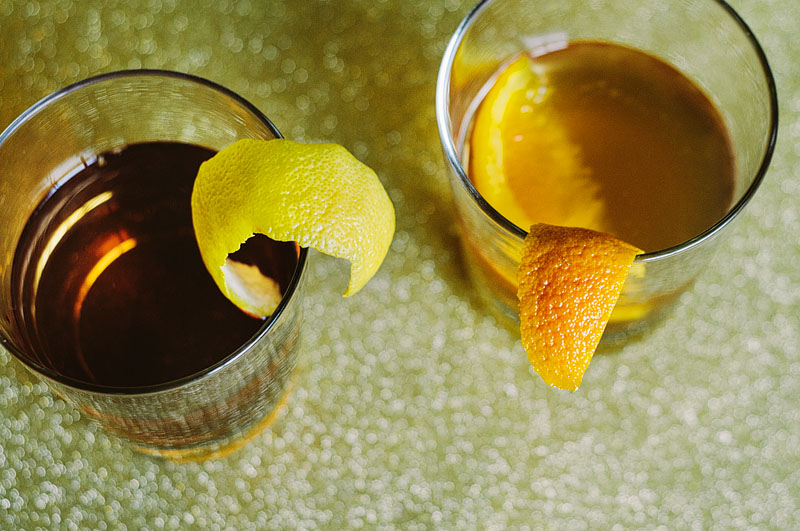 Prep Time: 3 Minutes
Yields: Drink for 1 Person
Ingredients:
2 ounces of rye whiskey (1.5 shots)
1 teaspoon white sugar
3 dashes of Angostura Bitters
1 small orange
2 ice cubes
Directions:
First thing you want to do is grab a sturdy and chilled old fashioned glass. Cut a small slice out of your orange, and drop it into the glass along with the sugar and bitters. Spend a few moments muddling it together with your wooden muddler or the back of a wooden spoon. Once these ingredients have incorporated into one another, it is time to add your rye whiskey to the mix. Give the drink a thorough stir until the sugar has completely dissolved. Then, add two small ice cubes and had an orange peel for garnish. This will leave you with a sweet and citrusy drink that will channel your inner Don Draper!
Sazerac:
This cocktail is a New Orleans favorite. Many say that it all began with the Peychauds Bitters that are a signature of the drink. Way back in the day, a shop owner named Peychaud wanted a way to help punch up the taste of lesser drinks and came up with his own bitters. Soon most of the coffee houses in New Orleans were using them to mix with coffee and cognac. Eventually, the Sazerac came from the combination of the bitters, absinthe, and rye whiskey and is the wonderfully warm and festive drink enjoyed today.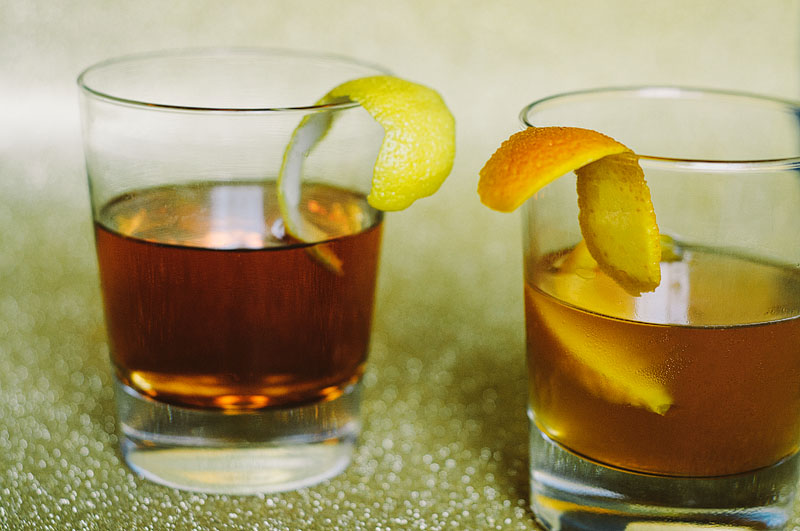 Prep Time: 2 Minutes
Yields: Drink for 1 Person
Ingredients:
3 ounces of rye whiskey (2 shots)
1 lemon
1 teaspoon of white sugar
2 ice cubes
5 dashes of Peychauds Bitters
1 ounce of Herbsaint Liqueur or absinthe
Directions:
First thing you want to do is to grab a mixing glass and drop in your sugar and your bitters, and spend a few moments muddling them together. Then, add your rye whiskey to the mixture along with your ice cubes. Next, stir everything together until the sugar has completely dissolved into the drink. Now, grab a separate chilled old fashioned glass and pour the Herbsaint liqueur or absinthe into the glass. Take the chilled glass with your Herbaint liqueur and swirl it around so the liqueur coats the surface of the glass. Once you have a good coat on the glass, discard the liqueur (it will take the drink in a very unpleasant direction.) The thin layer will be enough to add the proper taste. Now the contents of your mixing glass into the liqueur-coated glass. Take your lemon and skin off a medium size peel to use for a garnish in the drink.
These are all classy and fun drinks, but remember, just because they are small cocktails you may not think they are having much of an effect on you, but they have just as much alcohol as a regular cocktail so make sure you drink responsibly and enjoy!
Good Spirits Folks!
[addtoany]
Yum