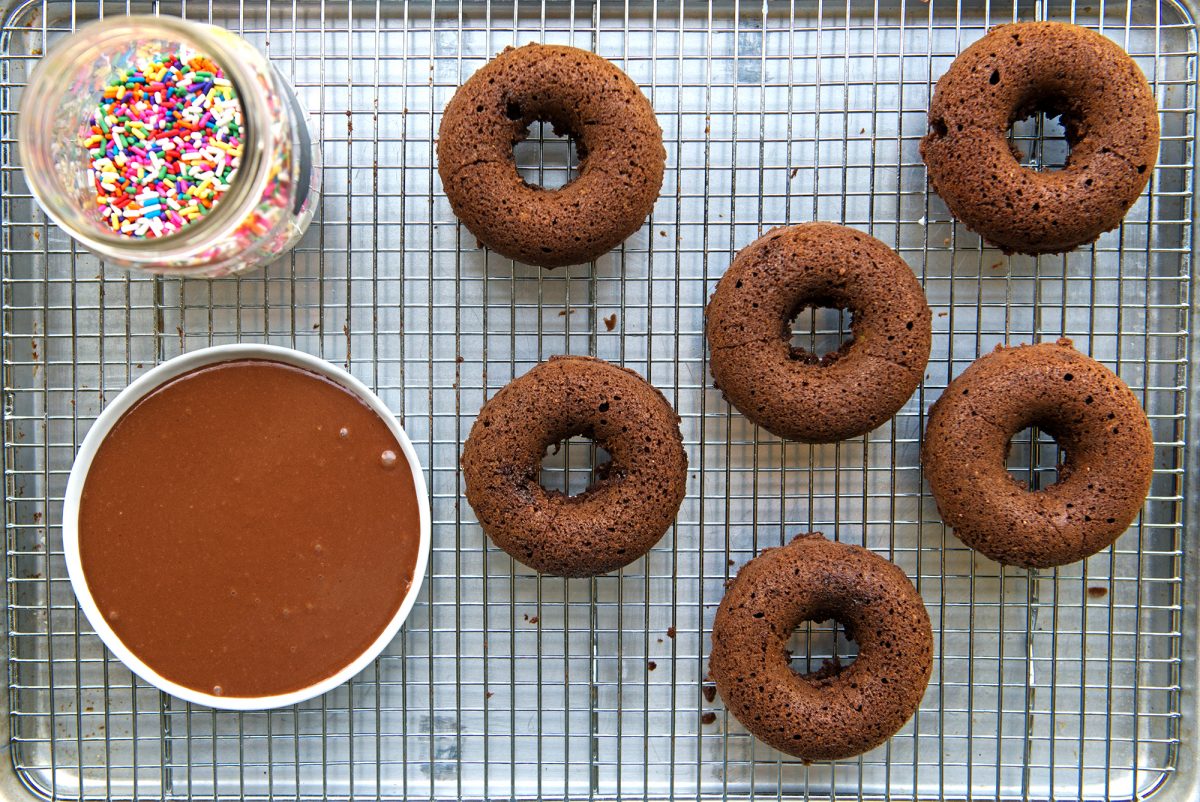 So, it's Cinco de Mayo, and we know traditionally this holiday is celebrated with Mexican food. But avocados are often served with Mexican food, and although these avocados are from California the sentiment still stands. So I put avocados in baked goods, and therefore thinly threaded these chocolate donuts to Cinco de Mayo. You're welcome.
So here's how this went down: I had a coworker who I was making a birthday treat for. She requested a breakfast treat, and I knew donuts would be a crowd pleaser. Then, I found an amazing recipe on Joy the Baker, but I had recently learned on my avocado tour that you can use avocado in place of half your fat (in this case, butter) and no one will be any the wiser.
So I doubled the recipe I found (because 10 donuts didn't seem like enough) and I used half avocado and half butter and no one could tell a thing. In fact, Jeff still doesn't know that these had avocado in them. I also would recommend the sugar listed below – I only used a cup, and they weren't quite sweet enough for my taste.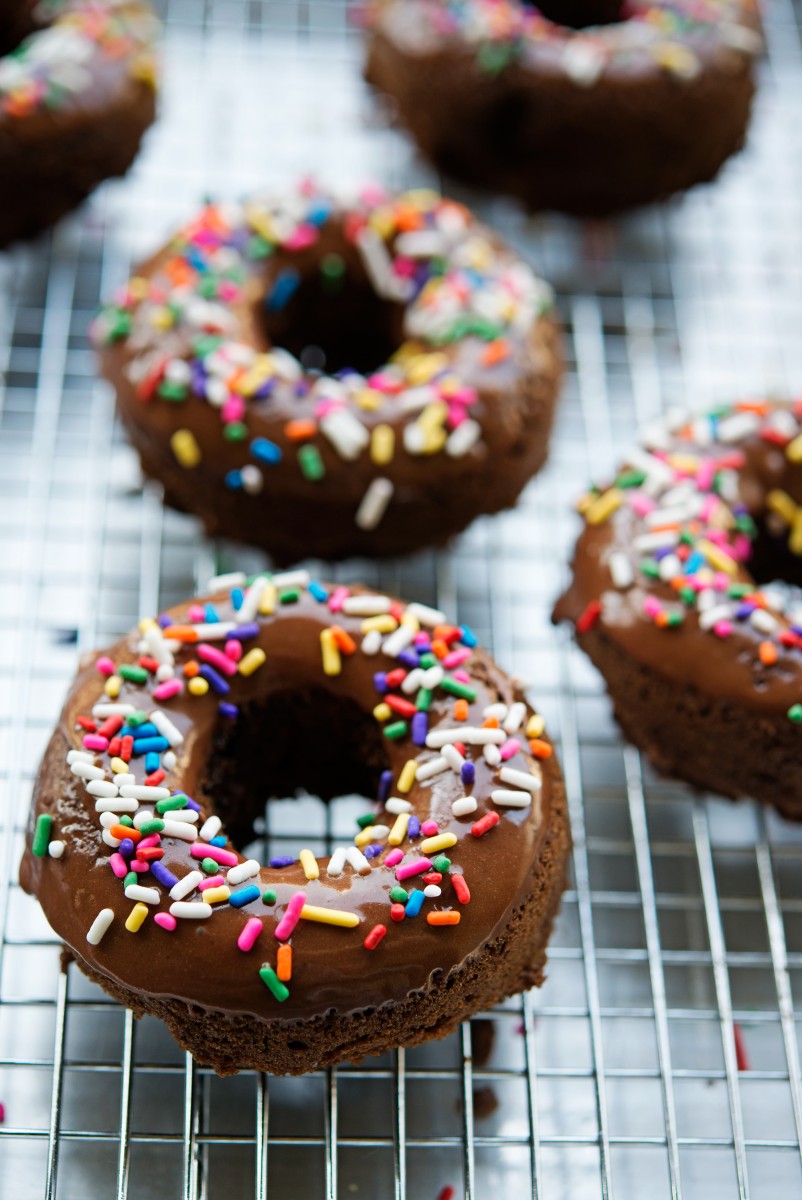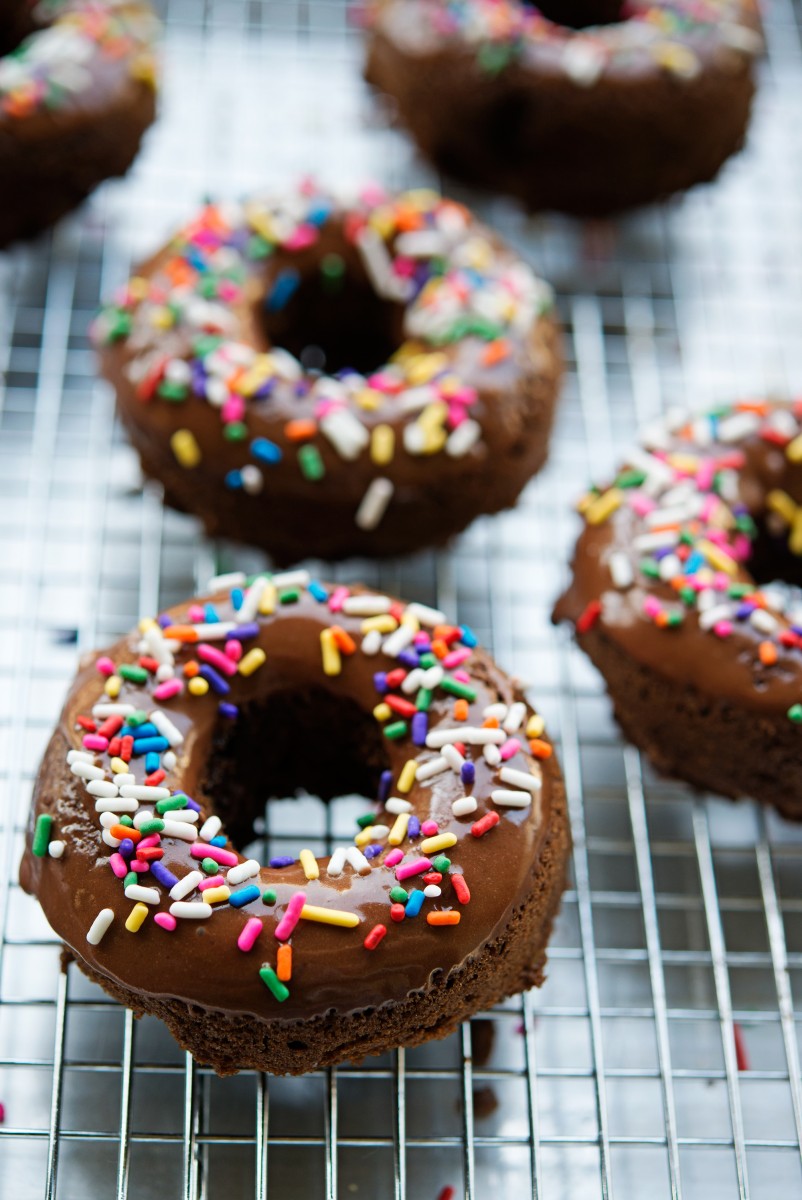 Chocolate Donuts
Adapted from Joy the Baker
Ingredients:
2 cup all-purpose flour
1/2 cup unsweetened cocoa powder
1 teaspoon baking soda
1/2 teaspoon salt
1 1/3 cup brown sugar, packed
1 cup milk
2 large eggs
4 tablespoons unsalted butter, melted
4 tablespoons avocado, mashed
2 teaspoon pure vanilla extract
Frosting Ingredients:
1 1/4 cup powdered sugar
3 tablespoons unsweetened cocoa powder
big pinch salt
3 to 4 tablespoons whole milk
2 teaspoons pure vanilla extract
sprinkles (optional but HIGHLY recommended)
Directions:
1. Preheat oven to 325 degrees. Spray your donut baking pan with olive oil spray and set aside.
2. In a bowl, whisk together your dry ingredients – flour, cocoa powder, baking soda, salt, and brown sugar.
3. In another bowl, combine your milk, egg, melted butter, avocado, and vanilla.
4. Add your wet ingredients to your dry until combined.
5. Fill your donut pan – these should be about two thirds full – don't go crazy or they bake up and over and then you have mini cakes instead of donuts (trust me.)
6. Bake for about 10-12 minutes. Then remove from oven and let cool for about 10 minutes before flipping onto a cooling rack.
7. Once the donuts are cooled, make your frosting. I used Joy the Baker's frosting recipe for 10 donuts and had enough for all 18, so don't double that baby. Whisk your sugar, cocoa powder, and salt together, then add vanilla and about half your milk. I ended up using 4 tablespoons of milk total, and the frosting was perfect, but do what looks right to you – it will harden quickly, so make sure to add sprinkles, if you're using, in a timely manner!
8. Serve these in a couple days for the best tasting homemade donuts. Give them to your friends, coworkers, and families and you'll be a American Cinco de Mayo hero!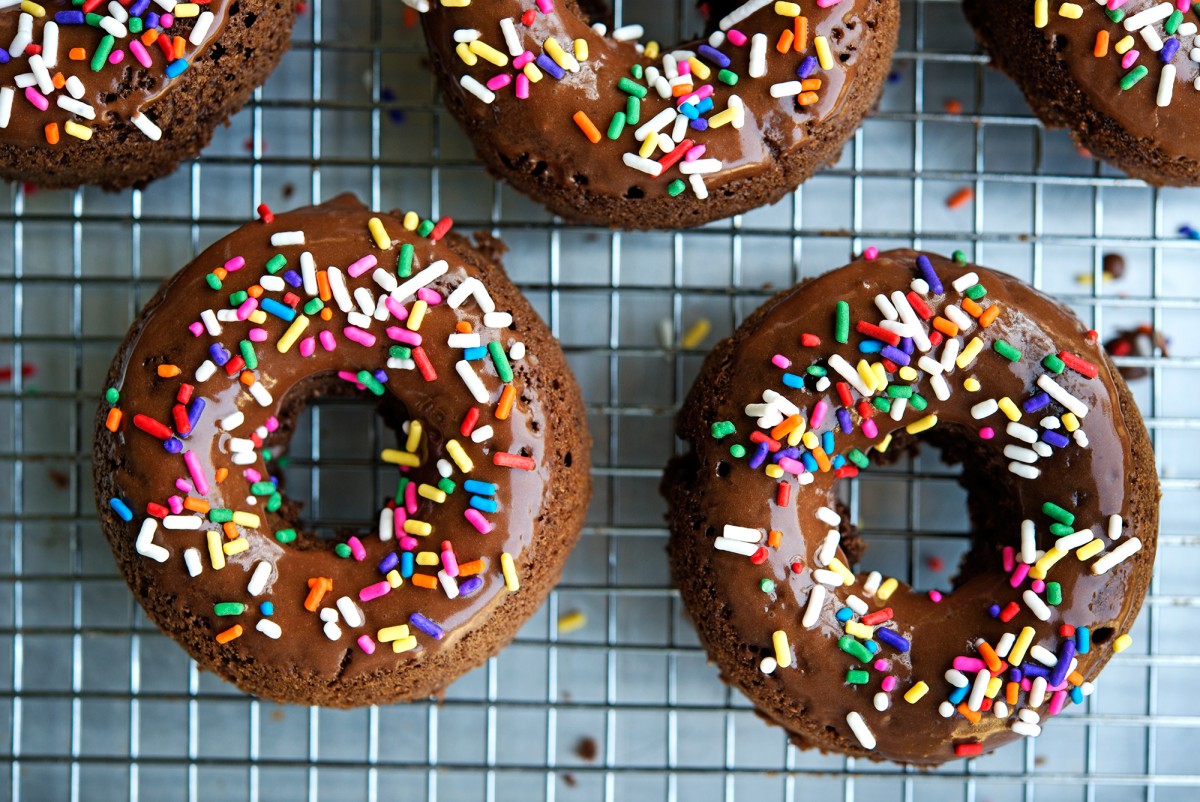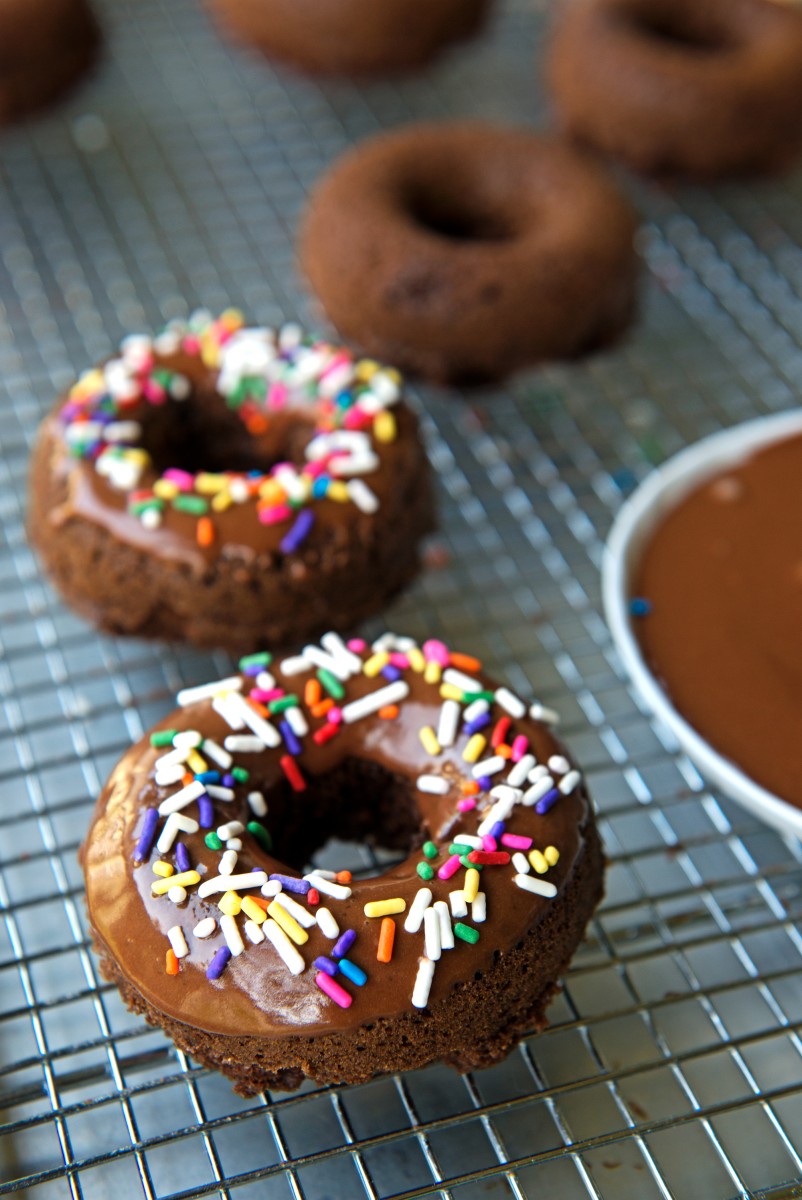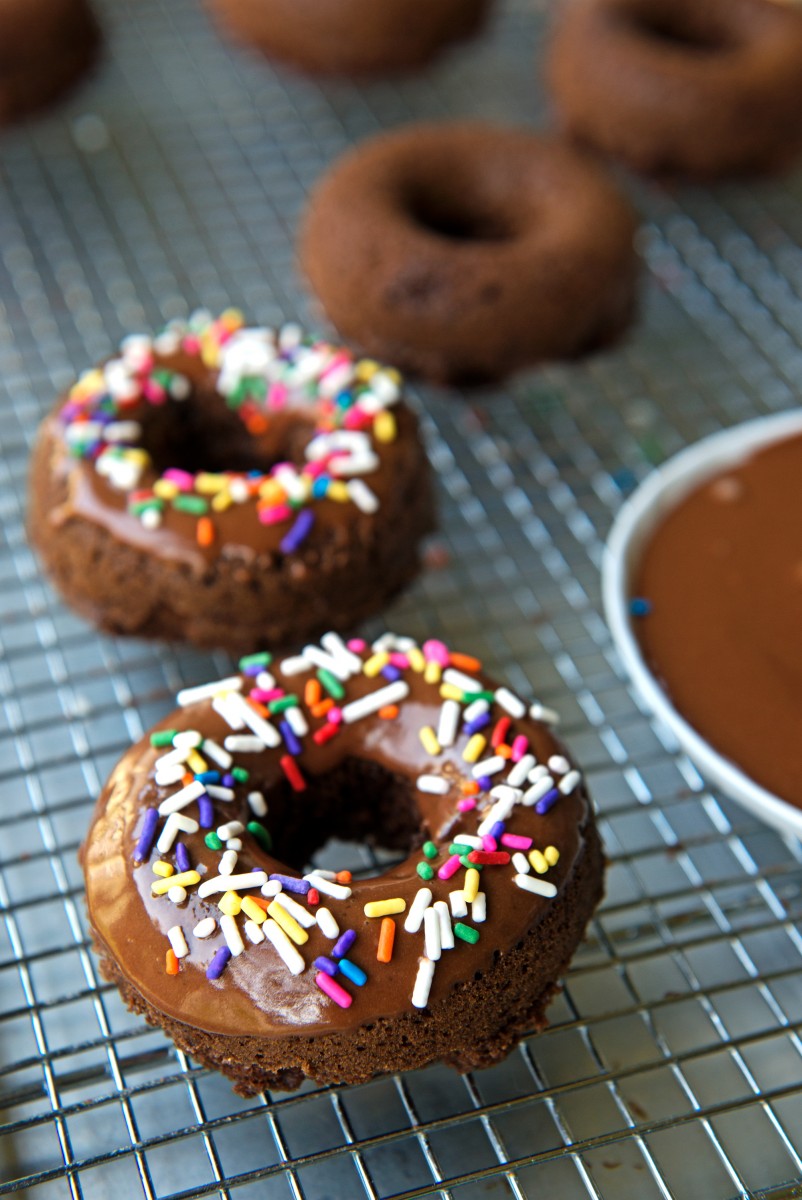 I hope you're going to eat something avocado-y today, and I hope it's these donuts. If you do make them, let me know! Tag your recipes from GMS as #GMSForRealLife – or better yet, just invite me over to eat one.
[addtoany]
Yum