We know that we seem to always be cooking (and somehow are!) but we, like everyone, sometimes find ourselves needing to eat out! Luckily, Los Angeles has some pretty great restaurant offerings. Here are six restaurants we love in Los Angeles:
1) Village Pizza. This is one of our staples. Jeff loves pizza. Cor and I love a good salad. Their calzones also hit the mark, making us a little less homesick one ricotta-filled bite at a time. Located in Hollywood (and we're in their delivery zone!), they also have a spot on Larchmont, which is an adorable street to peruse on a date night (or just a free afternoon – think lots of coffee shops!)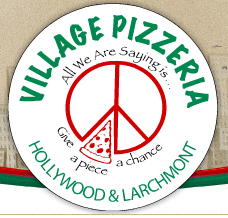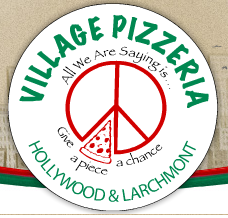 2) Grub. This spot we found a while back and it's quickly become a favorite. Although they don't deliver, they're a quick five minute drive from our place, and we bring our out of town guests here to experience some stereotypical outdoor Los Angeles eating. They have a macaroni and cheese to die for, and their salads are huge and hit a great balance of meat and veg – what more could we want?
3) Palermo. I've said it before. I'll say it again: Jeff and I are Italian, and we love to eat pizza and pasta all hours. Palermo's is in Los Feliz, and has a homey feel that some Los Angeles restaurants are lacking. You feel like you could stay three hours, you don't need to be in club attire to be there, and the lighting isn't so low you can't read the menu. It's a family place! We like to bring crowds here when we want a really fun Friday night!
4) Spitz. Here's another example of a great Friday hangout – just recently opened in Los Feliz (but has several locations), this is a place we go when we want to grab a beer…with our twenty closest friends! It's a big space that's never overly crowded, has big tables for large parties, and has a great beer list – and delicious food (those fries!) Although now that I have told all of you about it, I hope you can keep it a secret….so it doesn't become too popular!

5) Crave Cafe. Technically not in Los Angeles, but The Valley, Crave is open twenty four hours, they have delicious crepes, coffee, and sandwiches. I love crepes more than most things, so finding this place was very exciting. Did I mention their open twenty four hours? Jeff and I headed there on Valentine's Day for a post-dinner dessert crepe, and we snagged a table, even!
6) Cafe Verona. Jeff and I just discovered this place, and I am so sad we never headed there before! It's on La Brea, and I had driven by many times – I am glad we made the trip. The food is delicious, and their coffee is one of the best I've had in Los Angeles – plus it comes in a bowl, basically, making it one of my new favorite places.
What are some of your favorite restaurants in your city? Artu in Boston, anyone?
[addtoany]
Yum