I'm not really a casserole person. I don't like the idea of all my foods together because I like a plate of diversity, so I can take little bites of everything. Need we discuss the Chicken Spaghetti disaster of 2010?
But this was easy. And basically like mac and cheese. And it had 2 veggies in it. And Jeff loved it. Did I mention it was done in 30 minutes? This is added to the wheelhouse for us – good because I was getting sick of chicken tacos (just kidding, I will never be sick of chicken tacos. Chicken tacos forever.)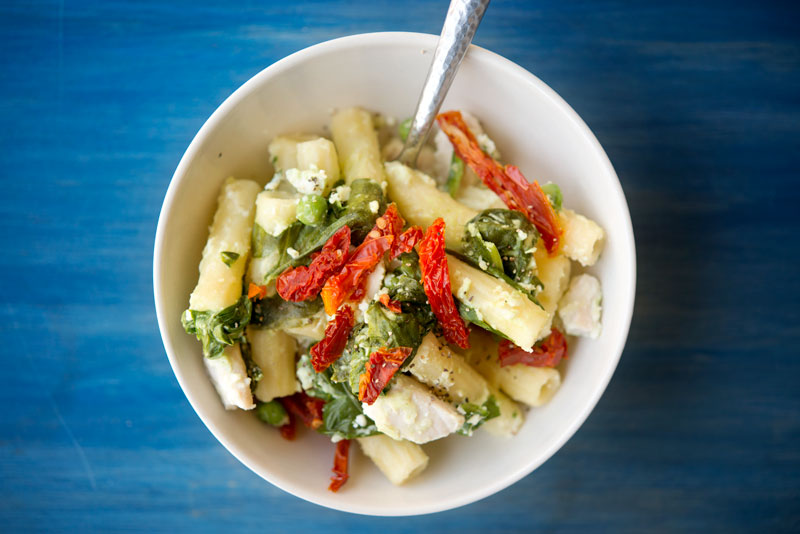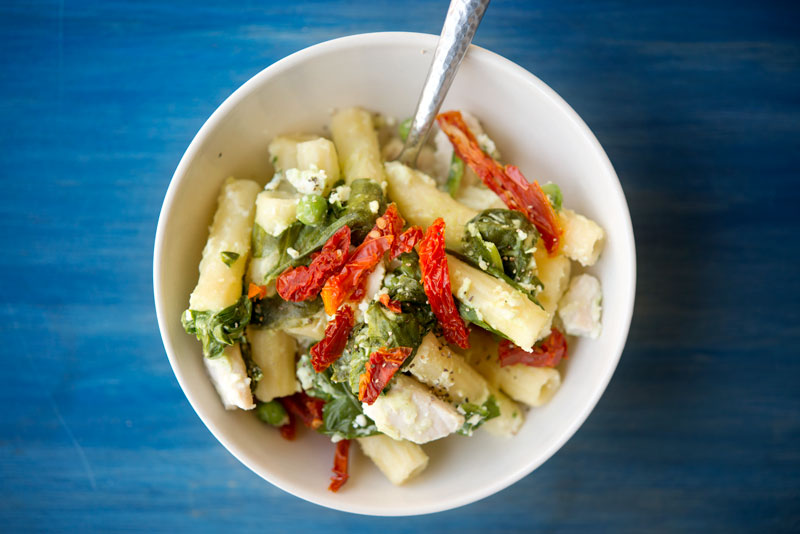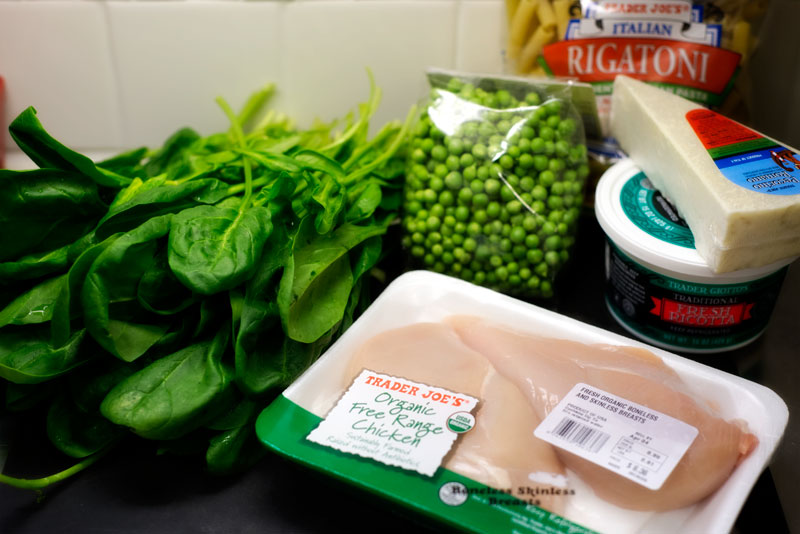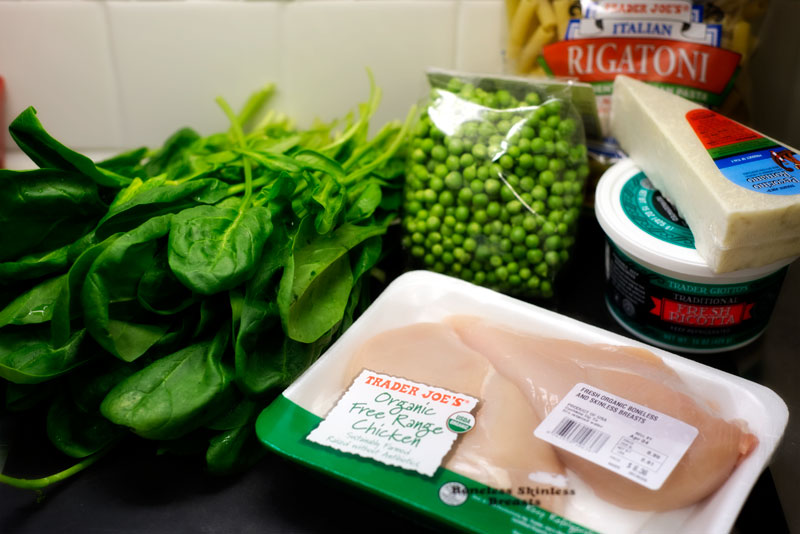 Here's what you'll need: spinach (or kale or some other leafy green) and peas (or broccoli or some other wilting veggie in your fridge), and chicken (or not if you're a veg, you get the idea), and parmesan cheese, and ricotta, a couple eggs, and some pasta. OK? Go.
So here's what you do. First, put some water on to boil for pasta. Then cut up your chicken, and cook that in some olive oil and salt and pepper. When the water boils, put in your pasta, and cook it al dente!
Meanwhile, cut up your spinach. Shred some cheese – use as much as you want – I used about a cup of parm. Mix your parm cheese with ricotta (I used 15 ounces) and two eggs.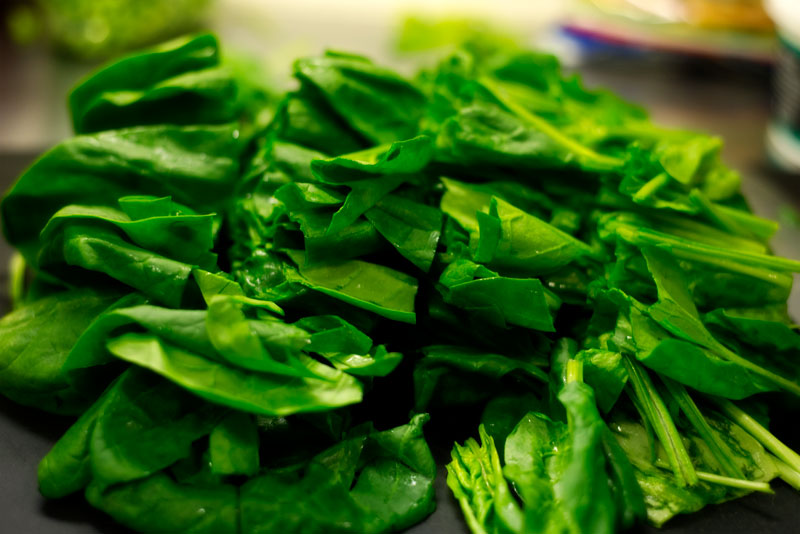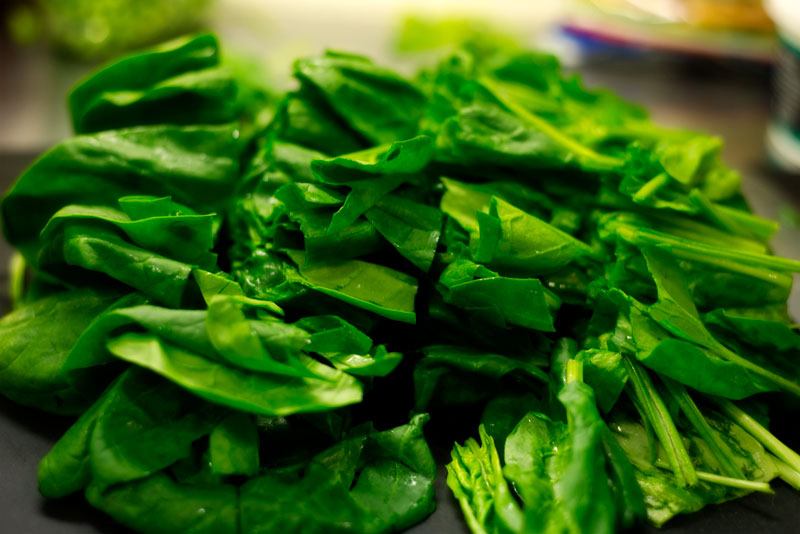 So now your pasta should be almost done, right? Here's a trick I learned from someone…I think Nikki? Nikki, was that you?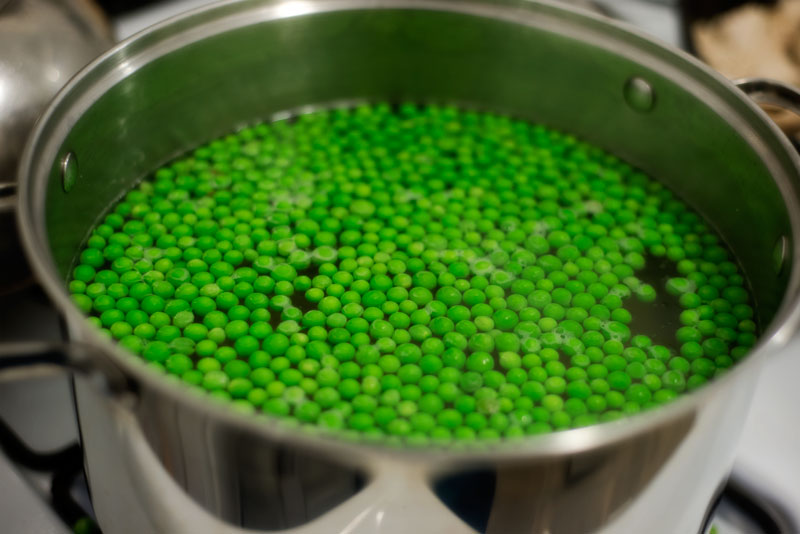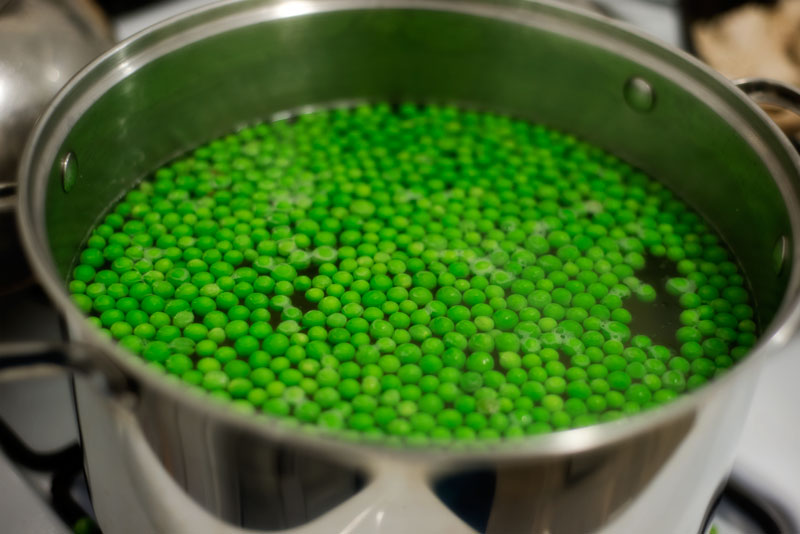 When you're pasta is about two minutes from being done, throw your peas into the water and let them cook for two minutes, then drain. It saves time! It turns the water a little green! It uses one less pot! Rejoice!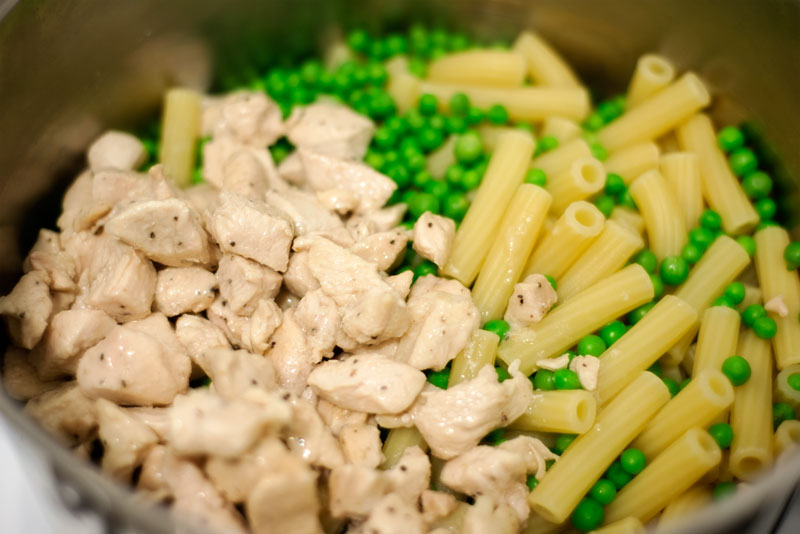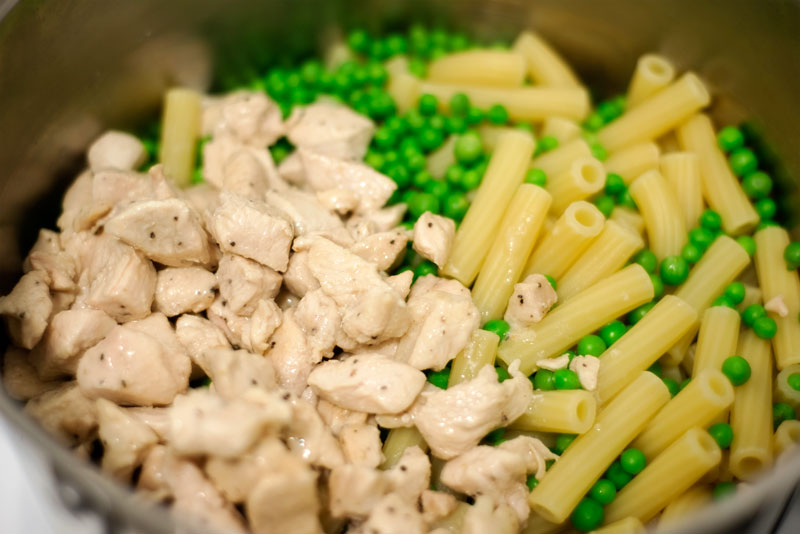 So now, put your cooked chicken peas, and pasta in a bowl, and mix it up with your cheese, add the spinach, and stick it in a casserole dish. Bake for about 15 minutes, until the top is melty.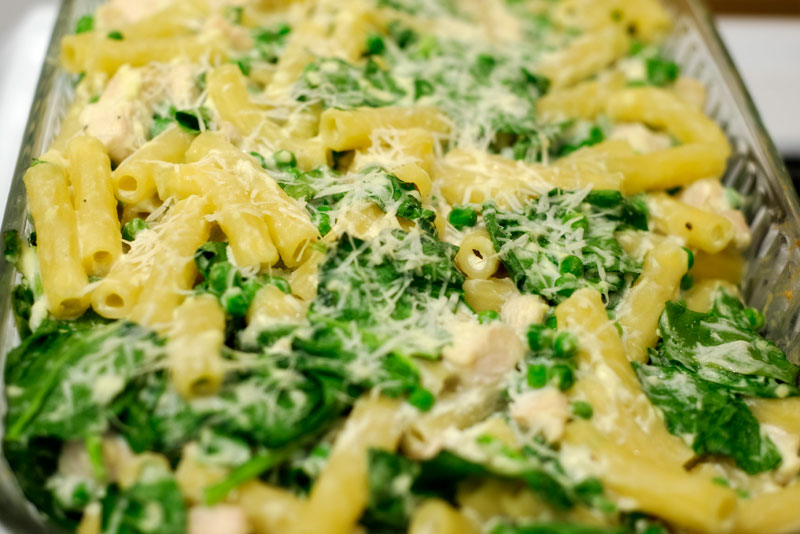 Here's what you'll end up with. A casserole dish full of cheese goodness. I used a pound of pasta, and on day 2 the pasta was a little dry, so if that happens just add some shredded cheese to the top of your bowl before reheating!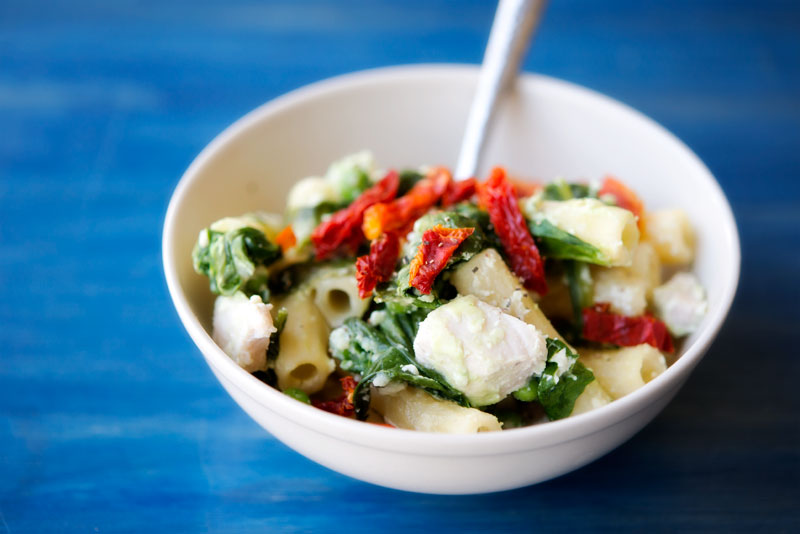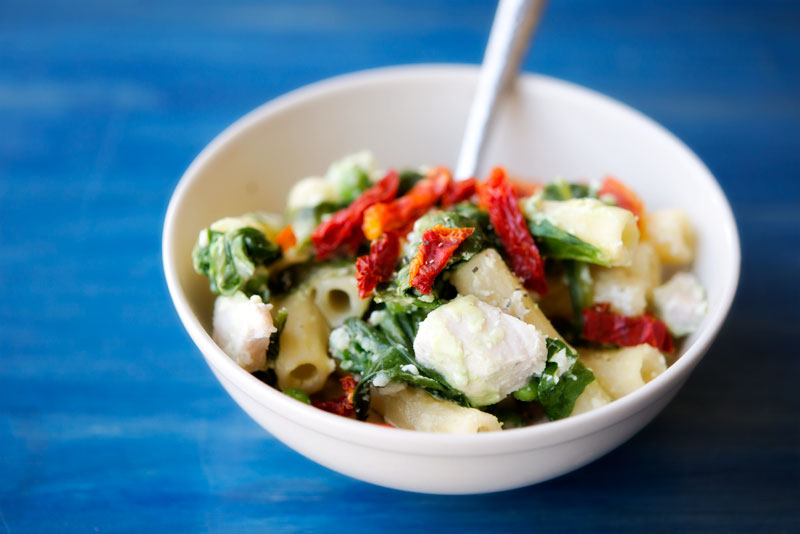 I also highly suggest topping with some sundried tomatoes – what a delight! Full recipe here.
[addtoany]
Yum