1:00 PM – Hi there. It's Corelyn here. Jennie and I continue to be having the most relaxing Thanksgiving day ever. Of course, none of our guests have arrived, so we'll let you know how things go in a couple of hours.
Since we're only in charge of the turkey (and the gravy, and maybe some bread pudding) this year, we have the opportunity to reflect on all the other elements that come together for a good Thanksgiving celebration for 20 or so of your friends. For us, the devil is in the details, and we have (hopefully) taken care of most of the details in advance. I've been reading every hosting tip that TheKitchn cant throw at me for the last month or so, and I'm excited about having guests arrive later today and NOT being a frazzled mess. Fingers crossed that my dream comes true!
12:20 pm – Hello friends! Corelyn and I are hanging out, enjoying our morning/afternoon that's moving slowly and is quite relaxing. We put the turkey in around 10:45 because thanks to my coworker we're trying a new thing were we put the turkey in on high heat the whole time, which means this sucker will be ready in only four hours! We've cleaned the kitchen, gotten a lot ready for the day, and have completed a crossword puzzle and drank almost an entire pot of coffee.
Someone on Instagram asked if we had an oven schedule available for download, so we thought we'd upload that for you here! Just click on the photo below, and you will download a template for the oven schedule to use for yourself! We've been doing an oven schedule since 2008, and it really helps us stay organized and make sure that everything is heated and ready for eating!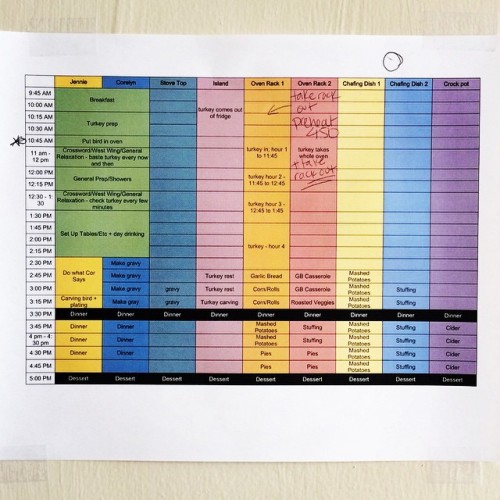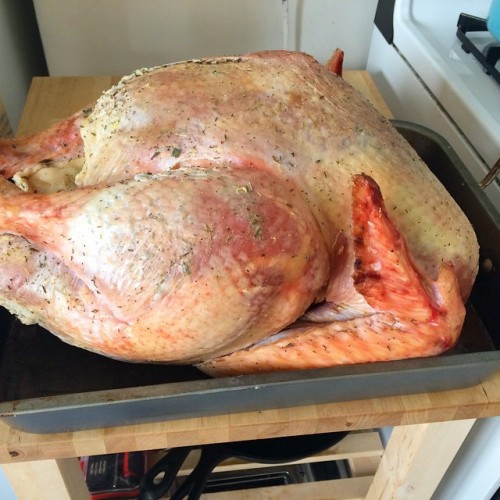 Sophie, the bird, is in the oven and cooking up a storm, spurting and smelling amazing. She's 28 pounds, and we love her for being big, brined, and full of citrus and onion!
We're getting ready, but we'll be back soon with another round of updates!
[addtoany]
Yum