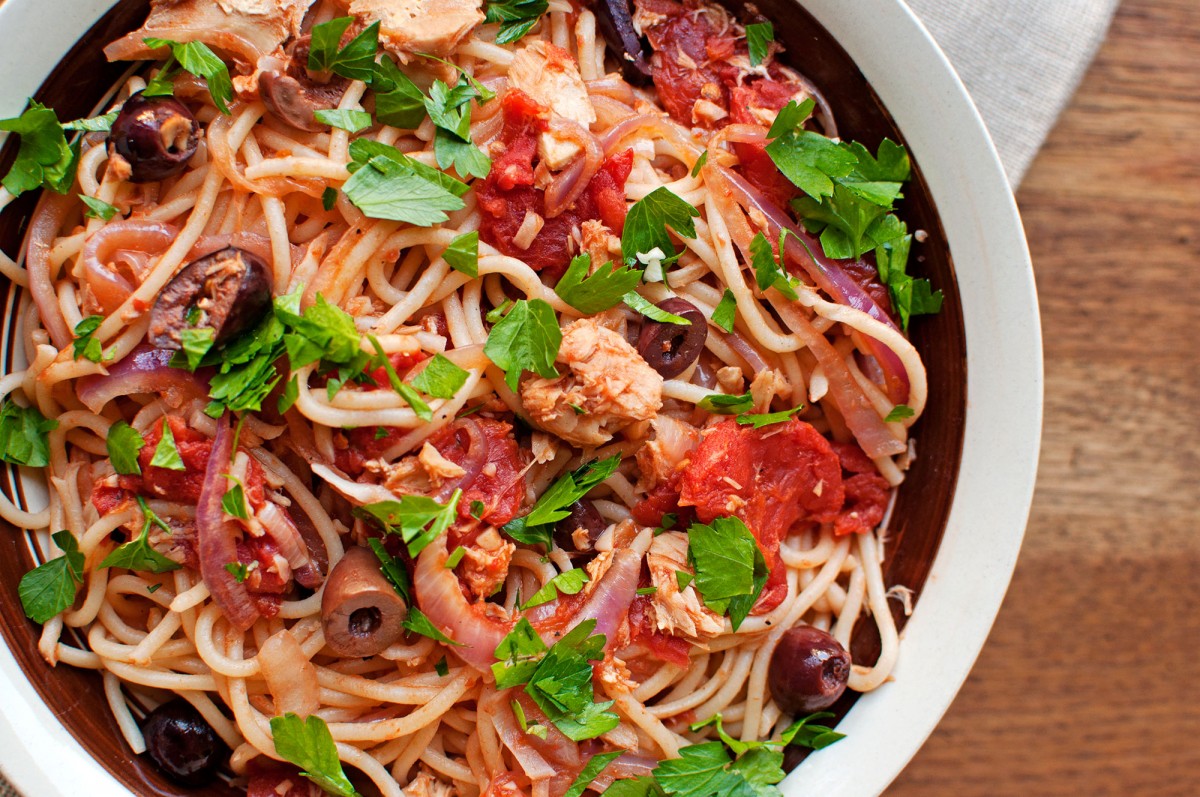 Ingredients:
1 red onion, sliced thinly
5 cloves garlic, minced
1-2 tbsp olive oil, plus some to coat pasta (we used Other Brother Company)
1 can kalamata olives, halved (or black, if you prefer)
1 can whole peeled tomatoes
1-2 tbsp Omnivore Sauce (optional, but suggested – delicious!)
7-10 oz albacore tuna (we used Community Seafood which is 7.75 oz)
1/3 cup capers
1 bunch fresh parsley, roughly chopped
1 lb spaghetti (we used Semolina Artisan Pasta)
s/p to taste (we used Omivore Salt which has some spices in it – divine!)
Directions:
1. Put water on to boil, making sure to generously salt the water. When the water boils, follow the package directions to make pasta, but meanwhile:
2. Open your can of tomatoes and tuna and set aside. Then, halve your olives.
3. Chop your onion and garlic, and then saute with two tablespoons of olive oil until soft, about 5-7 minutes.
4. Using your hand, crushed the tomatoes as you add them to the onions and garlic, and then add your olives. Add the Omnivore Sauce and turn heat to medium low to add your capers and tuna.
5. Salt and pepper to taste, and add half the parsley to your mixture.
6. When the pasta is done, drain but reserve 1/3 cup of the pasta water. Add pasta water and 1-2 tablespoons of olive oil to a bowl, and add all ingredients and mix well. Adjust seasonings to taste, and serve hot, topping with the rest of the parsley!

Yum