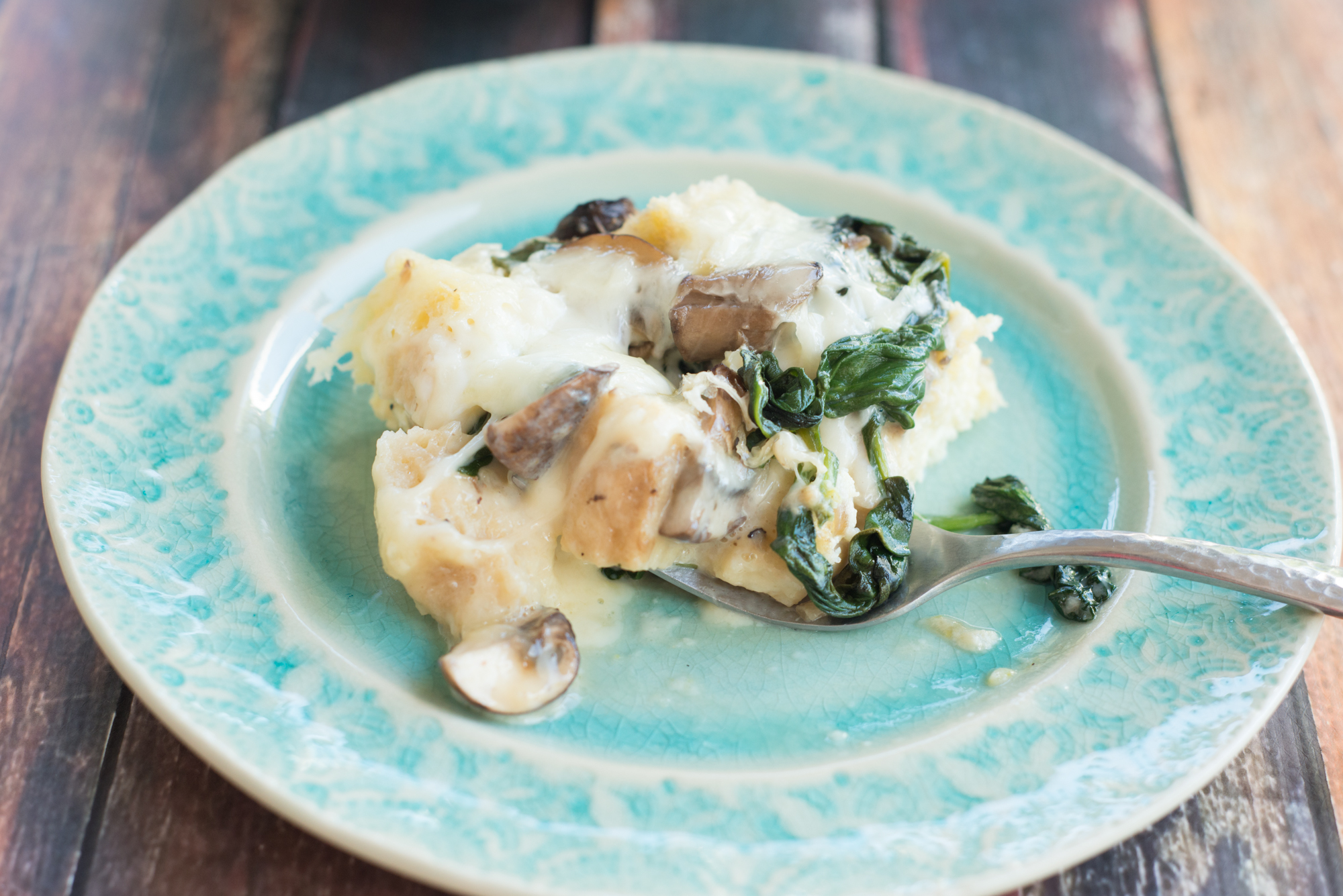 Type: Breakfast, Casserole
Author: Jennie
Oven Temperature: 350°
Difficulty: Intermediate
Prep Time: 20 minutes
Cook Time: 45 minutes
Inactive Time: Overnight
Servings: 6-8 servings
Ingredients
1/2 onion
6 cup fresh spinach
2 cup fresh mushrooms
6 ounce fontina cheese
2 ounce fresh Parmesan cheese
3 tablespoon butter
1 teaspoon salt
1/2 teaspoon black pepper
1/4 teaspoon fresh nutmeg
2 3/4 cup milk
1 baguette
9 eggs
Directions
DISCLAIMER: THIS RECIPE CALLS FOR OVERNIGHT SOAKING. READ THE WHOLE RECIPE.
Chop onion and mushrooms. Shred fontina and Parmesan cheeses.
Sauté onions, spinach, and mushrooms with one tablespoon butter for about 5-6 minutes. When spinach is wilted, remove all from heat.
Meanwhile, in a bowl, whisk eggs, milk, salt, pepper, and nutmeg.
Add vegetables to the egg mixture.
Slice and cube your baguette. Butter a casserole dish, then spread the baguette in the pan.
Spread half the egg mixture over the baguette, and then add half your cheese.
Spread the second half of the egg mixture, then add the rest of the cheese.
At this point, cover your casserole dish and place in the fridge overnight, or at least six hours, to allow the bread to absorb the liquid.
When you're ready to cook your strata, let the strata stand for 15 minutes at room temperature. Then, preheat your oven to 350. Then, place in the oven for about 45 minutes, until golden brown and puffed. Let stand a few minutes before serving.
Yum