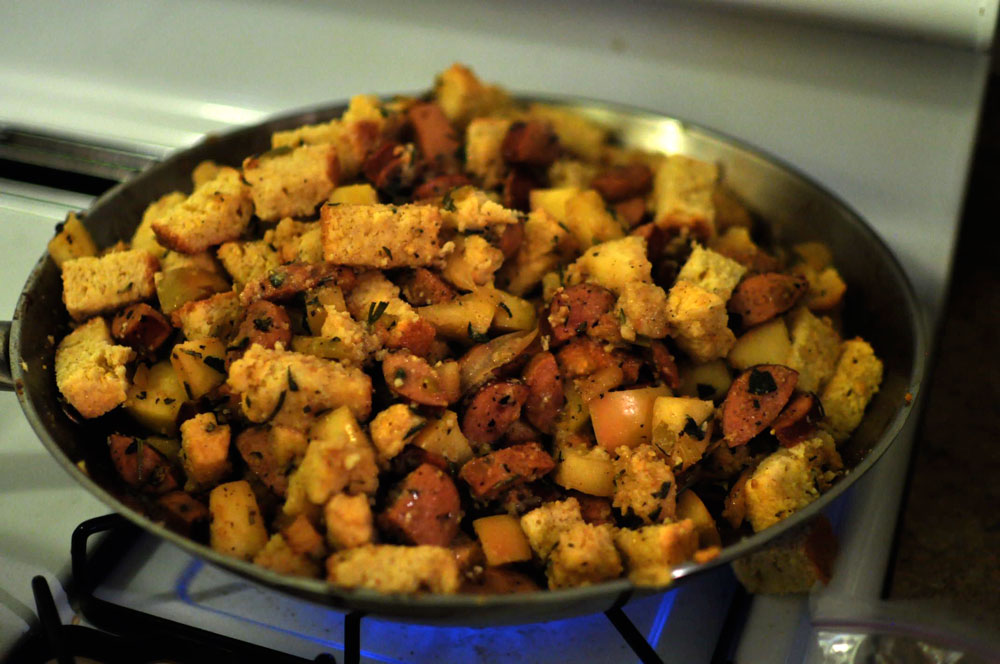 Prep time: 30 minutes
Cook time: 1 hour 15 minutes
Servings: 12 – 15
Ingredients:
1 package Bob's Red Mill Gluten Free Cornbread Mix,  prepared ahead of time*
2 pounds gluten free chicken sausage, sliced into rounds**
1 large onion, chopped
3 stalks celery, chopped
2 apples, chopped
2 tbsp fresh sage, chopped
2 tbsp fresh rosemary, chopped
1 cup dry white wine
2 cups chicken broth
2 tbsp olive oil, or butter
salt, to taste
*You can use any cornbread mix or recipe that you wish. We like Bob's Red Mill because it keeps things simple, but if using your own cornbread recipe, aim for about 6 to 8 cups once prepared and chopped into bite size cubes.
**We like to use the Trader Joe's Chicken sausages because they're delicious and clearly labelled as gluten free. They have several flavors including Sweet Apple, Smoked Apple Chardonnay, Spicy Italian, and Sundried Tomato. They would all work beautifully in this recipe.
Directions:
1. Make the cornbread ahead of time. Allow to cool. Cut into bite size cubes.
2. Pre-chop the onion, celery, apples, sausage, and herbs.
3. Heat your olive oil or butter in a large skillet, and caramelize the onions over medium-low heat until they turn translucent and golden brown.
4. In a separate pan, brown your sausage in some oil.
5. Combine sausage with caramelized onions and add celery, increase heat to medium-high and cook until the celery just begins to soften. About 2 minutes.
6. Add white wine and de-glaze the pan.
7. Add apples and herbs, let the apples cook and soften for 5-10 minutes, stirring occasionally.
8. Reduce heat to low, add cornbread cubes and chicken broth and stir all ingredients together. Salt to taste. (If you don't have a skillet big enough to fit everything, feel free to combine separately in a mixing bowl)
9. Pour entire mixture into a casserole dish and bake on 375 for 20 minutes. (Or whatever temperature your oven happens to be set on to cook green bean casserole or maybe a turkey)
~Optional~
Place pads of butter on top right before popping it in the oven, this will encourage the cornbread to crisp up a little.
Yum