[Thanks for your entries…our contest is now closed.]
Howdy, folks!
We're participating in Hodgson Mill's "Build a Better Pizza" Facebook Recipe contest, which means we need your help – and we have something for you!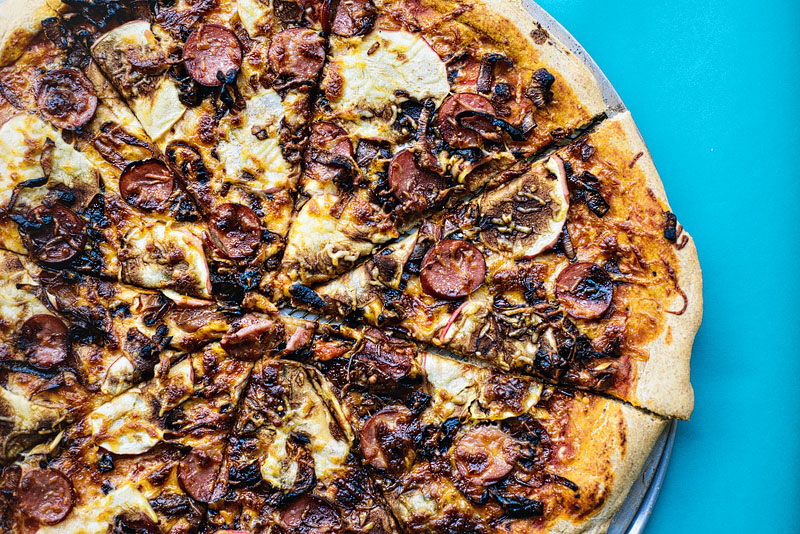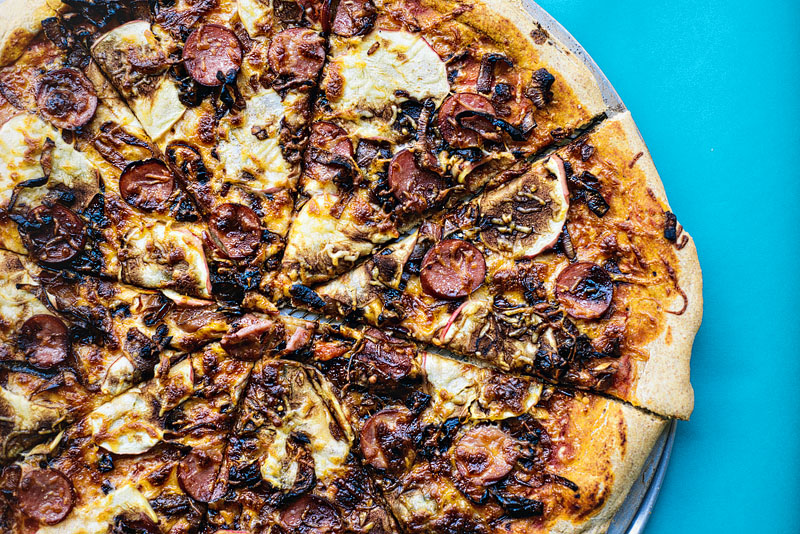 This past weekend, we made a whole wheat pizza with turkey kielbasa, apple, caramelized onion, and balsamic reduction. Below, you'll find our recipe using Hodgson Mill ingredients and a chance for you to win a $25 Hodgson Mill pizza prize pack.
First, vote for us to win a prize! To enter the drawing for a $25 pizza prize pack, follow these instructions.
1. Like Hodgson Mill on Facebook
2. Click on the "Vote for Pizza Recipe" contest tab
3. Find our recipe and vote for us!
4. Don't forget to share your vote with Facebook friends and spread the word!
5. Comment on this post and let us know that you've completed steps 1 and 2, and we'll enter you in the drawing for the prize pack giveaway!
As a bonus, Hodgson Mill will also pick 10 random contest voters to receive a $25 Hodgson Mill gift certificate, so you're giving yourself two chances to win!
Now, here's that recipe. Try it yourself! This pizza was mouthwatering perfection.
15 g yeast (we used Hodgson Mill dry active yeast)
3 1/2 cups white flour (we used Hodgson mill white flour)
3 1/2 cups wheat flour (we used Hodgson mill whole wheat flour)
2 cups water
1 1/2 tsp kosher salt
1 tsp honey
1/4 cup olive oil 
Pizza Sauce

4 cloves garlic
2  tbsp olive oil
1 can whole peeled tomatoes
1 can tomato paste
1 cup water
dried oregano
dried basil
Balsamic Reduction

3/4 cup balsamic vinegar (yields about 1/4 cup when reduced)
Pizza Toppings
mozzarella cheese
parmesan cheese
1 red onion, caramelized
1 red apple
1 1/2 cups turkey kielbasa
Directions:
1. Make dough: In a bowl, pour two cups of warm water with the honey and yeast.
2. In a mixer, pour flour and kosher salt.
3. Using your dough hook, add olive oil with the mixer on low.
4. Add water/yeast into dough, until the dough pulls away from the sides.
5. Place dough in a ball, and put into an olive-oil drizzled bowl.
6. Let rise for 1 hour, meanwhile:
7. Make sauce: Dice garlic. Open tomato paste can and whole tomato can.
8. Blend whole tomatoes until almost smooth.
9. Add olive oil to hot sauce pan, and add garlic. Let simmer one minute.
10. Add tomatoes, tomato paste, and one tomato can full of water. Let simmer until ready to add to pizza.
11. Make caramelized onions: Slice onion. Add to hot cast iron (or non stick) pan with two tablespoons olive oil. Saute over low heat for 30-45 minutes, stirring frequently.
12. Dump dough onto corn mealed surface after 1 hour, and let rise another 15-30 minutes.
13. Make balsamic reduction: Place balsamic vinegar in a pan. Let simmer for eight to ten minutes, until it reduces and thickens to a syrup-like consistency.
14. Thinly slice apples and kielbasa.
15. Lay out pizza dough, place in oven at 500 degrees for 2-3 minutes to bake crust.
16. Add sauce, cheese, toppings, balsamic.
17. Cook for 10-12 minutes until cheese is melted and bubbly.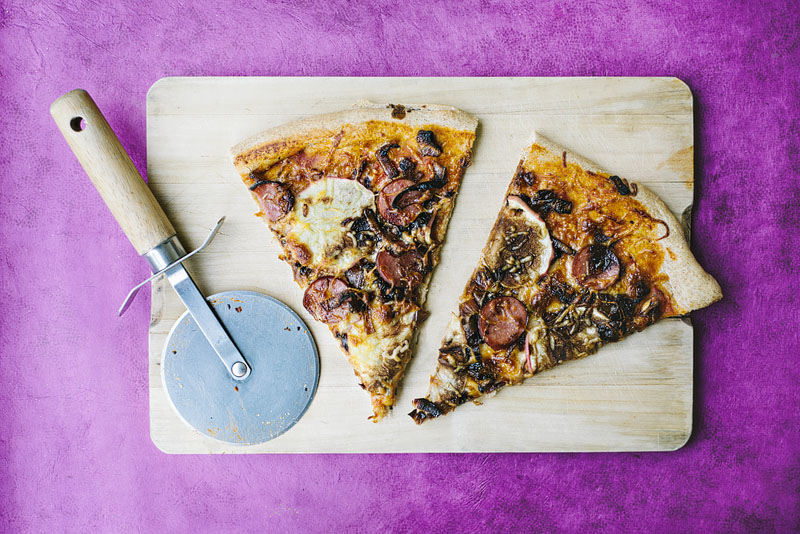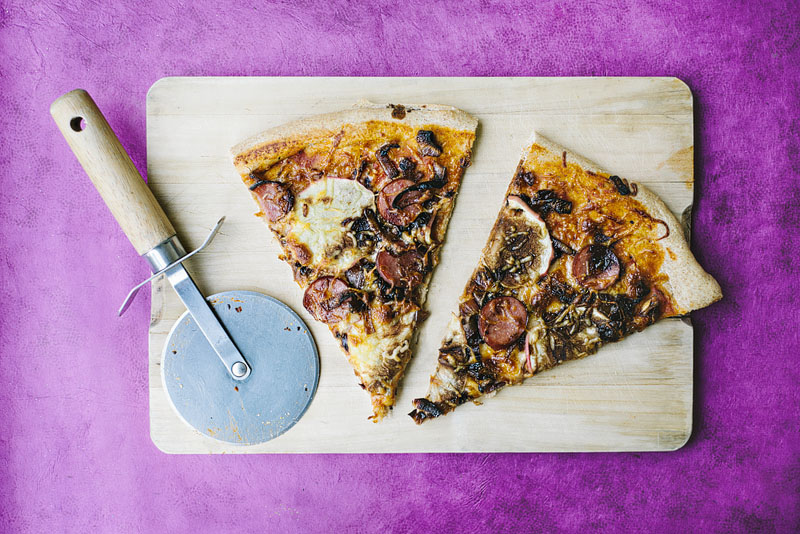 We hope this looks as delicious as it tasted – now go vote for us!
[addtoany]
Yum